Are you wondering what are the top foods that lower blood sugar? This list provides the best foods for managing diabetes – and they are all dietitian recommended (and delicious!)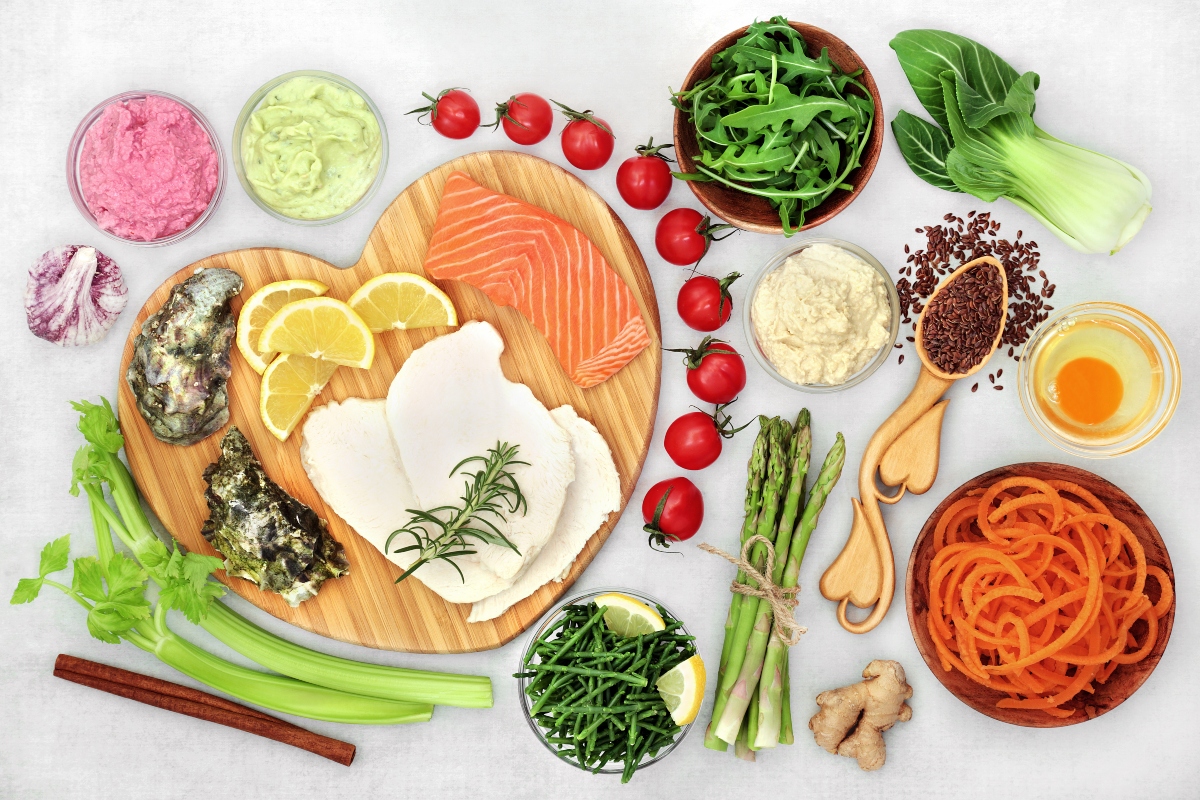 Keeping your blood sugar balanced is essential for healthy living, especially if you have diabetes. But when you are focused on diabetes management, you can fall into the trap of focusing on what foods you need to avoid rather than what you can eat. And when you do that, it's easy to start feeling deprived. That's why I created this list of the top foods that lower blood sugar. Because focusing on what you can eat rather than what you should limit can improve your mindset and relationship with food. And that shift can make managing diabetes much easier.
In this article, I am sharing the top 13 dietitian approved foods that lower blood sugar. And I think at least a few will surprise you! Let's get ready to eat:
1. Legumes
Legumes are actually a family of vegetables consisting of pods and seeds (aka pulses). The family of legumes is quite diverse, including beans, lentils, green beans, edamame, and even peanuts.
Legumes are a great source of plant-based protein while being low in fat. Legumes are also low on the glycemic index and are packed with both fiber and resistant starch, reducing their effect on blood sugar levels after meals. In addition, adding black beans or chickpeas to meals containing rice can also reduce blood sugar post-meal.
All of this shows that legumes are a powerhouse of nutrition and can help you manage or prevent type 2 diabetes by keeping your blood sugar under control.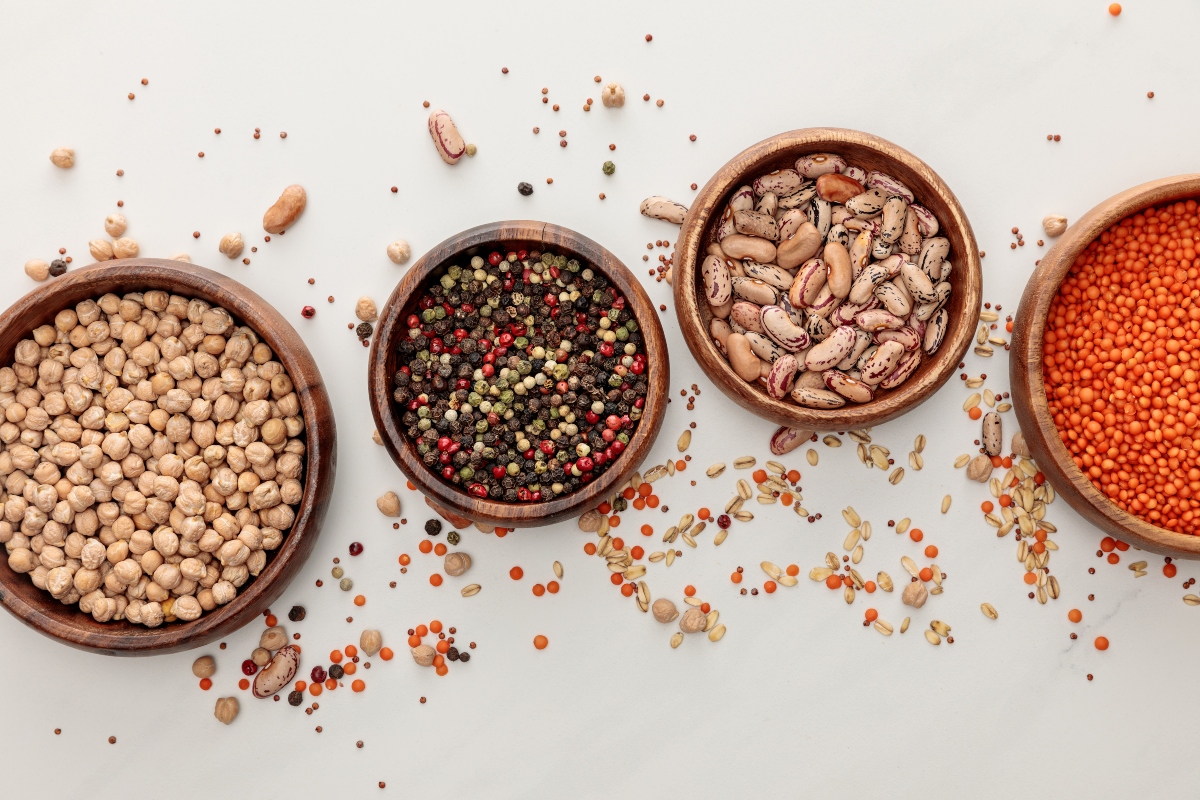 How to add legumes to your diet
Since there are so many types of legumes, the options are truly endless when it comes to adding them to your diet.
Add beans or lentils to salads

Substitute lentils or beans for meat in

chili

, stews, and soups

Make a delicious

tex-mex bowl

, or substitute beans and lentils in tacos and burritos

Blend lentils or beans into a high-protein dip (like hummus!)
2. Hot peppers
Hot peppers are spicy because they contain a phytochemical called capsaicin, which is known to also have multiple health benefits. Capsaicin is anti-inflammatory and can lower blood pressure to help prevent heart disease. This is especially important as people with diabetes have an increased risk for cardiovascular disease.
This one may surprise you, but spicy chili peppers may help reduce blood sugar by stimulating insulin secretion. Eating chilis may also reduce blood sugar levels after meals. Diets high in spicy peppers are associated with reduced risks of diabetes and hypertension, along with having a metabolism-boosting effect.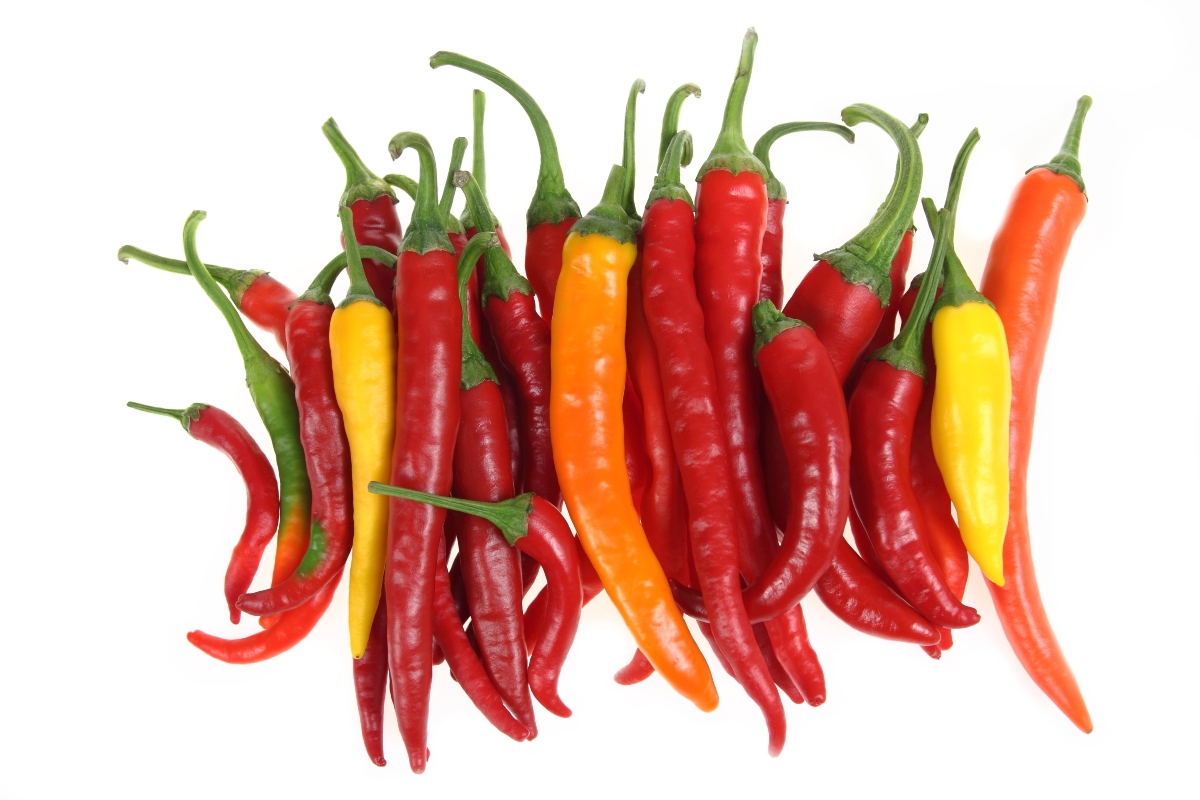 How to add hot peppers to your diet
Hot peppers come in many forms that lay along a vast spectrum of spiciness. You can try whole peppers, pickled peppers, or use chilis in powder form to add a little kick to your favorite dishes.
Add a dash of cayenne pepper to your meals and beverages

Add chili powder to your favorite recipes

Chop up a chili of choice to add to your favorite dishes

Choose spicy salsas to use as a dip or topping to your meals

Make your own hot sauce or fresh salsa
3. Oats
Oats are an amazing addition to any diet because they are rich in fiber and essential minerals, along with having many incredible health benefits. As a whole grain source of carbohydrates, they are low on the glycemic index scale, meaning they have less of an impact on blood sugar levels than refined grains due to slower digestion.
One type of soluble fiber within oats, called beta-glucans, helps reduce blood sugar after meals, lowers blood pressure, and helps reduce bad LDL cholesterol. Oats also have anti-inflammatory properties and help to reduce A1c levels (your 3-month marker of blood sugar levels). All of this helps to prevent heart disease and allows people with diabetes to better manage the disease.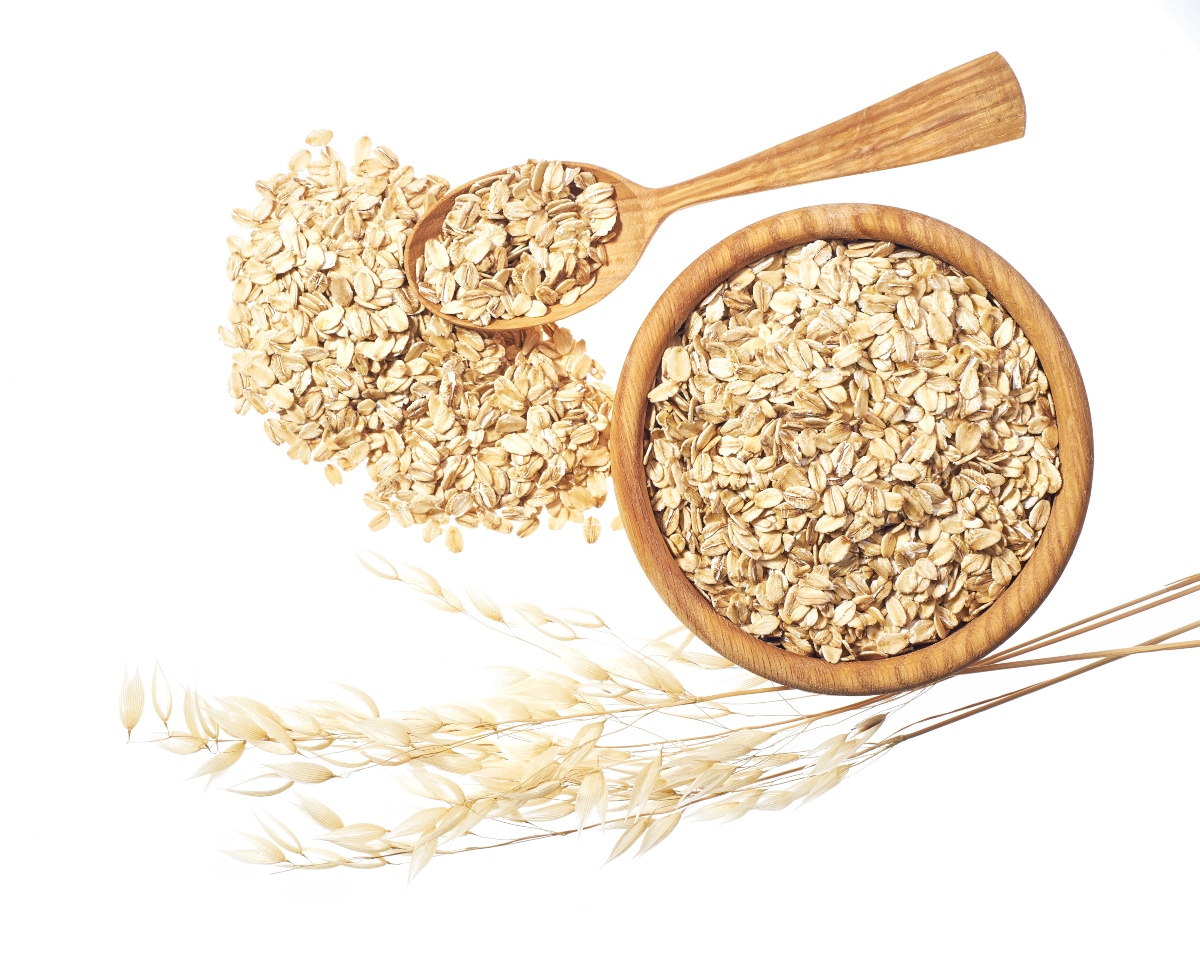 How to add oats to your diet
As you can see, eating oats regularly can help control blood sugar and greatly benefit your health as a whole. Oats can be utilized in so many ways, making them quite simple to add into your diet.
Keep it simple – make a warm, comforting bowl of oatmeal for breakfast

Meal prep

overnight oats

for busy weeks

Substitute oat flour or add oats into your favorite baking recipes

Use oats as a base for burgers, meatloaf, and

meatballs

Coat chicken breast in oats and bake for a healthier crispy chicken dinner
4. Cinnamon
Cinnamon is a delicious spice that packs a lot of flavor along with a lot of health benefits. Studies have shown that cinnamon consumption is associated with decreases in fasting blood sugar and bad LDL cholesterol. Cinnamon has also been shown to improve insulin sensitivity along with slowing digestion of carbohydrates, resulting in lower blood sugar levels after meals.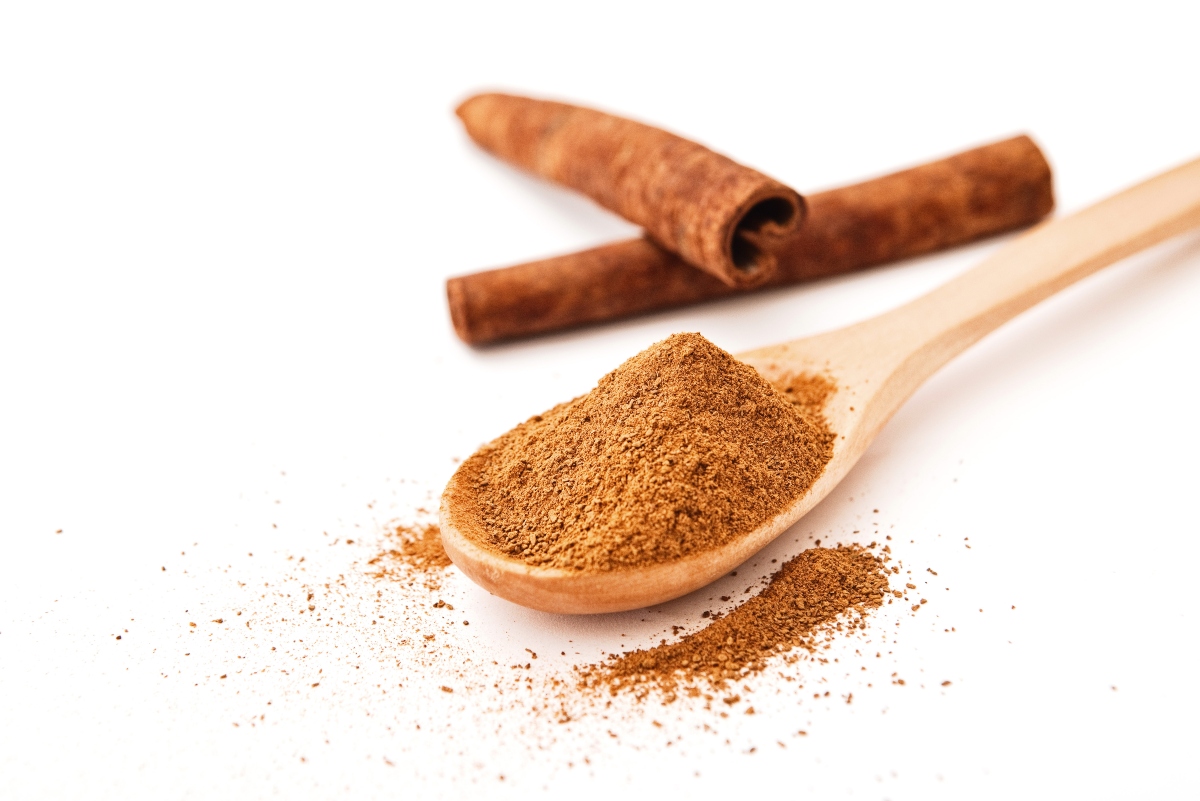 How to add cinnamon to your diet
Cinnamon can be found in both powder and stick form. And it takes just 3-6 grams, or 1/2 to 2 tsp, of cinnamon per day to gain its health benefits.
Add to coffee, tea, and other beverages

Add to baking recipes, like this

sugar-free cinnamon roll recipe

Pour some cinnamon into

smoothies

Sprinkle some cinnamon over yogurt, oatmeal, and air-popped popcorn

Mix cinnamon and chopped apples and warm in the microwave for a quick dessert

Add to savory dishes including chilis, curries, and chicken or lentil dishes
5. Kefir
Even if you've never tried kefir before, you've probably seen it in your local grocery store in the yogurt aisle. Kefir is a probiotic-rich yogurt beverage that is known to benefit gut health, but it also can help control blood sugar. Consuming kefir has been shown to help with decreasing both fasting blood glucose and A1c levels.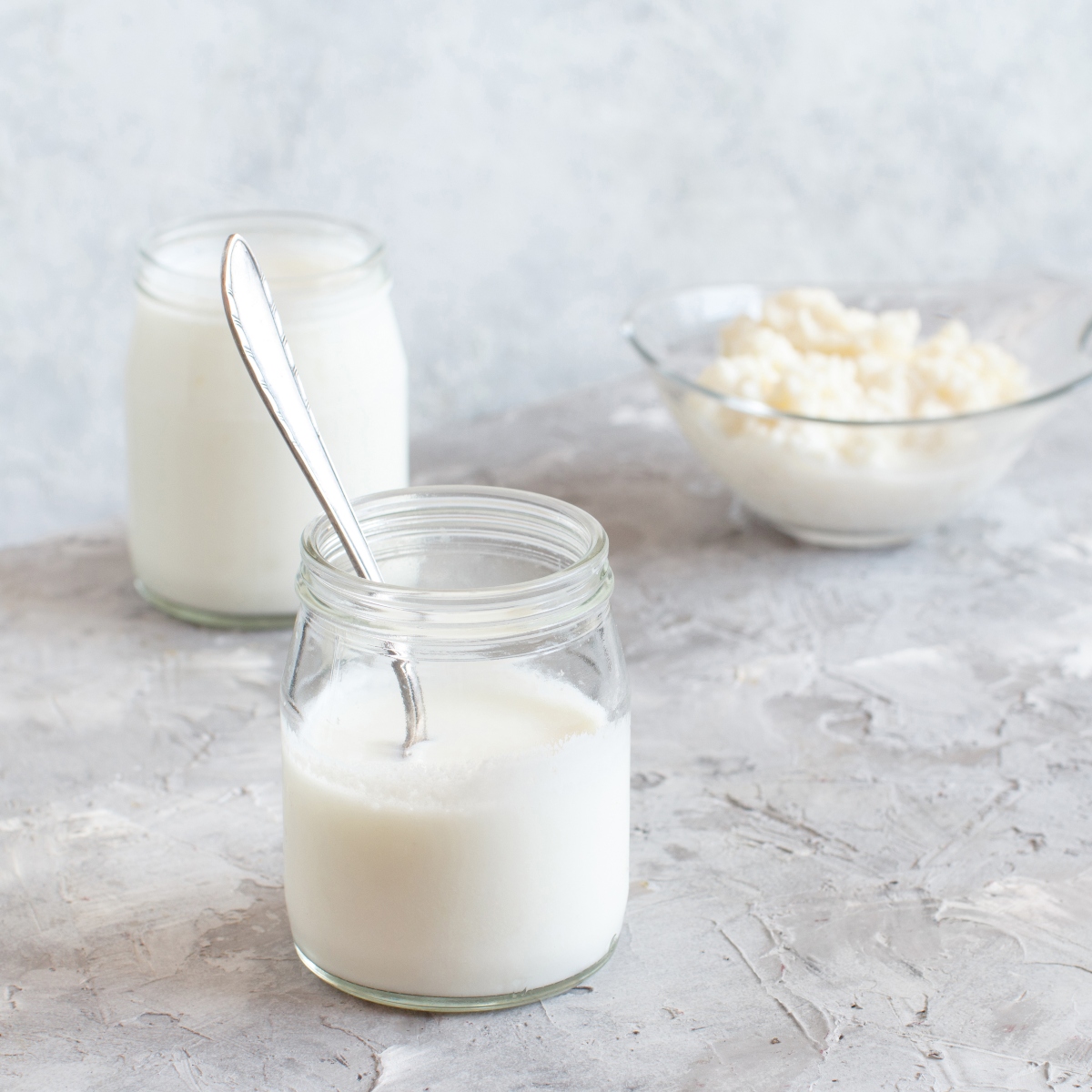 How to add kefir to your diet
Opt for plain, unflavored kefir products because the fruity versions often contain added sugars. Kefir is quite delicious on its own, but you can get pretty creative with some of the ideas listed below:
Drink a serving of kefir by itself

Add a cup of kefir to smoothies, granola bowls, cereals, parfaits

Top your favorite savory soups with a few spoonfuls of kefir

Use it to make a creamy salad dressing

Add to popsicle molds with some chopped fruit for a tasty frozen snack

Look for baking recipes that include kefir
6.
Apple cider vinegar
Apple cider vinegar (ACV) has been trending for a few years, so it is likely that you have heard about some of its health benefits. Studies have shown that ACV can reduce fasting and post-meal blood glucose levels, reduce A1C levels, and reduce total and bad LDL cholesterol. Adding some ACV into your diet can help reduce your risk of heart disease and help keep blood sugar balanced.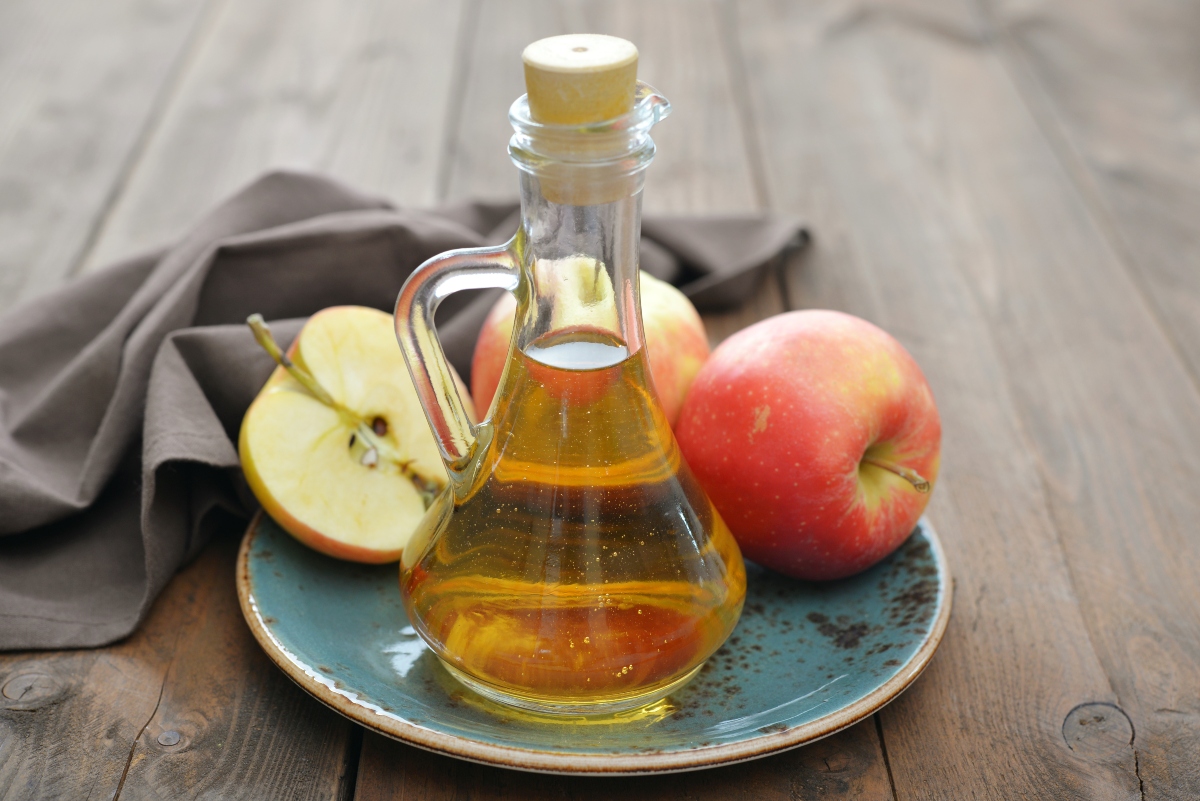 How to add apple cider vinegar to your diet
Apple cider vinegar is acidic and has the potential to damage your teeth and your esophagus, so it is really important to dilute it before consuming to prevent these negative effects.
Add ACV to salad dressings and marinades

Drink as a tonic by adding 1 tbsp to an 8 oz glass of water or tea

Add to smoothies

Use in egg salad
7. Nuts
Nuts are an easy snack option for everyone, especially those with diabetes. This is because they are rich in plant-based protein, healthy fats, and fiber, while being low in carbohydrates, so they don't lead to large blood sugar spikes after eating. This nutrient combination also increases satiety and satisfaction, and may help reduce appetite and control weight. In addition, when nuts are added to carb-rich meals, they reduce the body's glycemic response to the carbs, keeping blood sugar more balanced.
Since heart health is of concern for people with diabetes, it is also worth noting that nut consumption also reduces LDL cholesterol. In fact, people with diabetes who munch on nuts 5 times weekly have a 17% lower chance of developing heart disease.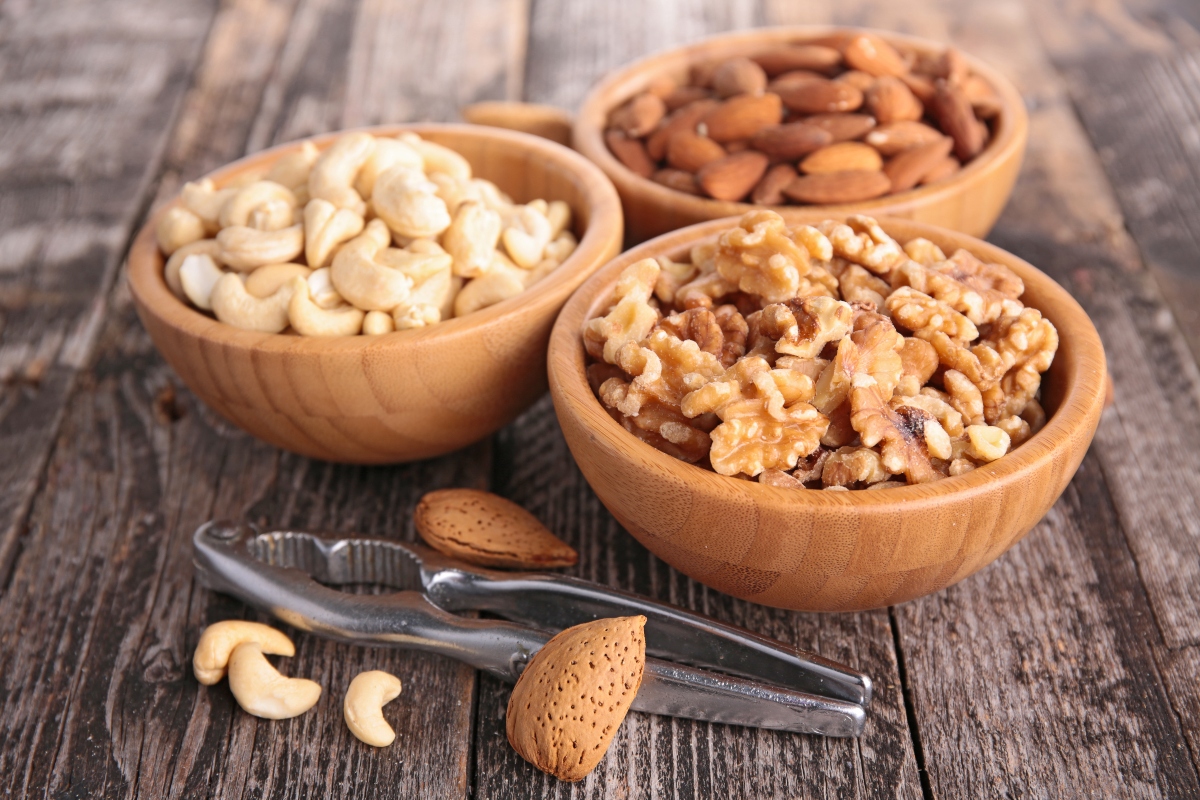 How to add nuts to your diet
Nuts provide a good source of healthy plant-based fat, protein, and fiber. However they are rich in calories, so be mindful of your portions is you are striving to maintain a certain calorie limit each day. Choose raw or dry roasted nuts to ensure there is no additional fat added. Also, double check the Nutrition Facts panel for added sugars, especially on flavored nut products and nut butters.
Eat them plain

Top cereal, yogurt, pancakes, and oatmeal with a handful of mixed nuts

Sprinkle on top of

salads

in place of croutons

Roast nuts and add them to savory recipes like curries, pastas,

risottos

, and stir frys

Use various types of nut butters on whole grain crackers, vegetables, fruits, in smoothies, or in oatmeal

Blend up your own nut milks at home
8. Garlic
Garlic lovers, rejoice! Studies have shown that including garlic in your meals can help improve blood cholesterol levels and reduce fasting blood glucose. Cooking with garlic can also help further reduce post-meal blood sugar spikes in people who have diabetes and are already taking metformin to manage the disease.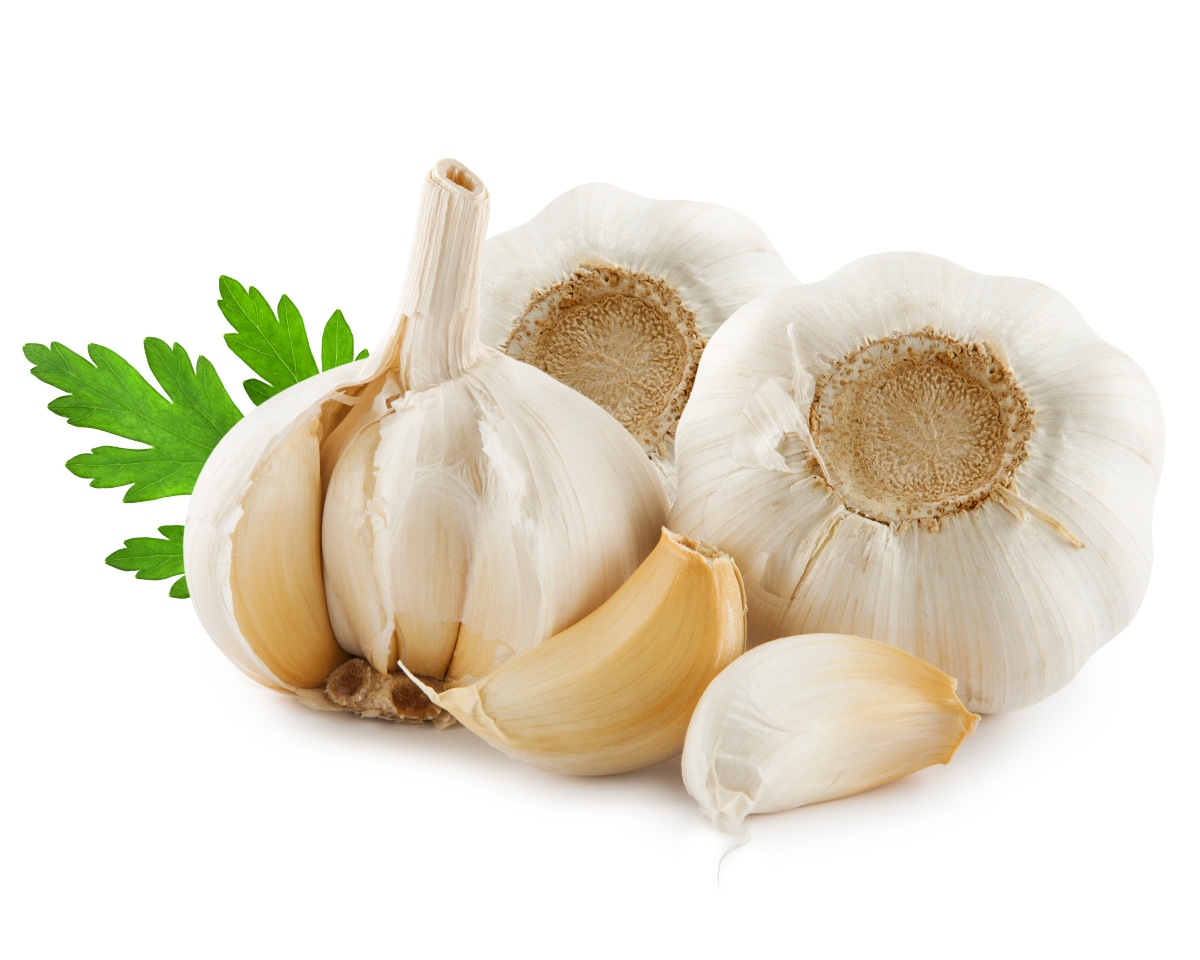 How to add garlic to your diet
Garlic is already used in many recipes, so there is no doubt that you already have a few ideas on how to include garlic in your diet.
Blend into hummus and other vegetable dips

Mince and use in stir frys and other cooked meals

Add to homemade salad dressings, salsas, guacamole, and pasta sauces
9. Broccoli
We all know that we should be including plenty of veggies in our diets. Broccoli is a non-starchy cruciferous vegetable that is packed with antioxidants and yields some incredible health benefits. Broccoli contains a compound called sulforaphane which has been shown to improve fasting blood sugar levels in people who have diabetes. Another benefit of consuming broccoli is that it may improve insulin sensitivity and help fight type 2 diabetes.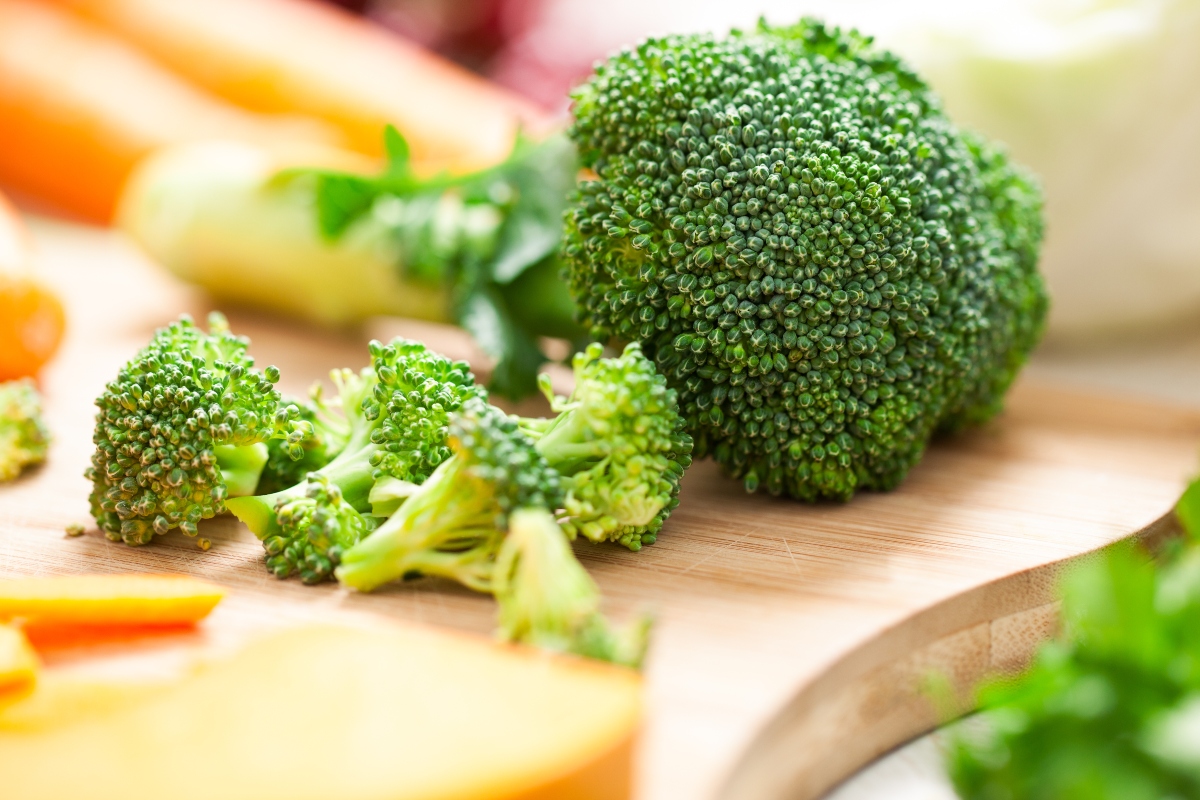 How to add broccoli to your diet
Add to stir frys and pasta dishes

Roast in the oven with a little olive oil, garlic, salt, and pepper

Add to a

veggie tray

to dip into hummus or your favorite vegetable dips

Add to scrambled eggs, omelettes, and

egg muffins

Include as a side for your favorite dishes
10. Fatty fish
Fatty fish, like salmon, sardines, and albacore tuna, contain high amounts of omega-3 fatty acids, which may help protect people with diabetes from developing heart disease. Regular consumption of fatty fish (about 4 6-oz servings weekly) has also been shown to reduce post-meal blood sugar, helping manage type 2 diabetes.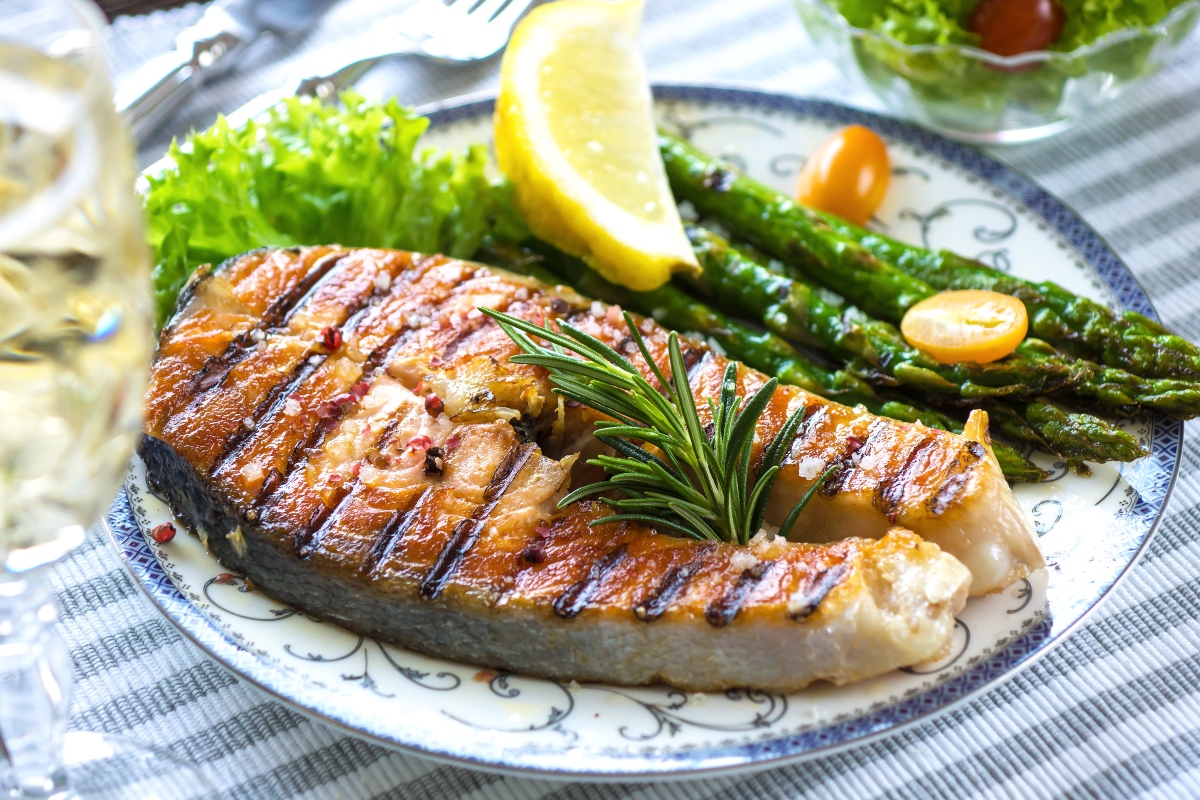 How to add fish to your diet
Aim to include heart-healthy fatty fish in your diet at least 2 times per week to reap the health benefits.
Roast fish in the oven with lemon, garlic, and herbs

Make fish cakes

Try smoked salmon, aka lox

Go out to a restaurant for a sushi date

Make a tuna salad sandwich, or use it as a dip

Check out these

high omega-3 recipes

that your whole family will love!
11. Berries
Being lower in sugar than other fruits, berries are the perfect fruit for people with diabetes. Berries are known for their high antioxidant content, along with being a great source of fiber. Additionally studies have shown that berries may also help reduce post-meal blood sugar spikes in adults with insulin resistance and improve insulin sensitivity.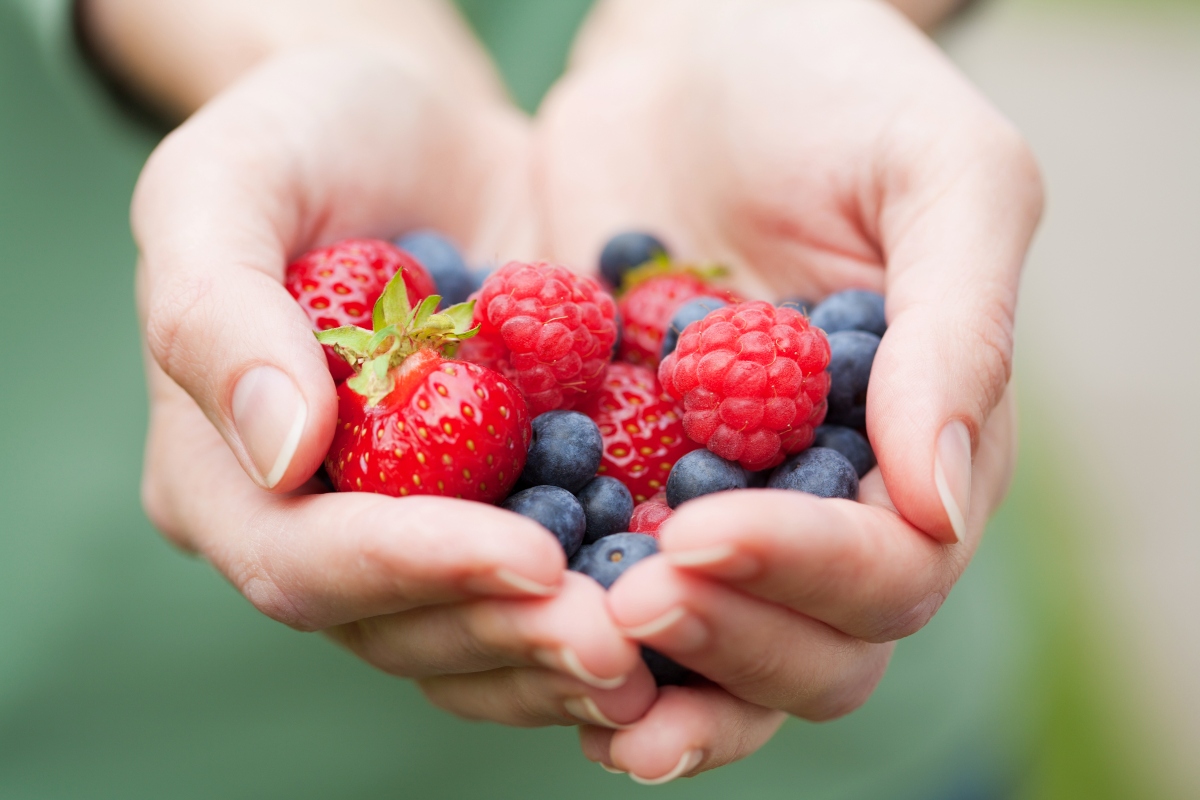 How to add berries to your diet
Purchase a couple packages of berries per week to make sure you always have some handy. Be sure to eat a variety of berries, including raspberries, blueberries, blackberries, strawberries, and more!
Eat a handful of berries as a quick snack

Add to cereal, yogurt, oatmeal,

pancakes

, smoothies,

muffins

, and

chia puddings

Sprinkle some berries onto a salad

Stock your freezer with frozen berries which are perfect for adding into smoothies and yogurt
12. Pumpkin seeds
Similar to nuts, pumpkin seeds are an easy and satisfying snack. Pumpkin seeds are rich in plant-based protein, fiber, and healthy fats, but low in carbs, so eating them won't lead to blood sugar increases. In addition, pumpkin seeds actually have hypoglycemic properties, which means that they can also help control blood sugar post-meal.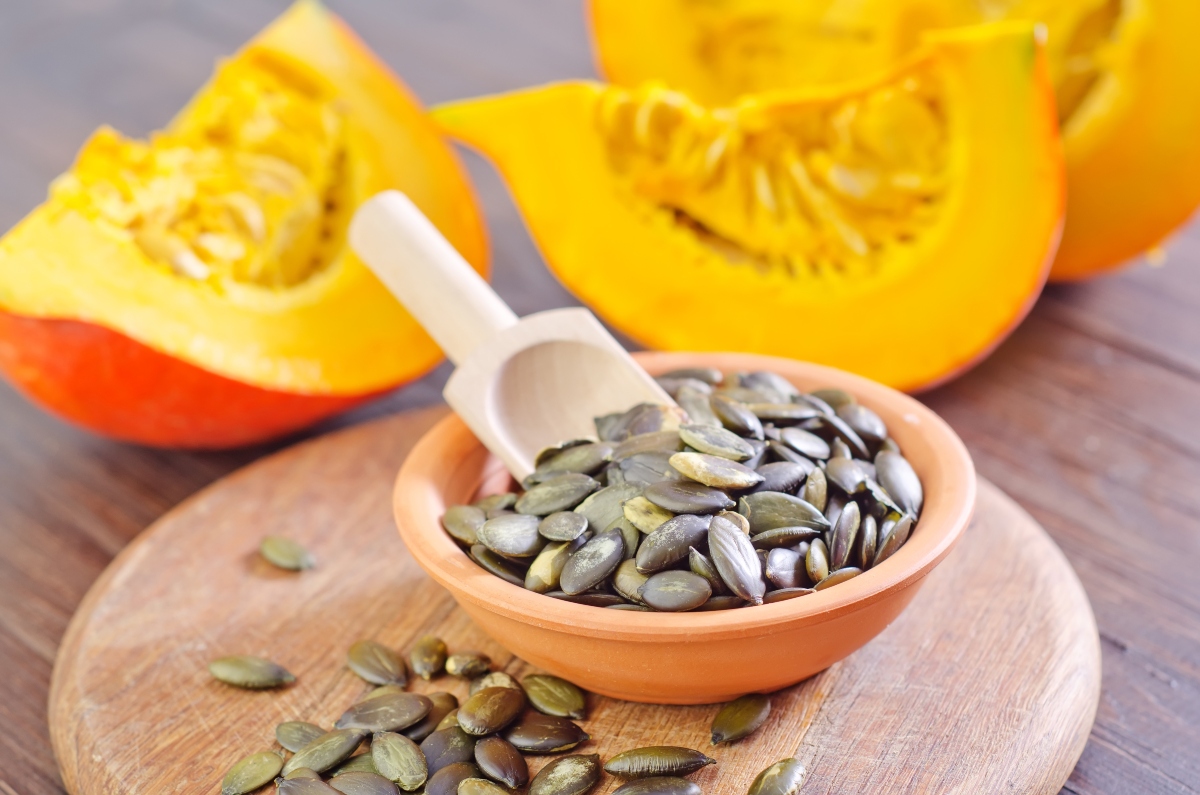 How to add pumpkin seeds to your diet
Pumpkin seeds (aka pepitas) are easy to add to any diet.
Add into a homemade trail mix or granola, or eat by themselves

Sprinkle onto yogurt, oatmeal, and pancakes for breakfast

Toss in with salads for a tasty crunch

Add to baked recipes like muffins, cakes, and cookies

Use as a crunchy coating for fish and meat

Include in pesto, soups, chilis, and other hearty sauces
13. Chia seeds
Enter another type of diabetes-fighting seed… chia seeds! These nutrient-dense seeds are high in antioxidants and omega-3 fatty acids to protect your heart. Chia seeds are also provide a rich source of fiber that can help in lowering blood sugar levels by slowing the absorption of sugars during digestion. Consuming chia seeds may also improve insulin sensitivity and help keep blood sugar balanced after consuming carb-rich meals.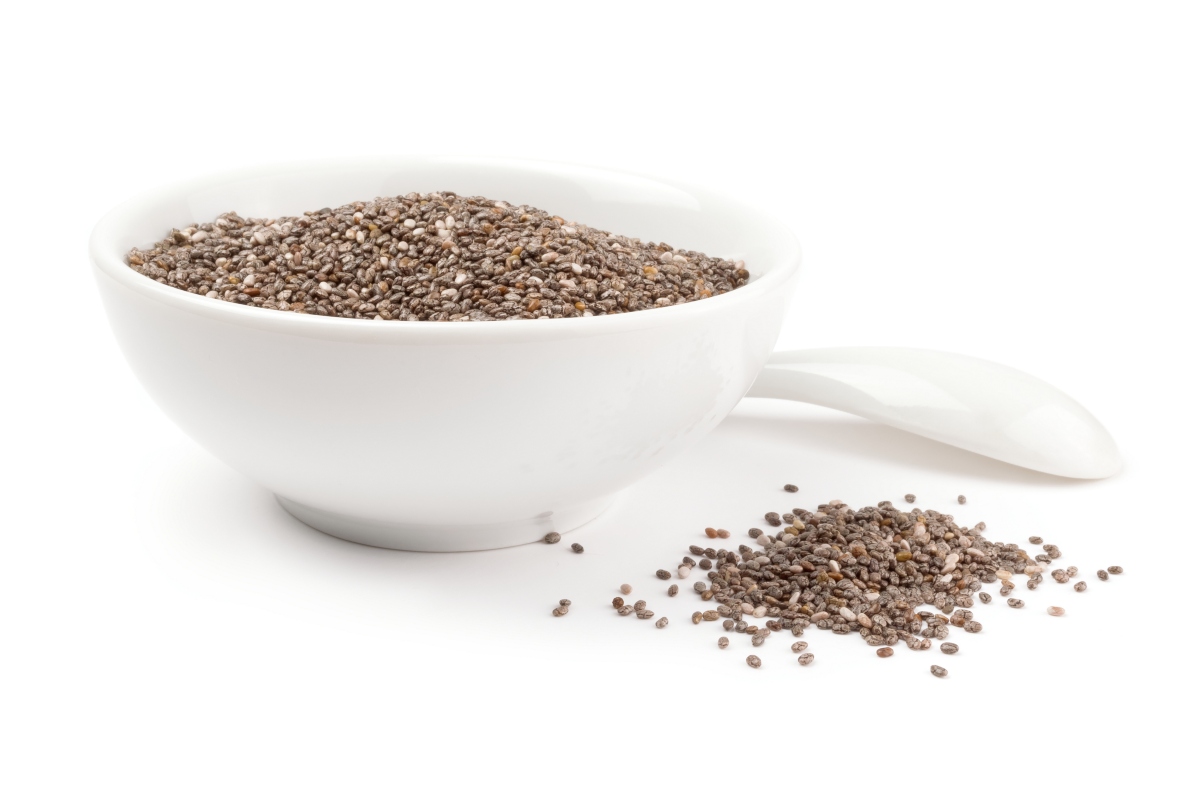 How to add chia seeds to your diet
Chia seeds are quite versatile, and since they don't have a flavor you can add them to pretty much any dish. When added to liquids, chia seeds absorb the liquid and turn into a gel due to soluble fiber content.
Use as an egg substitute in baked goods

Mix up some chia pudding or add to overnight oats

Try using chia seeds to thicken sauces

Use to make a crust for fish or chicken

Add to beverages to make a delicious
Eating for blood sugar control
This list of foods that lower blood sugar can be easily added into any meal plan, but are especially amazing for keeping your blood sugar in check and managing type 2 diabetes. Keep in mind that this list isn't comprehensive, as there are other foods that can help you fight diabetes and keep your blood sugar in check… However, this top list of foods that lower blood sugar is a great place to start!
As you can see, eating healthy doesn't have to be boring! There are so many delicious ways to use these foods. I hope that this article gave you tons of inspiration for how to use the best foods for lowering blood sugar every day.