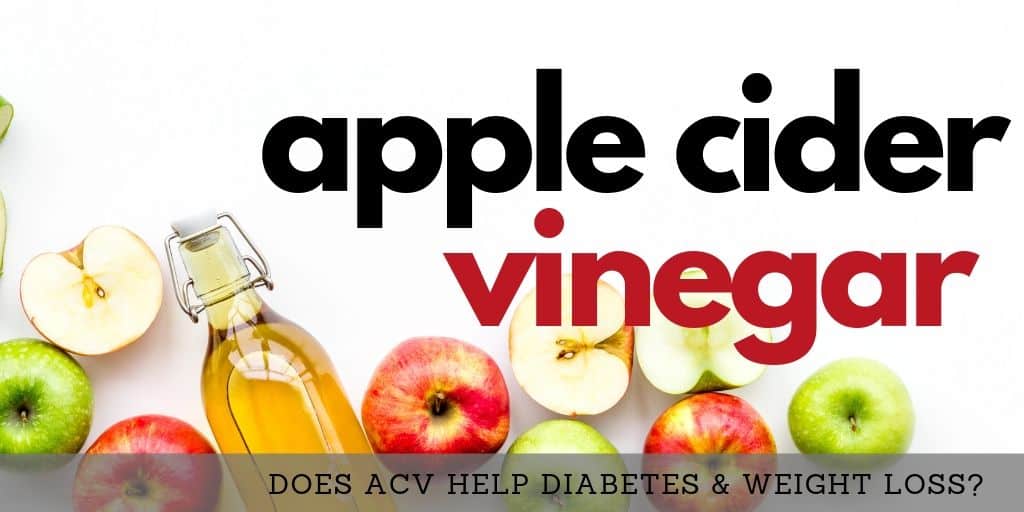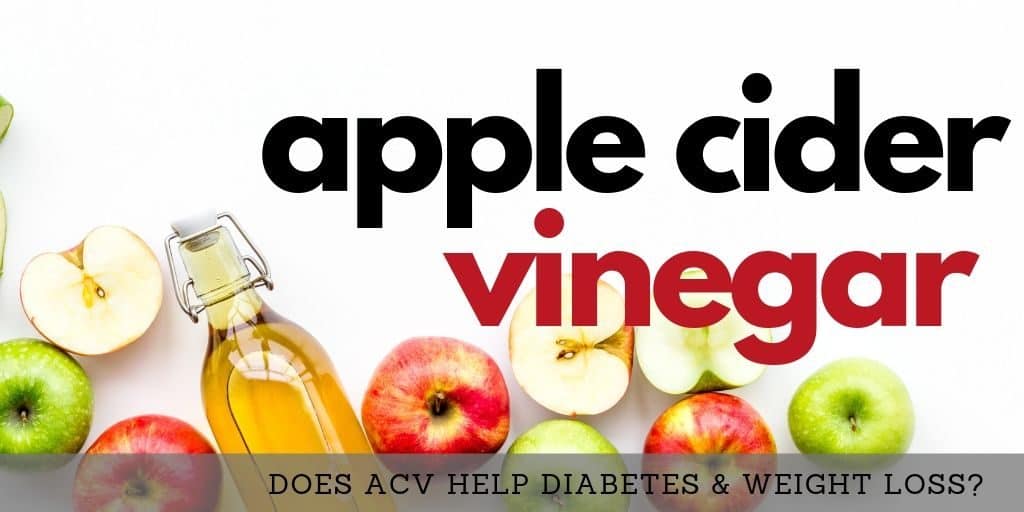 Curious about apple cider vinegar and your health? This tangy, sour substance has a reputation as a home remedy for a variety of ills. Just ask Google; he'll say apple cider vinegar for diabetes and weight loss, to dandruff and acne—all with just a few tablespoons. (You may even remember how, after diligent research, I turned to apple cider vinegar during my family's strep throat battles.)
Even the ancient Greek doctor Hippocrates harnessed apple cider vinegar's supposed health-promoting properties over two thousand years ago. Still, it's important to know exactly what a splash of this acid can—and cannot—do.
With all the claims, you may be wondering does apple cider vinegar help with weight loss and diabetes: "Can apple cider vinegar curb my cravings? Help me lose weight? Lower my blood sugar?"
If you've got questions about ACV, then you've come to the right place. Let's look at what the latest research says about apple cider vinegar to help you decide if you should make it a regular part of the meal plan for you and your family.
What Exactly is Apple Cider Vinegar?
The creation of ACV begins with chopped apples. Next, the apples are covered with water at room temperature. After that, natural sugars begin to ferment and make alcohol. Finally, bacteria change the alcohol into acetic acid. Acetic acid is what gives vinegar its characteristically tangy, sour taste. In fact, the word vinegar means "sour wine" in French.
ACV contains about 3 calories per tablespoon and offers a flavor punch to cooking. When used in baking, it helps cookies and cakes rise. In pickling and canning, it acts as a preservative. The combination of vinegar and sodium in canning is effective at preventing food spoilage.
What is 'the Mother' in Apple Cider Vinegar?
If you've shopped for ACV before, you may have noticed some bottles feature labels promoting "with the Mother." This simply refers to the strands of helpful bacteria, enzymes and proteins that give the apple cider vinegar a murky appearance. Unfiltered ACV will contain the Mother.
Besides the beneficial bacteria present in apple cider vinegar, it has other potentially health-supporting properties. Vinegar is full of polyphenols. These antioxidants may help protect against cell damage and disease.
So, with all those beneficial bacteria and supposed health-claims swirling around, should you go out and buy ACV in bulk? Let's look at the science.
What Research Says about Apple Cider Vinegar
While many have touted its health benefits for years, it is only recently that some researchers have begun to investigate the possible benefits of apple cider vinegar.
The studies to date on apple cider vinegar are mostly small with a mix of human and animal studies. However, in regards to weight loss and blood sugar, the results are very similar from one study to the next.
Does Apple Cider Vinegar Help Weight Loss?
When compared to placebo, consuming apple cider vinegar appears to promote weight loss and a reduction in belly fat. It also seems to increase the feeling of fullness. Studies, although not numerous, seem to suggest:
Apple cider vinegar may decrease food consumption and increase feelings of fullness.

Less calories may be consumed when high carbohydrate meals contain apple cider vinegar.

An increase in weight loss, specifically belly fat, when adding apple cider vinegar.
Is apple cider vinegar a weight-loss miracle? No way. Could it help curb cravings and keep you fuller longer? Maybe so.
Does Apple Cider Vinegar Help Diabetes?
You don't have to have Type 2 diabetes to benefit from stabilized blood sugar. Here's a look at some of the small, but consistent research regarding blood sugar and apple cider vinegar.
Apple cider vinegar has been found to lower blood sugar after meals. One study found improved insulin sensitivity by 19-34% when used in conjunction with a high carbohydrate meal. It also significantly lowered blood sugar and insulin responses.

Even just the amount of vinegar found in your salad dressing could be enough to reduce blood sugar.  Results showed a 34% decrease in blood sugar after consuming bread with ACV.

The effects of apple cider vinegar before bedtime were studied. Those with Type 2 diabetes that had 2 tablespoons before bed found about a 4% reduction in their morning blood sugar readings.
High blood sugar can be a factor in a number of chronic diseases. Small studies show that vinegar can lower your blood sugar after meals. You don't have to have diabetes or prediabetes to reap the benefits that come with avoiding blood sugar spikes. Apple cider vinegar may be beneficial for those with diabetes as well as just those wanting to promote health.
My Conclusions on the Research
While the jury is out on the accuracy of many of apple cider vinegar's claims, consistent findings in the small number of studies that are available seem to indicate it could have a positive benefit on weight and blood sugar control.
I do feel apple cider vinegar may have a positive impact on weight and blood sugar based on these consistent results across multiple studies.
ACV is currently being studied for other benefits, too.
Does Apple Cider Vinegar Help with Infections?
Besides potentially aiding weight loss and lowering blood sugar levels, apple cider vinegar may also offer protection against some infections. Vinegar can attack pathogens.
Concerned your kiddos may be bombarded with strep germs at school and daycare? Apple cider vinegar may offer protection against these contagious strep infections as well. The ant-bacterial and antiviral properties of ACV may be just your ticket to avoiding a painful strep sore throat. Get step-by-step directions to how to use apple cider vinegar to guard against strep here.
How to Incorporate Apple Cider Vinegar in Your Meals
Thinking of adding apple cider vinegar to your family's routine?
Here's 4 ways to consume apple cider vinegar without gagging:
Dilute 1 tbsp in a full glass of water alongside a meal

Use it with olive oil to make a salad dressing

Create a marinade featuring ACV

Add it to your favorite smoothie
Note: If adding ACV to your child's smoothie for strep, you can drop the dose down to 1 teaspoon like I did with my kids.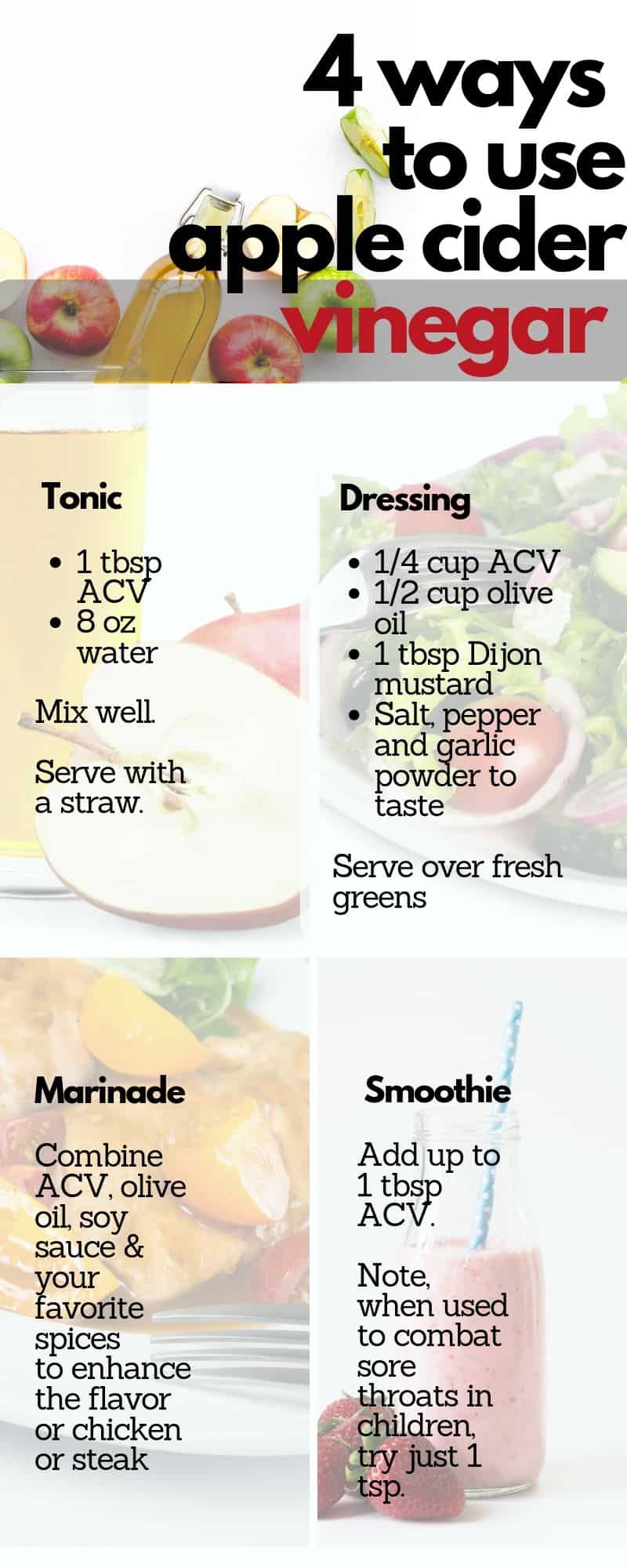 Apple Cider Vinegar Dosing, Precautions and Best Practices
Slow and steady wins the race, and keeps you safe. Always, always, always dilute ACV.
How to Properly Dilute Apple Cider Vinegar
Try just 1 tbsp a day diluted in water. Consider using a straw to protect the enamel on your pearly whites.
A Word of Warning
Warning! Too much ACV can upset your stomach and even cause tissue damage to your esophagus. Yikes!  Also, take apple cider vinegar with a meal. This can ease any discomfort from ACV's high acid content.
Additional Lifestyle Factors to Help Weight Loss and Diabetes
While you're looking for solutions for weight loss and diabetes, don't forget the tried-and-true impact of movement and a real food centered meal plan.
Walk the walk: Whether it's weight loss or blood sugar management you crave, consider the impact of a quick 15-minute walk after meals. A small study found just fifteen minutes was all that was needed to blunt post-meal blood sugar spikes.
Get real: When it comes to meal times, focus on real foods. Tossing the pre-packed foods with added sugar can be a big step in the right direction when it comes to weight loss and blood sugar control. 
Bottom Line
Apple cider vinegar is not a magic cure-all, but it could be a beneficial addition to your healthy lifestyle. Should you try it? ACV is one of those foods that won't hurt to try, so I have no problem recommending you try it for up to 3 months to see if it makes a difference for you.
Have you tried ACV? What were your observations? Drop me a line on one of my social accounts below and let me know your favorite way to use ACV and how apple cider vinegar is (or isn't) working for you.
Sources