My Slow Cooker Vegetarian Chili can be thrown together in just 5 minutes and is made with whole ingredients that is family budget friendly! The perfect comfort food especially during the cold winter months!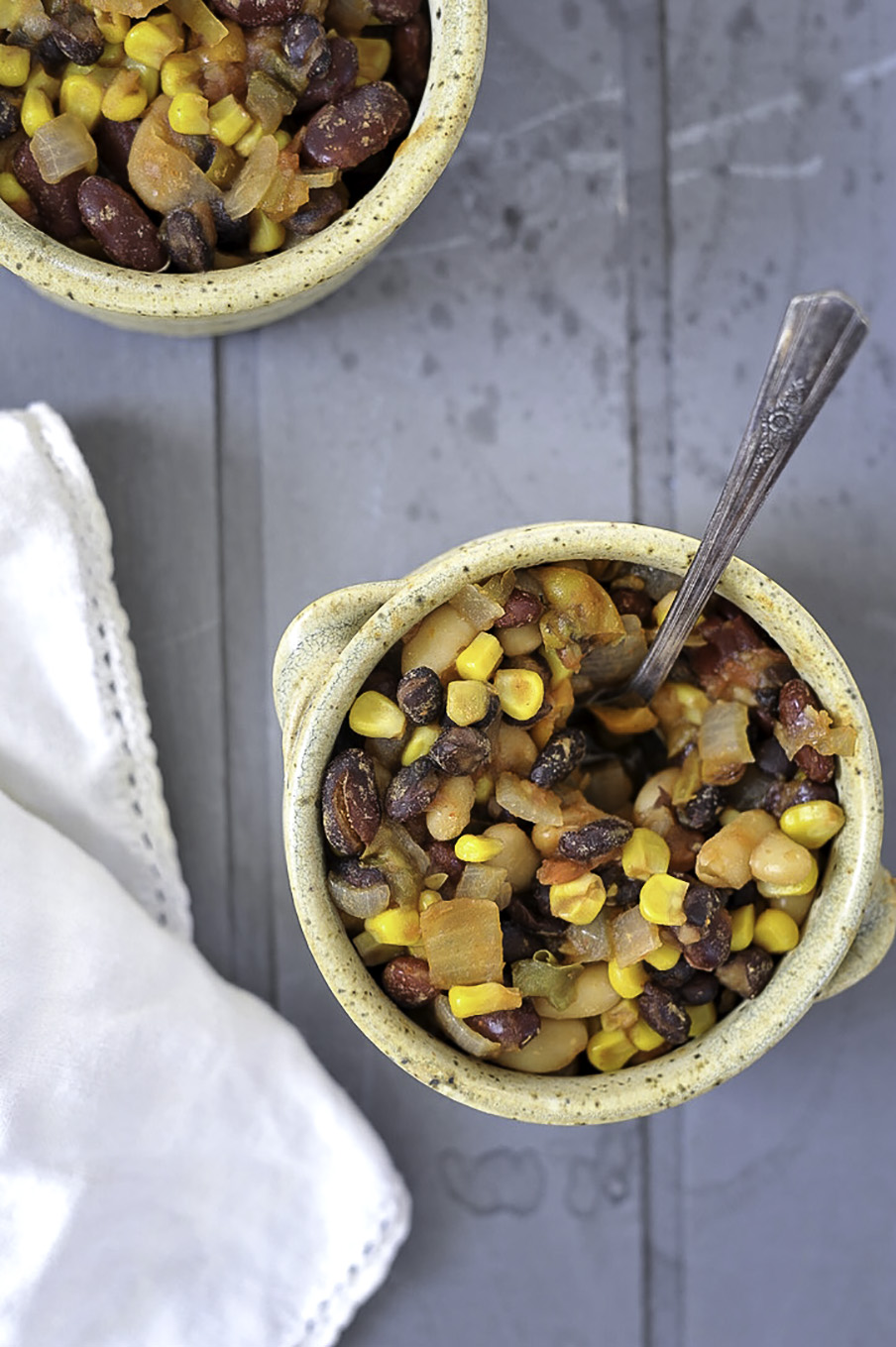 Do you ever find that you want to make a veggie-packed, healthy meal that your family will love, but just can't find the time? Well this is my life pretty much every day of the week! I never feel like there are enough hours in the day to do everything, including prep & prepare a healthy meal. So that's why when I can create a recipe that can be prepped in under 5 minutes, cooks itself, and is packed full of protein & fiber I get very happy!
I have so many clients tell me they want to eat more fiber and add more plant-based food to their diet, but they think it has to be super time consuming. Guess what?! —-> plant-based, family-friendly meals can be incredibly easy to make & a big cost saver too! This Slow Cooker Vegetarian Chili recipe is one of my new favorites. Not only can I prep it so fast I don't miss any time with the kids, but it cooks itself! And it costs less than $0.75 per serving. Yup! It doesn't get much better than that!
All you need is a slow cooker, a few ingredients, and you are ready to make the most delicious chili you've ever had. If you are looking for the best slow cooker option, this one is my favorite.
Slow Cooker Vegetarian Chili Ingredients
Beans – We are going to use black beans, kidney beans, and cannellini beans, but honestly if you don't have these on hand or can't find them in the store you can swap them out. Some other great options are red beans, navy beans, and pintos.
Veggies – One thing I love about this chili recipe is that you can add or omit different vegetables and the taste is still wonderful! We are using diced tomatoes, green, red, and yellow bell peppers, onion, corn, and chili peppers!
Seasonings – Chili needs a good kick but not too much. So we are going to add some taco seasoning and chili seasoning. You can get these packets from the store. Keep reading to see how to make your own taco chili seasoning.
Other Chili ingredients: salsa, and additional toppings if desired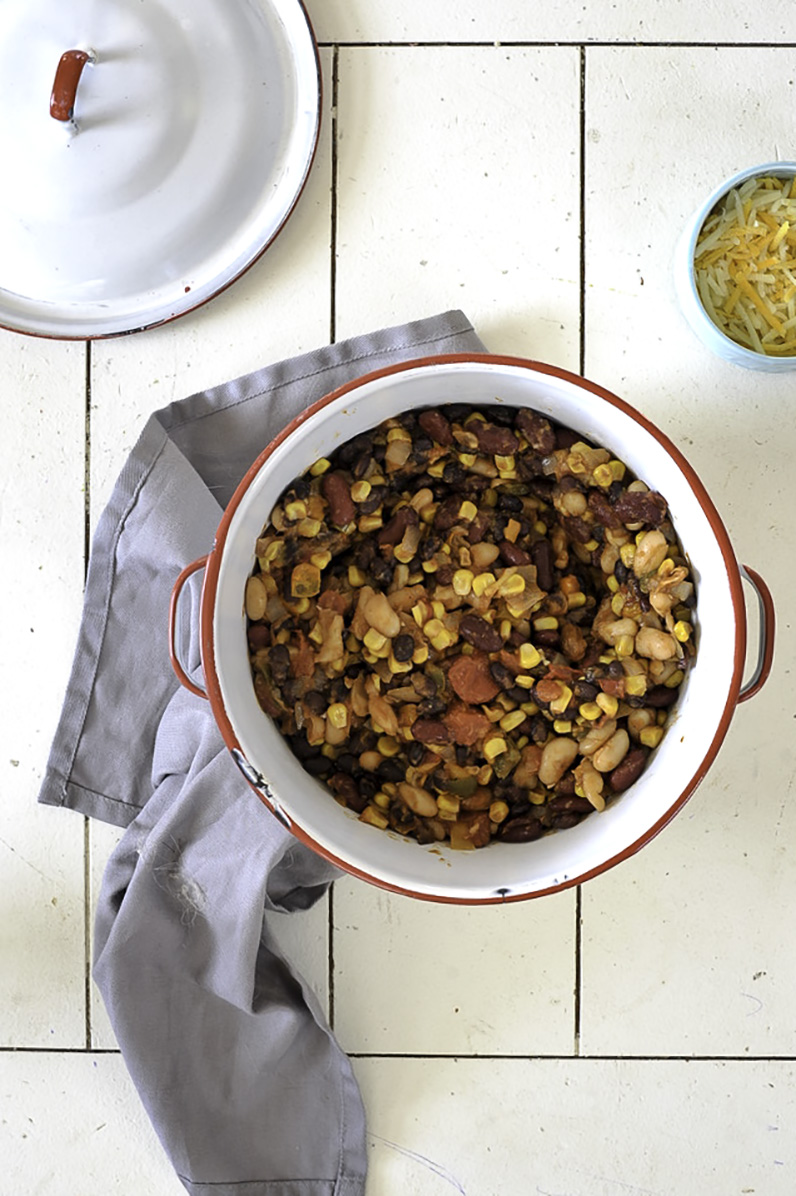 Tips for Making Veggie Chili in the Crock Pot
If you like your chili more soupy, add a little bit of water or vegetable broth to the pot and mix together with the other ingredients.
Crockpot Liners make cleanup a breeze! They are these little plastic bags that go in the inside of your slow cooker. Then once you are finished you simple toss it out and your crockpot is still clean! It may need a little rinsing if you stir the chili and end up puncturing the liner.
Homemade Chili Taco Seasoning
If you Google taco seasoning, you will find TONS of recipes with specific measurements. But for me when it comes to seasonings I like eyeballing! Sorry to those people who want the measurements! All you need for a homemade seasoning is chili powder, garlic powder, paprika (smoked for more flavor), salt, pepper, onion powder, and a pinch of crushed red pepper!
Go light on the salt or totally omit it. If you want the chili to be more spicy just add more red pepper.
Can You Freeze Chili?
Yes! That is actually a really good idea! Chili is great for meal prepping. To freeze simply allow the chili to cool completely. Then use a freezer bag for Foodsaver for storing.
Tips for freezing: Store in portions. This makes the chili go further and you won't waste it if you decide you only want a little but or for a lunch size. Also store the chili flat in the freezer, this helps to keep it from taking up so much space. If you have space that you don't care about, you can also store it in mason jars.
Popular Toppings for Chili
If you decide you want to jazz it up, here are some of the most go to chili toppers!
Cheese
Sour Cream
Greek Yogurt
Avocado
Tortilla Crunchies
Sliced jalapeños
Scallions
Onions
Guacamole
More Healthy Slow Cooker Recipes:
Pin The 5 Minute Vegetarian Chili Recipe for Later!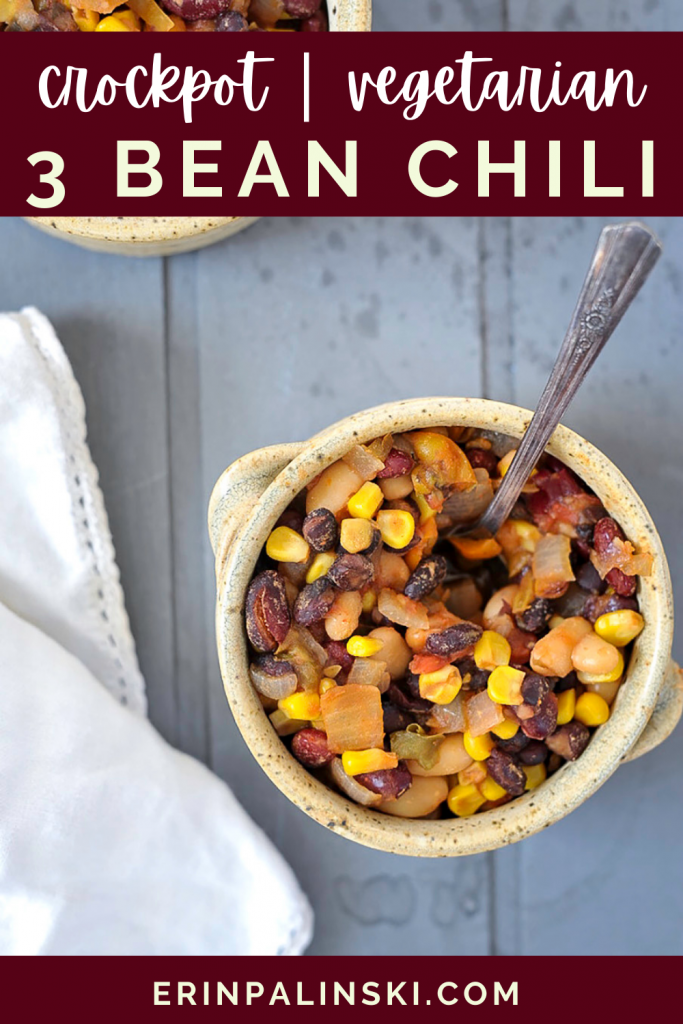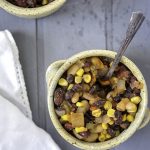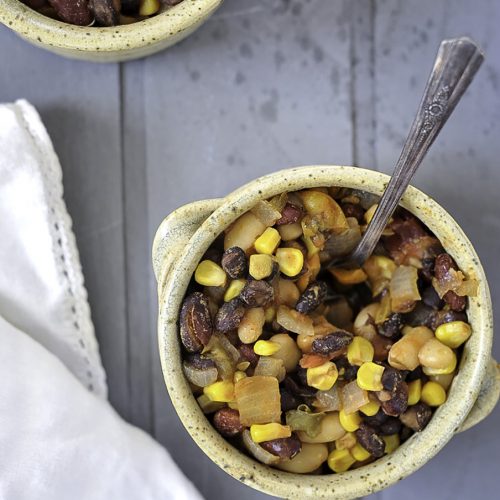 5 Minute Slow Cooker Vegetarian Chili
This easy crock pot vegetarian vegan chili recipe can be made in just 5 minutes and costs less than $0.75 per serving
Ingredients
1

can

black beans, drained

15.5 ounces

1

can

kidney beans, drained

15.5 ounces

1

can

cannellini beans, drained

15.5 ounces

1

cup

fresh salsa

1

can

corn, drained

10 ounces

1

can

diced tomatoes, drained

10 ounces

1

large

red bell pepper, diced

1

large

yellow bell pepper, diced

1

medium

sweet onion, diced

1

can

chili peppers, drained

4.5 ounces

1

Tbs

taco seasoning

1

Tbs

chili seasoning
Instructions
Mix together all ingredients in a large bowl.

Add ingredients to slow cooker and cook on low for 4 hours.

Serve warm. Top with shredded cheese and sour cream if desired.
Recipe Notes
Nutrition Facts (per serving): 174 calories, 32 g CARBS, 8g FIBER,, 1 g FAT, 9 g PRO, 736 mg sodium, 4 g sugar