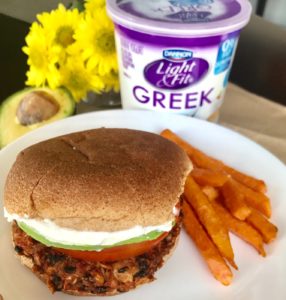 As a dietitian, I spend the majority of my day talking to other people about how to make nutritious meal choices, so it may surprise you to know that many times I struggle with figuring out what to feed myself and my own family. I get into food ruts where I make the same meals over and over again. That's been happening a bit more than I would like this summer, so partnering with Dannon Light & Fit for the 'secret ingredient' dietitian blogger challenge couldn't have come at a better time.
Disclosure: This post has been created in partnership with Dannon to promote Light & Fit. I have been compensated for my time, but all opinions are 100% my own.
For this challenge, I was sent a box filled with 'secret ingredients' and challenged to create a unique recipe using at least three of these ingredients along with yogurt. For me, yogurt is a staple in my refrigerator because of its versatility. I use it in everything from recipes, to smoothies, sauces, and even as a condiment. I'm always recommending that my clients incorporate more yogurt into their diet since it is a nutrient-dense food and many yogurts are a good source of protein, calcium, and vitamin D. The recent 2015 Dietary Guidelines for Americans even recommend choosing yogurt as a snack, or using yogurt as an ingredient in prepared dishes to help increase dairy intake. So I was super excited to figure out another new way to incorporate yogurt into my day.
I selected black rice, cannellini beans, and roasted red peppers as my three secret ingredients. I then paired them with Light & Fit Greek Nonfat Yogurt, which contains 120 calories and 22 grams of protein per 8 oz, to whip up this incredibly easy White Bean Burger with Red Pepper Yogurt Spread recipe. It takes just a few minutes to prepare and is a fantastic way to enjoy burger season in a more nutritious way.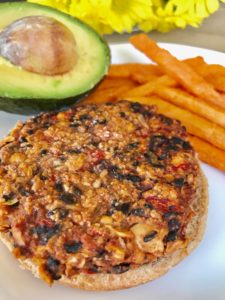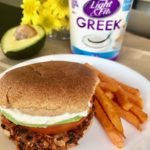 White Bean Burger with Red Pepper Yogurt Spread
Ingredients
1/4

cup

black rice

1/2

cup

water

(for preparing rice)

1

can

cannellini beans

15.5oz

1

Tbs

garlic, minced

1/2

tsp

paprika

1/2

tsp

taco seasoning

1/2

tsp

black pepper

1/2

tsp

lemon juice

1

tsp

lemon juice

1/2

onion, medium

1/2

cup

breadcrumbs

1/2

cup

roasted red pepper, diced

1

egg

8

whole grain hamburger buns
Yogurt Spread
1/2

cup

Light & Fit Greek Nonfat Yogurt, plain

1/4

cup

roasted red pepper

1

pinch

taco seasoning (if desired)
Instructions
Rinse black rice in cold water and drain

Place in a small pot on stovetop and bring to a rolling boil. Once boiling, add rice, reduce heat and cover the pot. Let rice simmer for 35 minutes, or until water has been fully absorbed.

While rice is being prepared, add beans, garlic, paprika, cayenne, black pepper, salt, and lemon juice into a food processor. Pulse until pureed.

In a large bowl, whisk egg. Add in pureed beans, breadcrumbs, red peppers, and onion and mix thoroughly. Add cooked rice to mixture and mix.

Use your hands to form the mixture into burger patties (this recipe make approximately 8 medium patties).

Place patties on a baking sheet lined with parchment paper (or lightly greased).

Bake for 30 minutes, flipping patties once halfway through the baking time.

While patties are baking in the oven, place yogurt and roasted red peppers in a food processor and blend until smooth.

Once baked, place burger patties on a whole grain bun, top with yogurt spread, and serve warm.

Add optional toppings such as sliced avocado, tomato, lettuce, or onion if desired.
What's your favorite way to incorporate yogurt into your day? Show me your photos on Instagram by tagging me @erinpalinskiwade and follow @lightandfit for more delicious recipes.