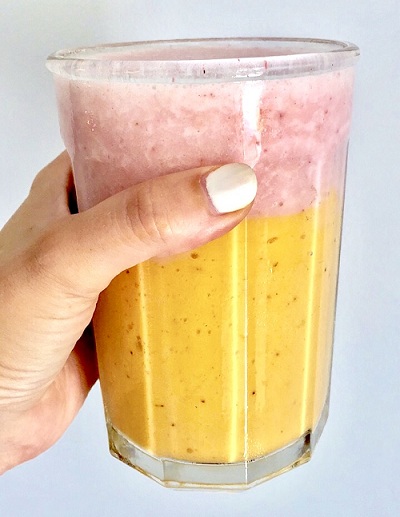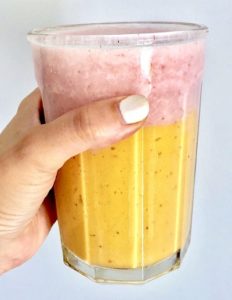 Nothing says summer more than a colorful, delicious smoothie. In our house, smoothie recipes are a summer staple. It's one of the easiest ways to load up on antioxidants, fiber, and protein while allowing the whole family to get in on the fun. Fruit smoothies also make the perfect on-the-go meal or snack option for everyone from baby to mom and dad.
We typically use a combination of summer fruits, vegetables, unsweetened milk, or yogurt to whip up the smoothie of the day.  I let my 3-year-old pick out the fruit and vegetable combinations he wants to try out, then we toss them in the blender, whip it up, and try it out. This strategy has been a really fun way to get him to try out some new foods he wouldn't have tasted otherwise. I'm happy because he's enjoying a meal packed full of nutrients, the baby is happy because he gets to try the new combination of a spoon, and my 3-year-old is happy because he thinks he's drinking dessert by the straw. It's a win-win for us all.
Today's fruit smoothie was extra fun to make because it was a layered smoothie recipe! Seeing the different colors layers on top of each other is one of Joey's favorite things. He wants to try to create a rainbow smoothie next time using ALL of the colors, which is a little more effort than I wish to try LOL, but for now, he's very excited about this Strawberry Banana Layered Smoothie Recipe.
What are your favorite smoothie recipe combinations? Share them with me over on Instagram and tag me @ErinPalinskiWade
Need some more smoothie inspiration? Give some of my other favorite's a try:
Cinnamon Sweet Potato Smoothie Recipe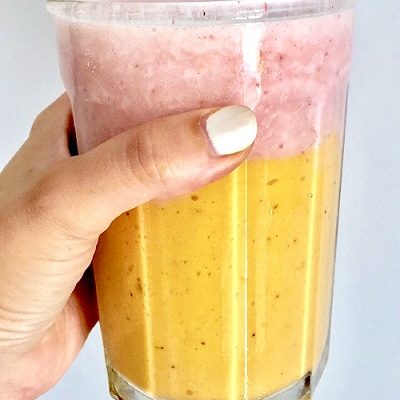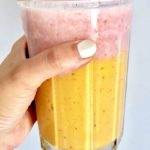 Strawberry Mango Smoothie Recipe
Ingredients
For Strawberry Banana Layer:
1/2

cup

frozen strawberries

1/2

banana

1

cup

unsweetened soy milk
For Mango Banana Layer
1/2

cup

frozen mango

1/2

banana

1

cup

unsweetened soy milk
Instructions
In a blender, combine strawberries, banana and soy milk. Blend until smooth.

Pour mixture into cup and place in freezer as you prepare second layer.

Rinse out blender and combine mango, banana and soy milk. Blend until smooth.

Take cup out of freezer and pour second layer on top. Enjoy immediately!
Recipe Notes
Nutrition Facts per serving: 172 calories, 28 g CHO, 4 g Fat, 9 g PRO, 71 mg sodium, 19 g sugar