These healthy snacks for after school aren't just nutritious but are fun and educational. In our house, we like to call them snacktivities! 
With my family being at home so much right now and homeschooling it seems like my kids want to snack ALL THE TIME! Am I the only one? 
So I decided to come up with healthy snacks for after school that are fun, nutritious, and incorporate some learning too. And that's how these 'snacktivities' were born.
Be sure to watch my Youtube video below and subscribe! There are NEW videos every Tuesday, so tune in around 8 am EST! 
6 Healthy Snacks for After School 
Whether you are home schooling, virtual learning, or back at school, every kid needs a snack. So why not offer a healthy after-school snack that encourages learning. 
Yogurt Painting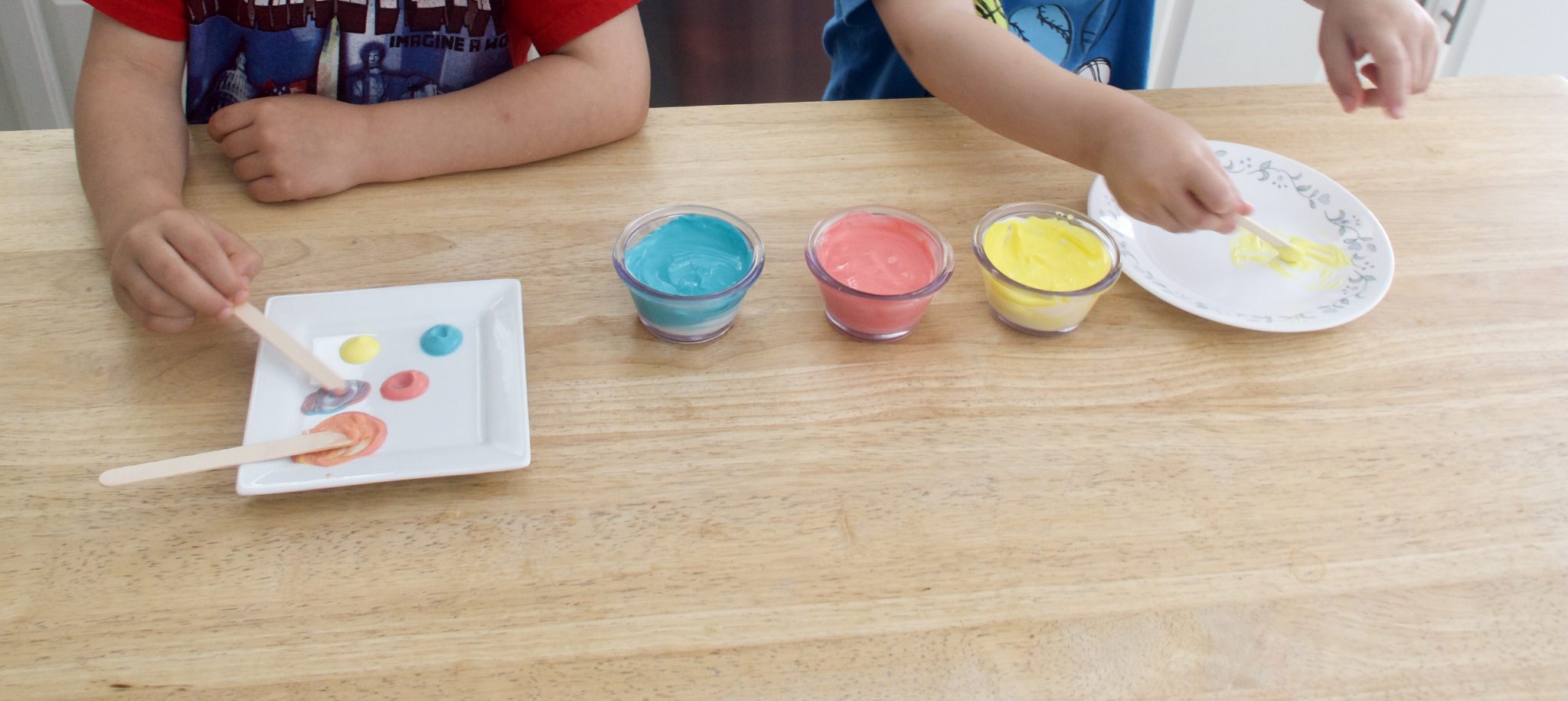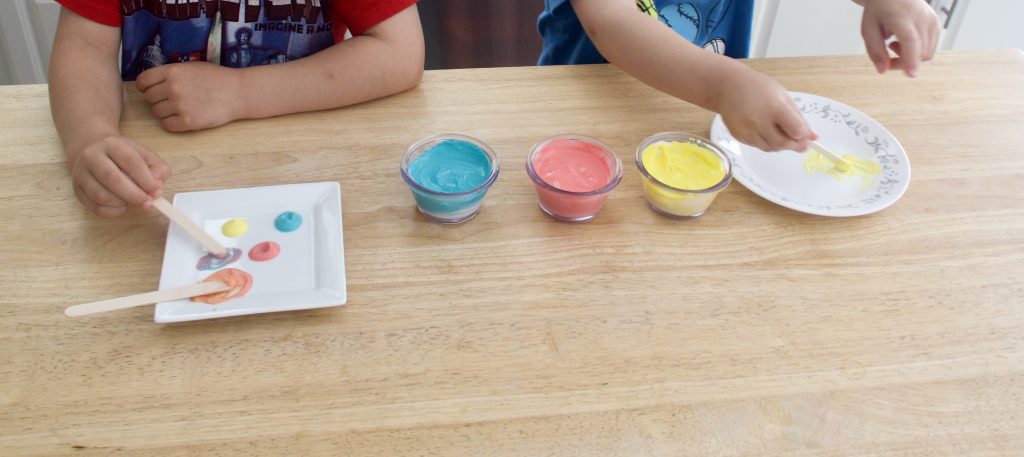 This is a great way to introduce primary and secondary colors. Just take Greek yogurt (pro tip: it's also a good source of protein and calcium) and put it into three little clear containers. Next, add food coloring to each container. You want to create the three primary colors: red, blue, and yellow. Then, with a few popsicle sticks, you can let your kids get creative. They can mix colors, 'paint' on a white plate…anything they'd normally do with regular paint. But this time, they can eat their creation! By discussing with your children the colors they can create, it provides a great opportunity for understanding primary and secondary colors.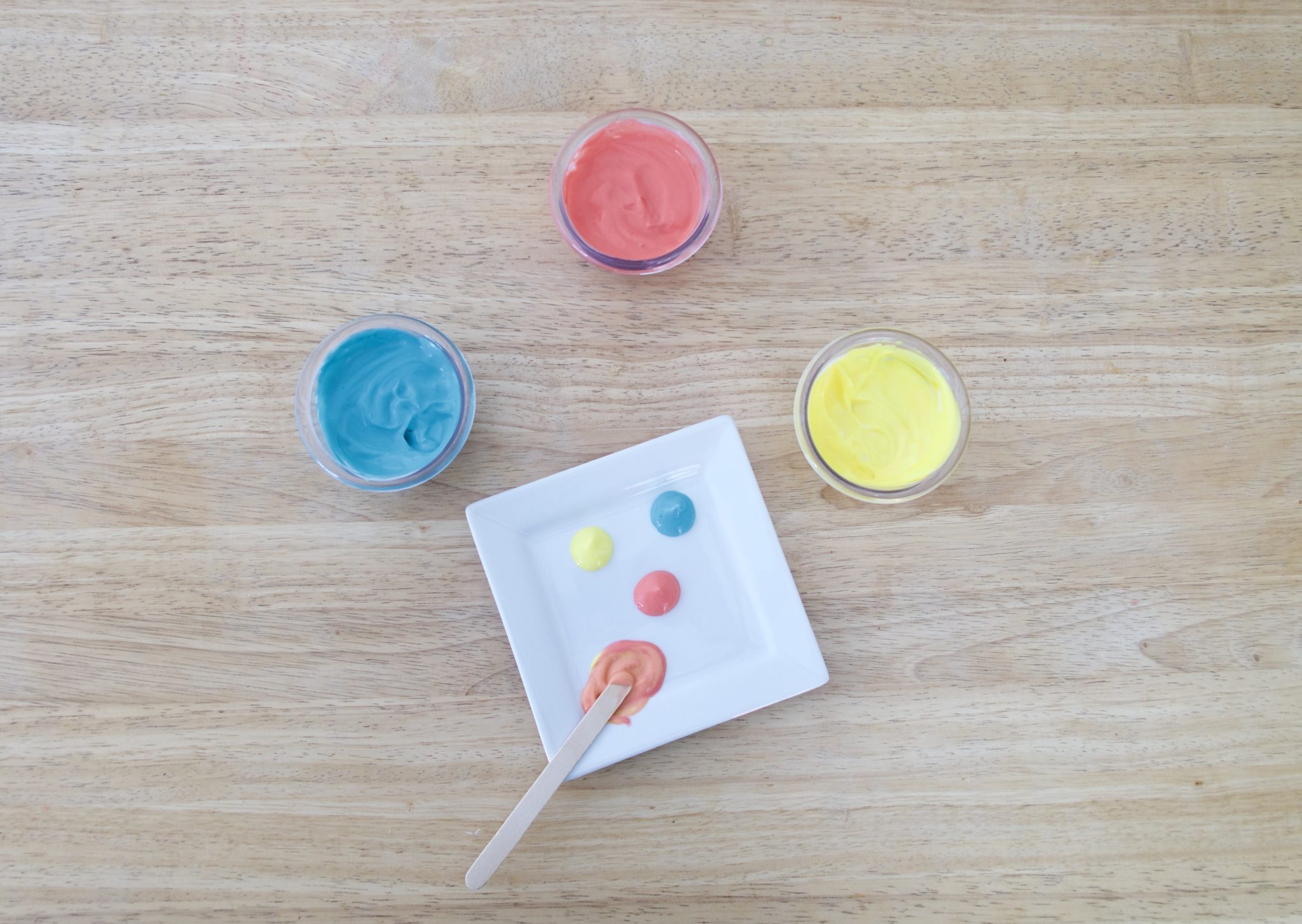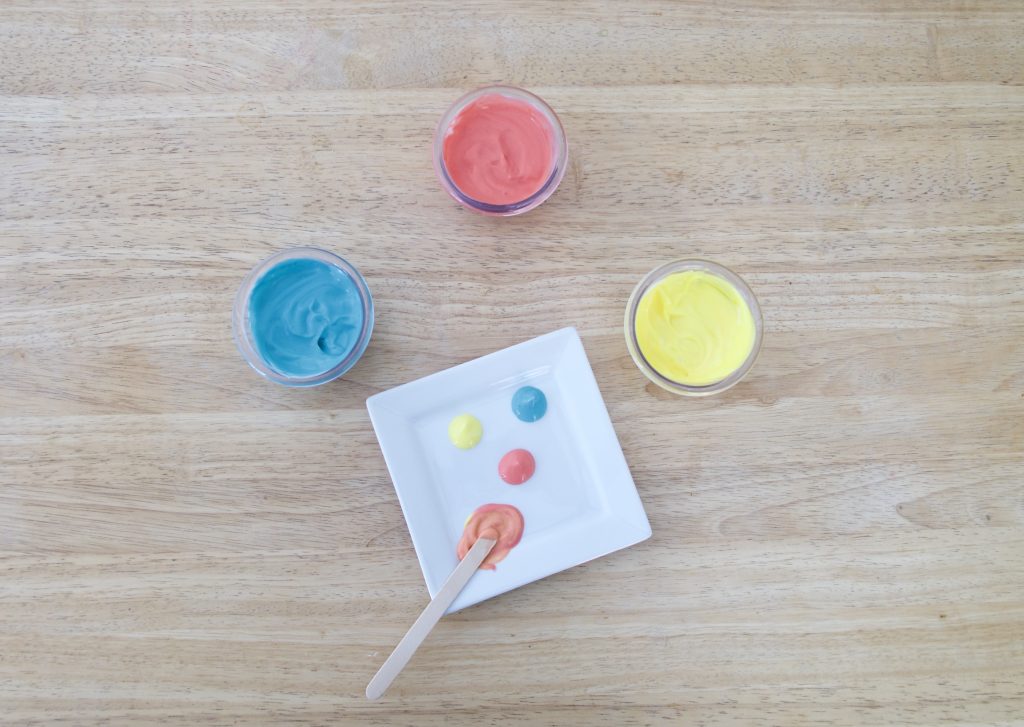 What You Need: Food coloring, white plate, clear containers, Greek yogurt, and popsicle sticks. 
Learning Outcome: To introduce primary and secondary colors for ages Pre-K through first grade. 
STEM Vegetable Building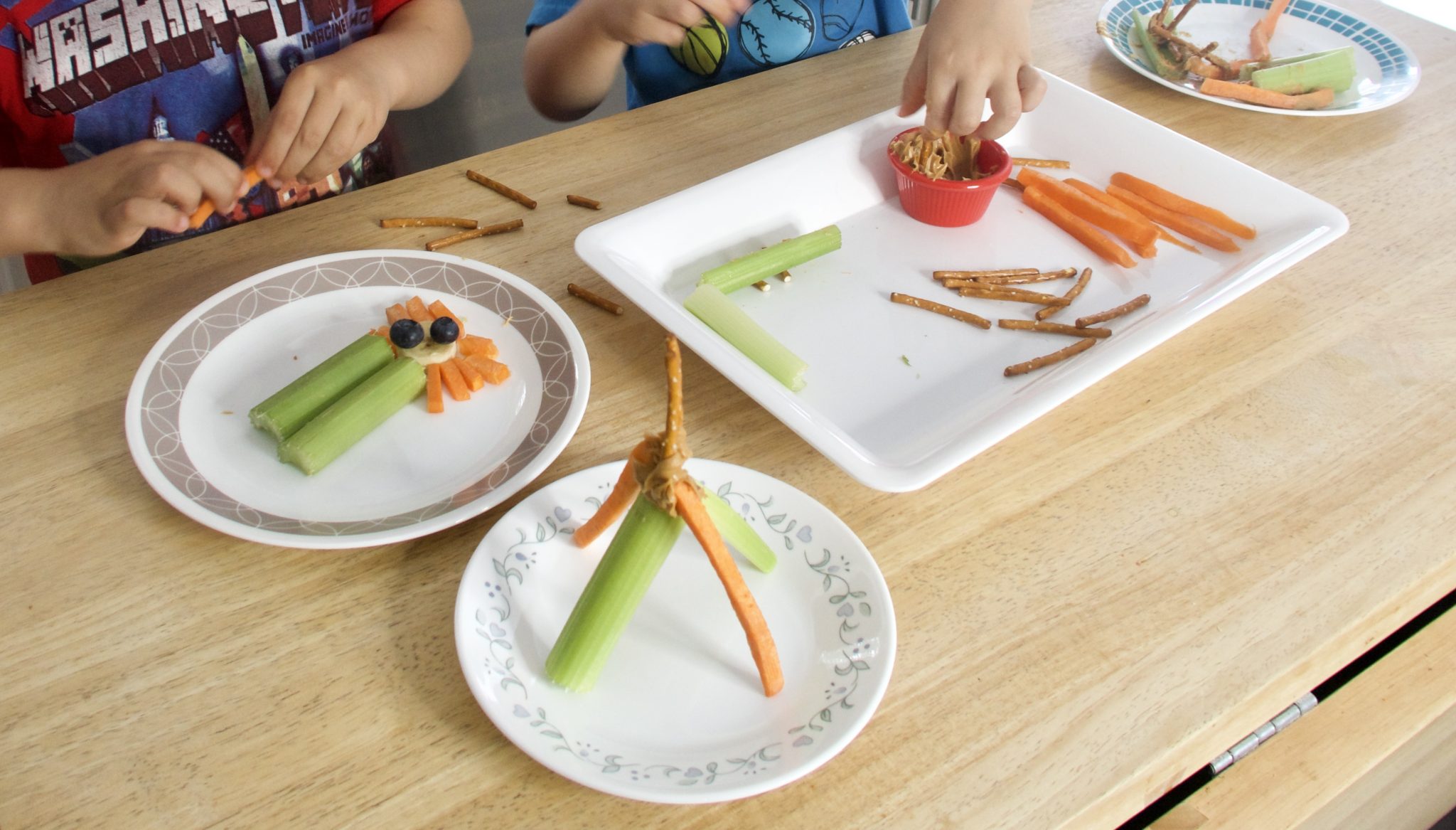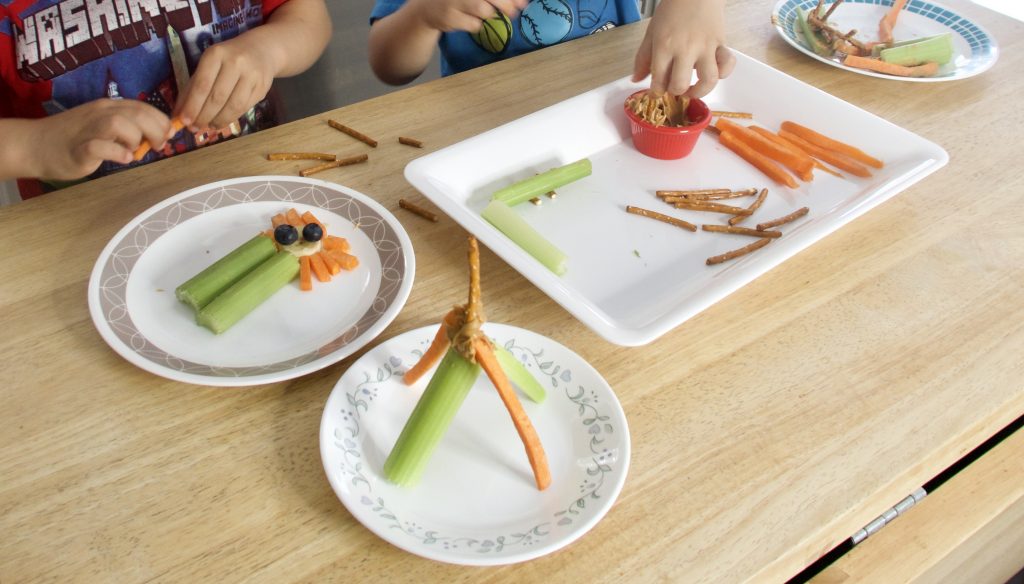 STEM is the hot buzzword right now when it comes to learning, so I wanted to be sure I am incorporating homeschool STEM activities as much as I can. And what better way to do that than with food, right? In this snacktivity you encourage your children to use their engineering and critical thinking skills to build the tallest tower or a piece of artwork out of our raw materials. Now, typically when you think about building materials, you may think of wood and nails and glue, but not with this educational snack. Instead, the 'building materials' are edible and packed full of nutrition – carrots, celery sticks, and whole grain pretzels. Then the 'glue' to hold them together is equally nutritious. You can use anything from natural peanut butter to hummus or sunflower seed butter. The choice is really up to you. What I love about this activity is that it not only lets your child think critically about how to build a tower that won't fall, but at the same time it is increasing their exposure to vegetables. 
If you have a child that struggles to eat vegetables or a picky eater, exposing them to these foods in a fun way can help. In this snactivity, there's no pressure to eat the food. Instead, they are just having fun. And when the pressure is off, your child is more likely to be accepting of the new food. Although they may not jump in and eat it right away, every exposure is one step closer to accepting (and eventually eating) a new food. 
What You Need: Celery and carrot sticks, pretzel, and a "glue" (nut butter or hummus)
Learning Outcome: To use their engineering skills and creativity to build the tallest tower before it falls over!
Edible Solar System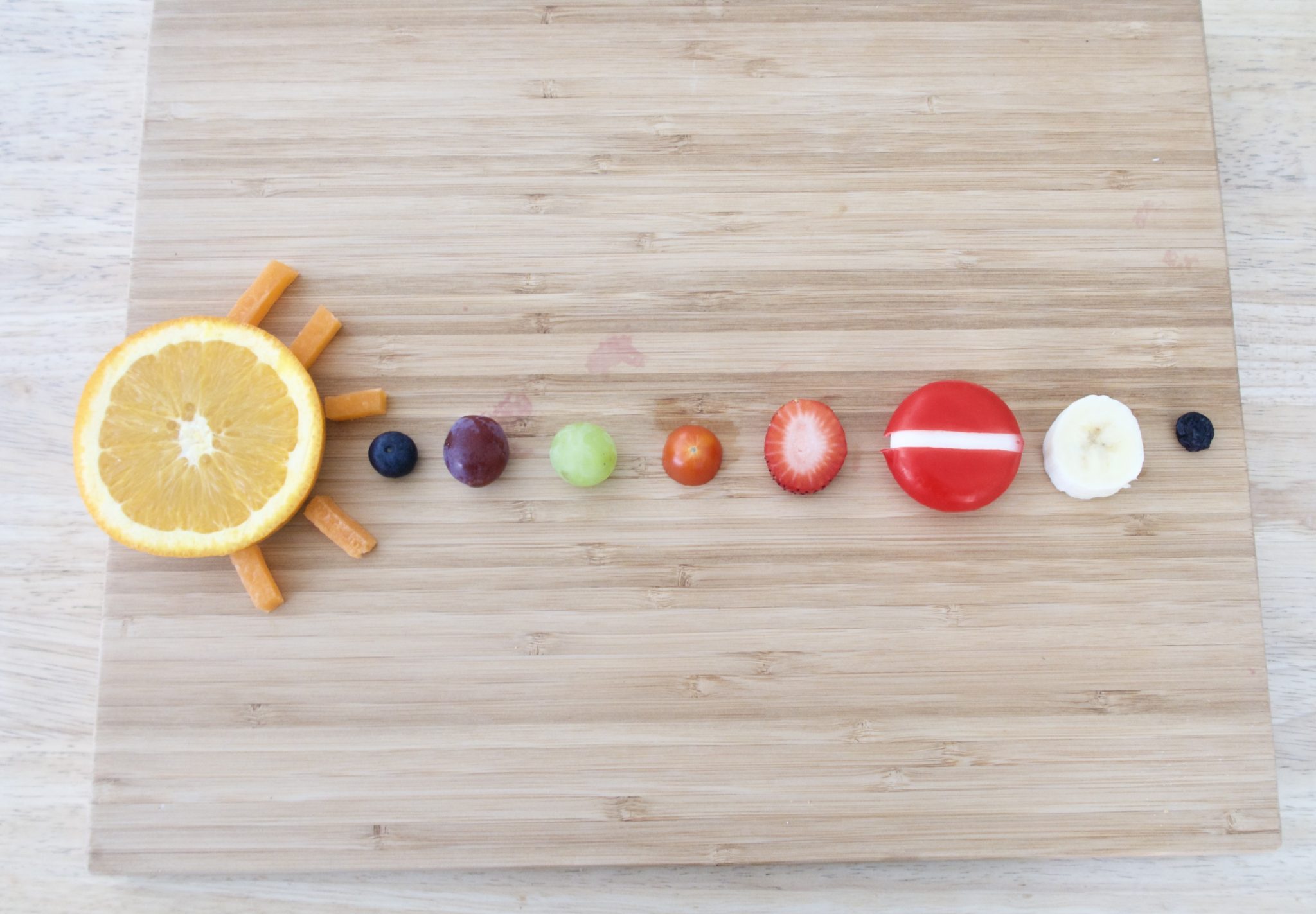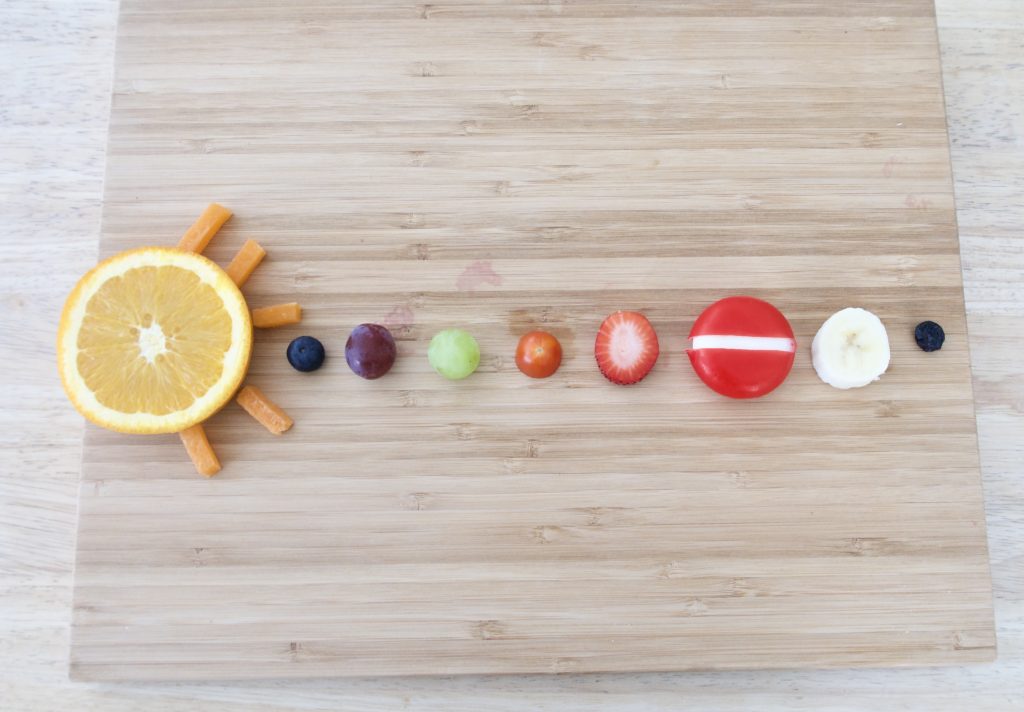 Have you ever read a story to your children and then asked them questions after and they act like they have no idea what you are talking about? Yup…same here. It's basically like I didn't share any information with that at all. What I have found during this whole  virtual learning experience is that my kids need a more tactical experience to really retain information. For instance, when we did a preschool homeschooling activity on the Solar System, it wasn't enough for me to just read a story with them about the planets. We have to get more active. And what's more exciting than a solar system you can see, and feel, and EAT?! 
This edible Solar System was a huge hit with my kids because they were able to use foods of different sizes and colors to create a realistic solar system that they could eat. As we built the edible Solar System, we discussed the colors of the planets, the sizes, the distance from the sun….everything you could think of. And because at the same time, they were seeing the planets and touching them (and sometimes eating them before we could finish the project), they were really grasping the information. It's easier to remember Mars is the red planet when you see it as a red grape tomato. 
To create this edible Solar System, you can use any food you have at home that either already looks like a planet (such as grapes, blueberries, and grape tomatoes) or you can cut your food into the shape of a planet (for instance, cutting cheese into a circle or slicing carrots). We used an orange slice to create the sun and then worked out from there arranging our 'planets' in the distance from the sun. 
What You Need: Blueberries, grapes, grape tomatoes, cheese, carrot slices, oranges, and raisins
Learning Outcome: Learn the planets of the solar system and their relationship to the sun.
Popcorn Math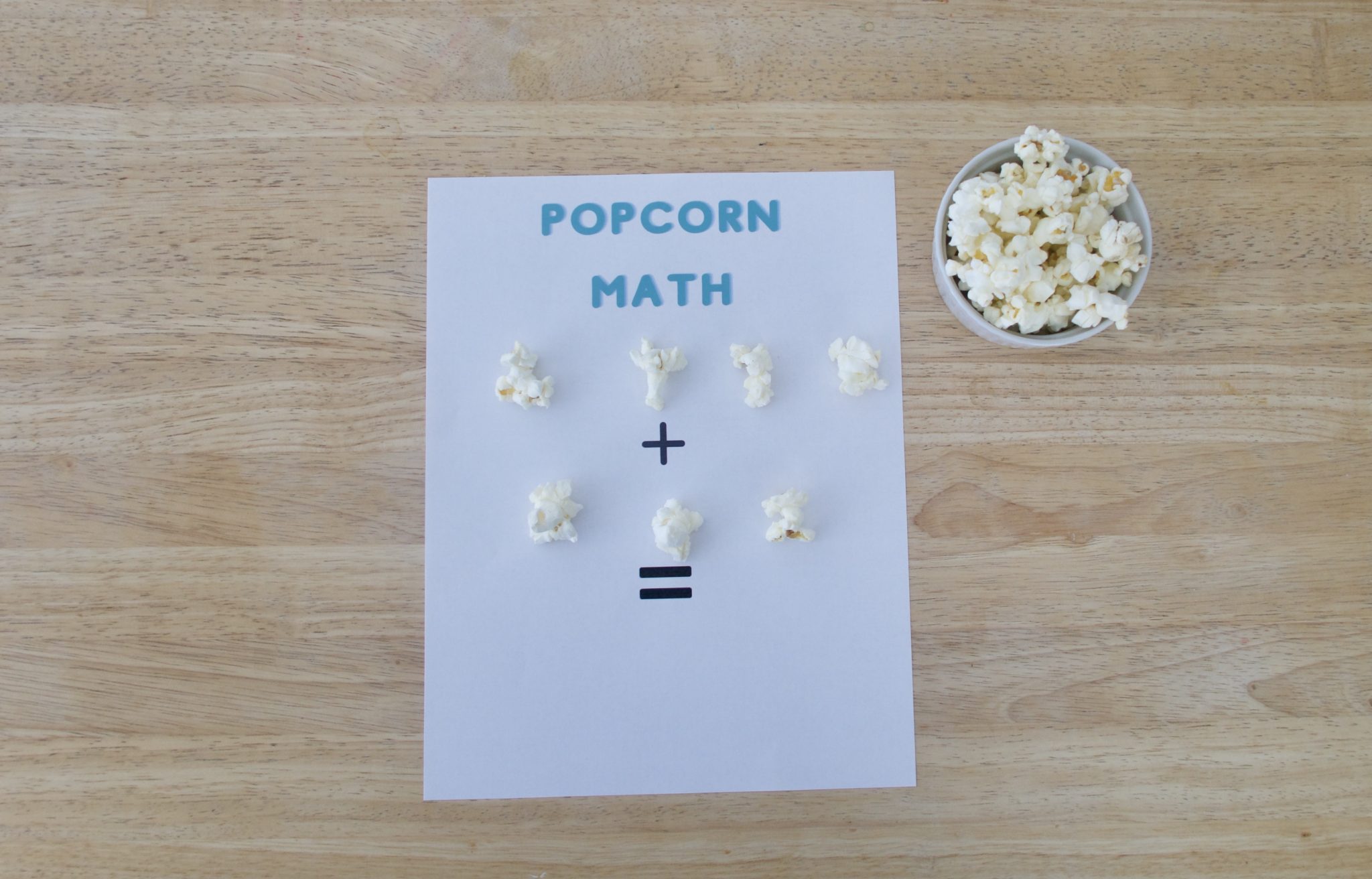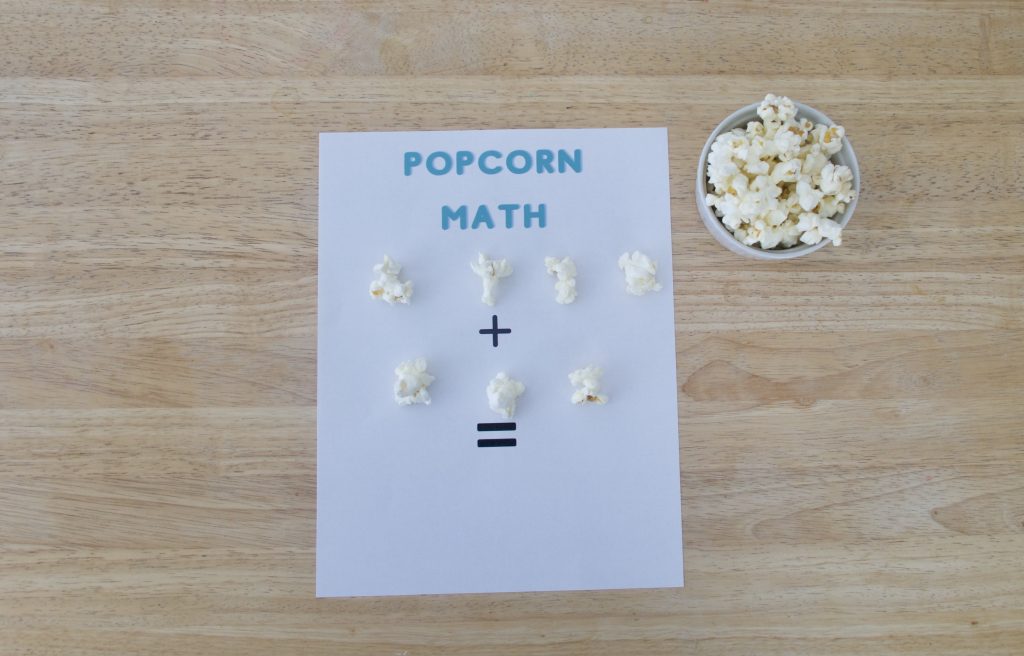 What makes math more fun? FOOD! And nothing gets my kids more excited for math than when snacks are involved. And my favorite snack food for practicing math skills is popcorn since it's so easy to make a bunch of it and it's also a source of whole grains and fiber. To create this snacktivity, take a blank piece of paper and add in your math signs. You can put addition signs on one paper, subtraction on another, even multiplication or division depending on your child's skill level. Then simply add the popcorn on the paper for the math problem and have them solve it by putting the correct number of pieces for the answer. And when they get it correct, they can eat their answer! 
 What You Need: Popcorn, paper, a pen
Learning Outcome: Use the popcorn to complete math problems to get your kids more excited about math
Complete the Pattern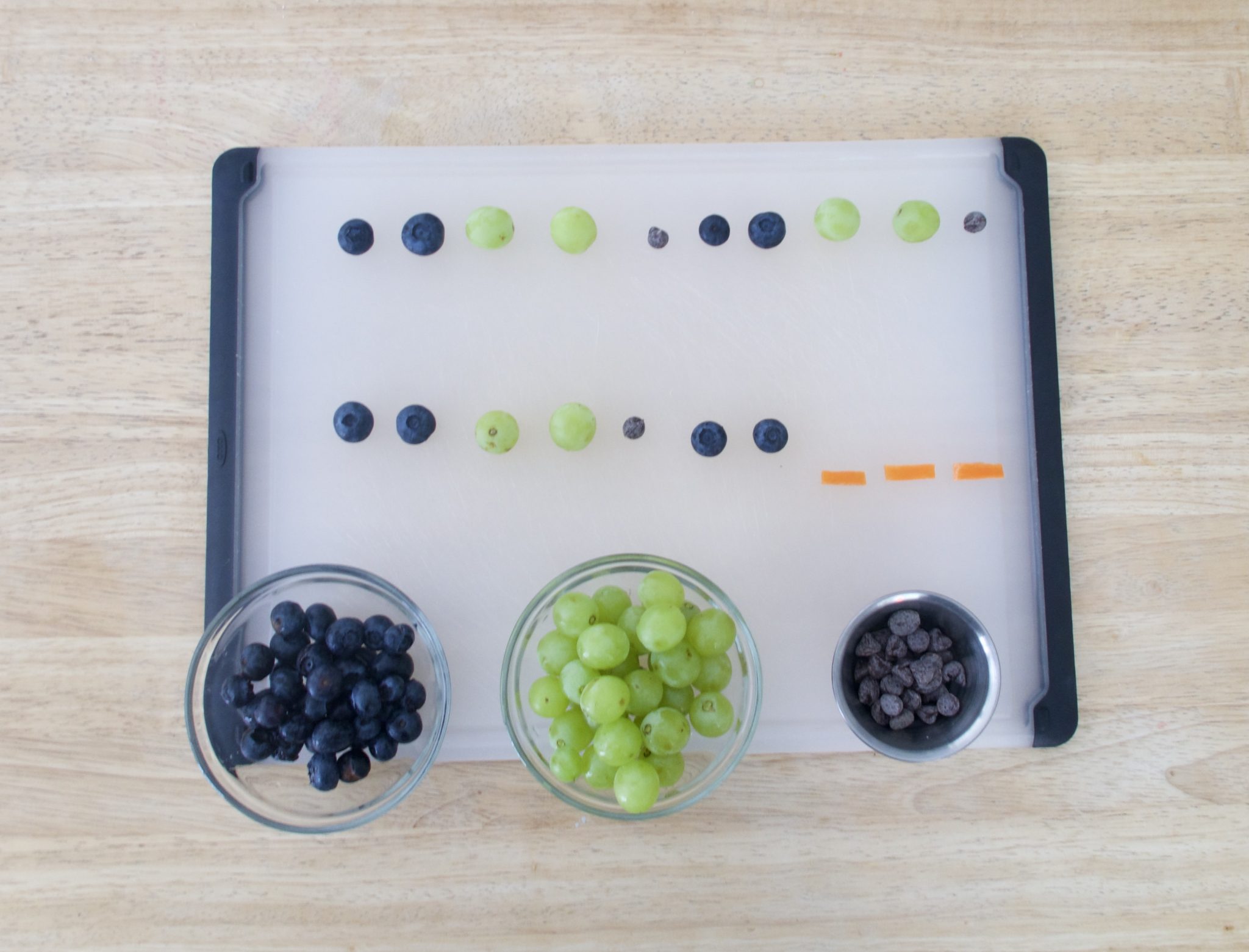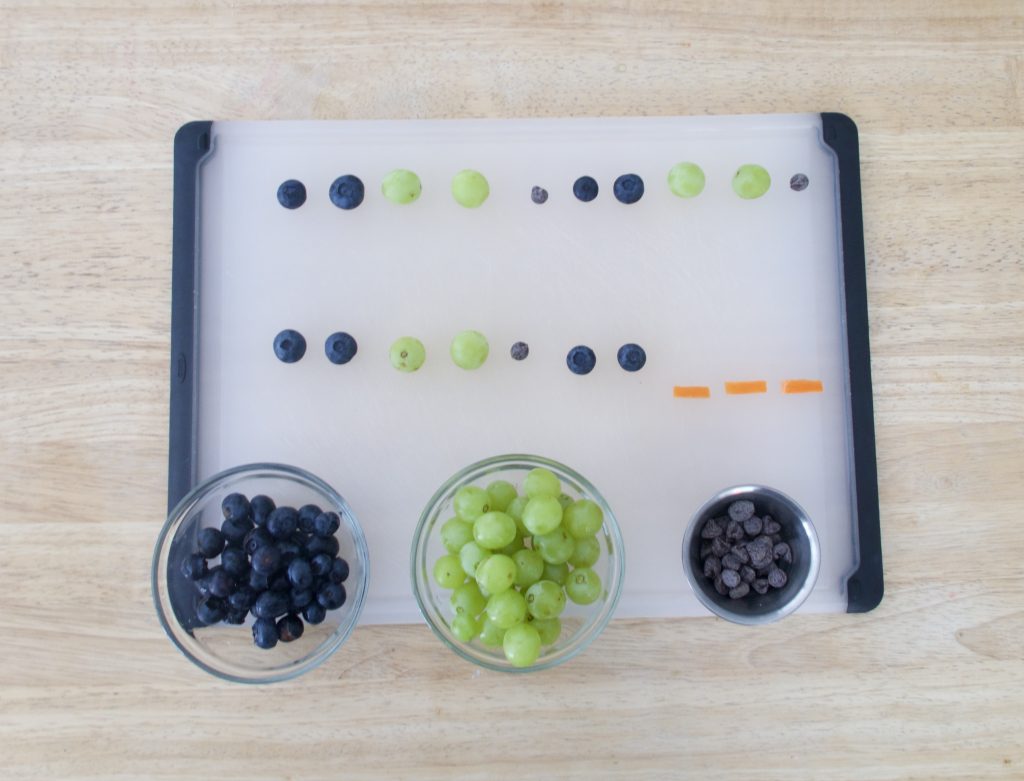 Completing patterns is a great way to boost your child's critical thinking skills. But patterns in a workbook can get a little boring. So to amp up the fun factor, I like to take the patterns off the page and onto the plate. This snacktivity makes the perfect healthy after school snack and it only takes a minute to set it up. To recreate this snack activity, gather a few snack foods such as bite sized pieces of fruit, sliced cheese, or even nuts. Then place each snack in small, individual bowls. On a plate, use these snack pieces to create a pattern. Then, create the pattern once more, but leave a few blank spaces. Your child can then complete the pattern by choosing the correct foods to fill in the blanks.  Once they complete the pattern, you guessed it! THey get to eat their snack. 
What You Need: Healthy snacks (we used grapes, carrots, blueberries, and chocolate chips)
Learning Outcome: To recognize and be able to complete a pattern to build critical thinking skills.
Pizza Fractions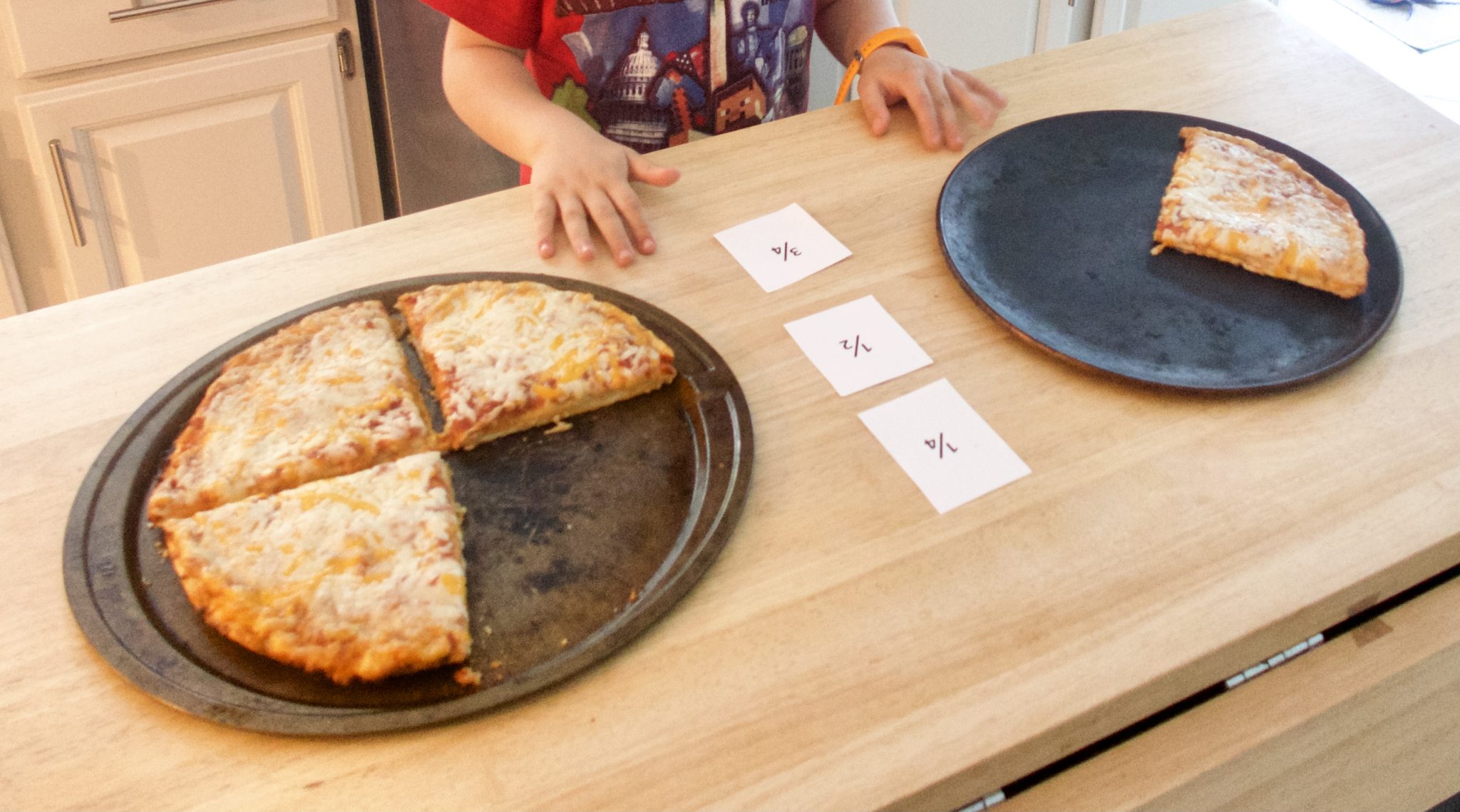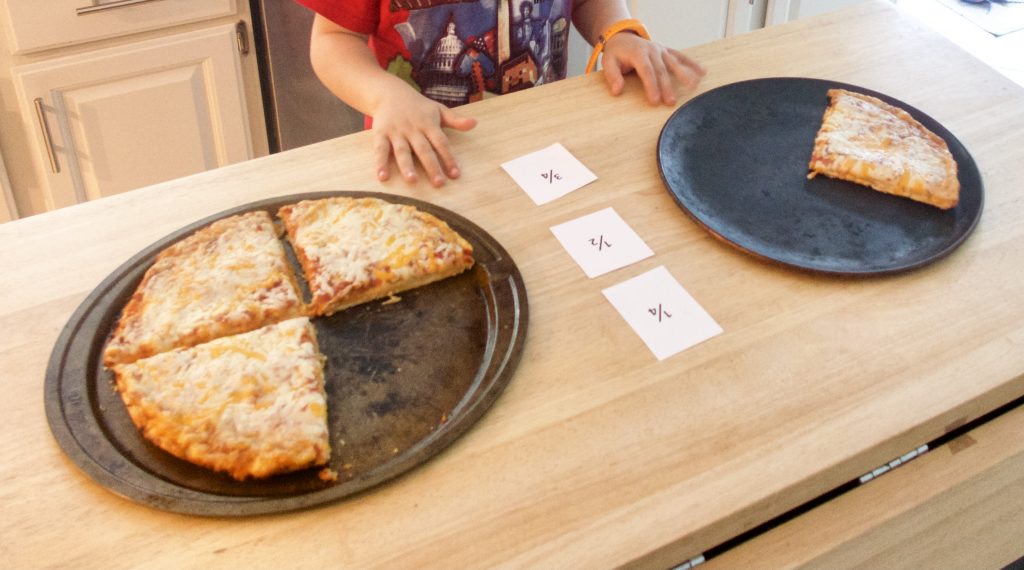 Fractions can be an intimidating concept. So if you want to take the stress out of math and make it more fun, get rid of the worksheets and grab a pizza instead. A pizza pie is perfect for introducing the idea of fractions to young children (and it's pretty easy to keep their attention when they know they can eat pizza after too). 
This snacktivity can be done with a snack sized pizza, like making a homemade pizza on a tortilla. Or you can even do this activity with a takeout pizza at mealtime. For this snacktivity, you'll want to create a few flashcards with different fractions written on them. For instance, ¼, ½, ¾. Next, slice your pizza into quarters (or even eights depending on how challenging you want to make the activity) Then, using a few separate dishes, arrange your pizza in various configurations. You can create a pizza with ¼ of the pie removed and one with ½ removed. Now, give your child the flash cards and let him label the pizza. Which configuration shows ¼ of a pizza? Which shows ½? It's a fun way to visually introduce fractions while letting your child learn in a low pressure, fun way.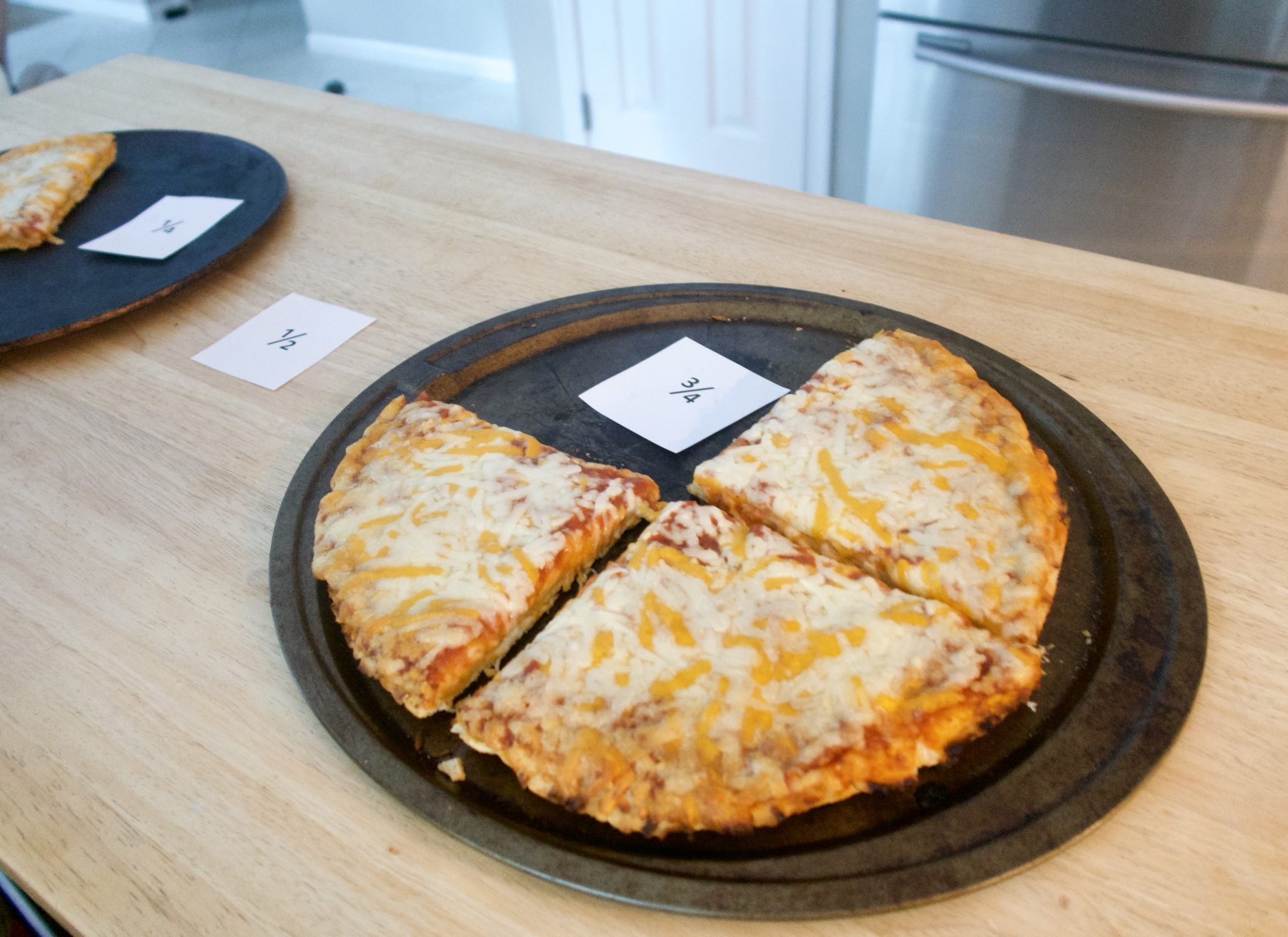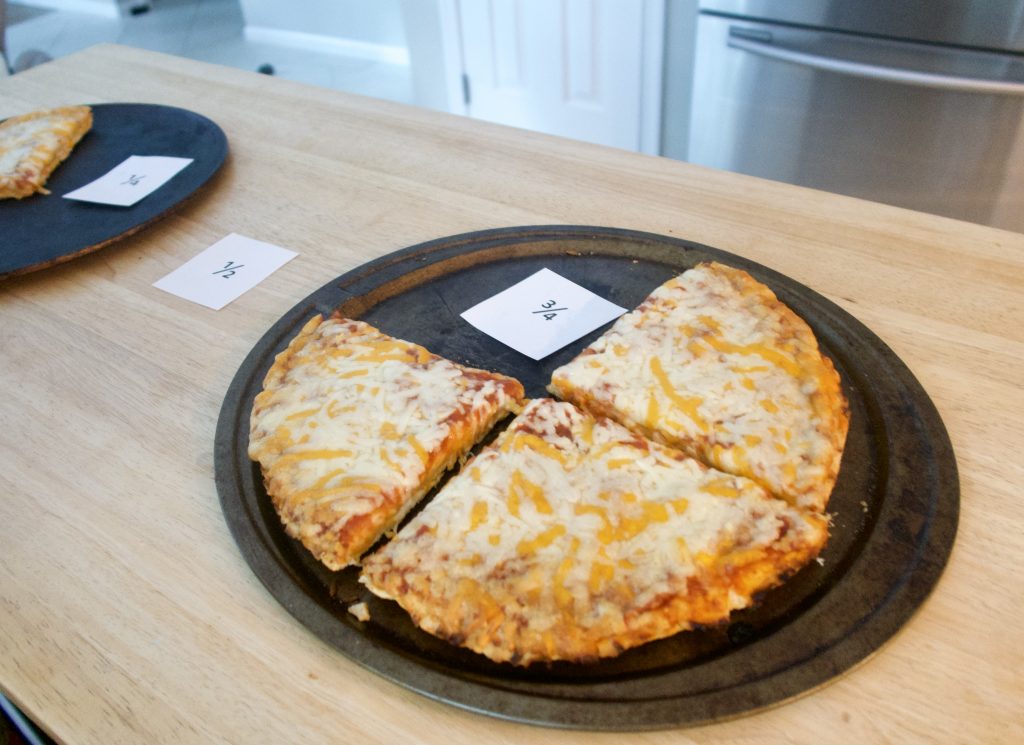 What You Need: Pizza, homemade flashcards with fractions written on them
Learning Outcome: To introduce and solve fractions by using the pizza slices to match the flashcard! 
I hope you and your children love these snacktivities as much as we do! Which one is your favorite that you think you will try first? 
Other Healthy Kid Friendly Healthy Recipes: 
Pin for Later!