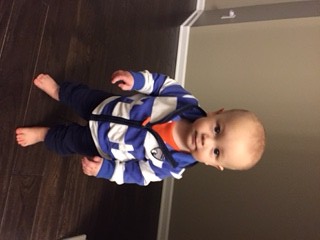 As soon as he turned 10 months old, Joey started walking. He's now been running and climbing everywhere. And since he's now a seasoned "walker" he's almost ready to start walking in public places holding our hand. But there's one problem- he won't wear shoes!
We were so excited to get him his first pair of shoes (especially my husband). Once we came home with him and showed them to Joey, he seemed really interested in them. But then, I put them on his feet. As soon as I stood him up, it was like he completely forgot how to walk. He wouldn't bend his knees. He laid on the ground and did this weird donkey-kick kind of a move to try and pull them off. He held onto furniture as he tried to slowly walk around the room. Honestly, it looked like I put him on ice skates for the first time.
We figured he just had to break them in, so I started putting them on him for a little bit of time each day. He can walk a little better in them now, but he has a hard time figuring out how to climb anything with them on. This results in him attempting to climb his toys, raising his leg up and down, and yelling at me in frustration until I help him or take the shoes off. Even after days and days of practice, he still doesn't walk "normal" in his shoes. His favorite thing to do with them is to try and pull them off (he won't keep socks on either).
I am sure he will warm up to wearing shoes eventually. And the good news is since it's the middle of winter, it's not like he's outside running around in the grass right now. I just hope by spring I can get him to like them!