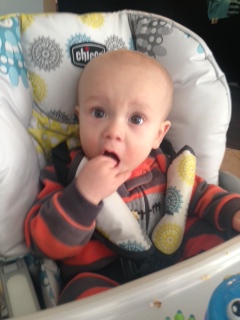 Although Joey has, for the most part, been really good about trying new foods, lately he seems to prefer some textures to others. For instance, he loves carrots and broccoli pureed or baked into foods, but if you hand him a slice of the vegetable, he will pick it up, feel it for a while, then drop it on the floor while giving me a look like "what are you trying to feed me here?!" So for some of the more "unique" textured foods that he doesn't seem to want to self-feed anymore, I figured mixing them in with foods he loves may help.
When it comes to his food preferences, he seems to be obsessed with chicken (I can't blame him, it's one of my favorite foods too). I have a ton of leftover cooked and grinded chicken I used to mix into his veggie purees before he could tolerate soft bites of chicken, so I figured, why waste it? Using the ground chicken, quinoa, vegetables, and egg, I made a "baby meatloaf" of sorts. Once it was cooked, I chopped it into bite-sized pieces he could feed to himself.
Healthy Chicken-Veggie Bites
Ingredients
1 1/2

cups

ground chicken

1/2

cup

quinoa

cooked

1/2

cup

broccoli

chopped in food processor
Instructions
Mix the ingredients together in a medium sized bowl.

Form into a "meatloaf" and bake at 400 F for 10-15 minutes (longer if using uncooked chicken) until egg sets and is cooked through.

Cut into bite-sized pieces and serve.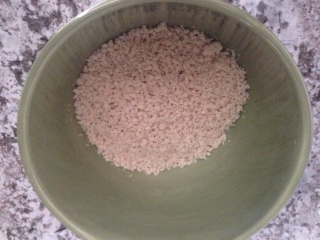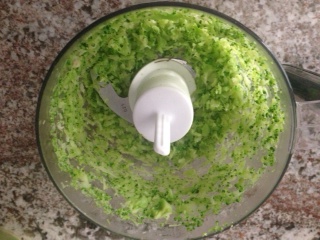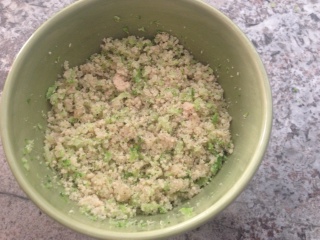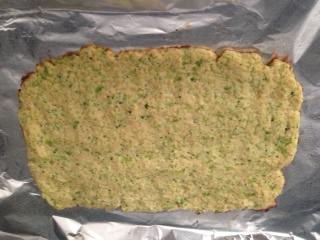 And the verdict is in- he loves it!