Have you seen the viral TikTok recipe for chocolate banana bread, but don't love all the added sugar? Then this recipe is for you. This is THE most delicious banana bread you will ever eat with only 10 grams of net carbs per slice! With only 10 ingredients, you can prepare it in minutes & it is ready to enjoy in under one hour. It doesn't get much better than that!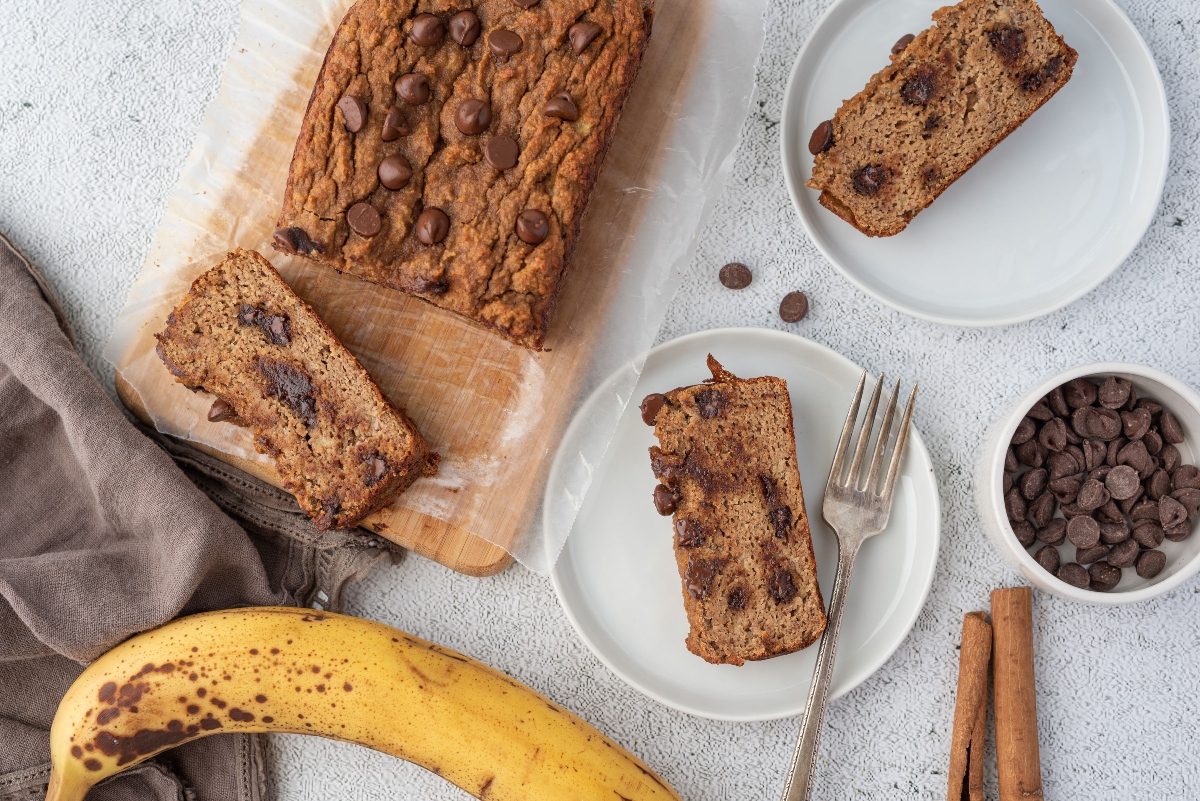 Why you'll love this recipe
Do you remember how popular baking banana bread was about a year ago? For the first few months of our collective quarantine, it seemed like everyone was making banana bread. Well, we've officially come full circle because, once again, banana bread is trending! Tiktok has brought some really incredible recipes to light, making each of us feel like amazing cooks and bakers. Today I'm bringing to you this delicious keto chocolate banana bread recipe. This recipe is a healthier version of the viral chocolate banana bread you've likely seen on TikTok recently.
This low carb chocolate banana bread recipe is not only diabetes friendly… it will also be loved by the entire family! If you love banana bread AND chocolate, this will surely become one of your go-to banana bread recipes.
Ingredients
Most households will have the majority of the ingredients on hand for this chocolate chip banana bread recipe. Some of the items may seem like specialty ingredients, but nowadays, these can easily be found at any grocery store. Many of the ingredients in this recipe are even good for keeping your blood sugar balanced, making this the perfect dessert for anyone who is following a low carb diet or who has type 2 diabetes.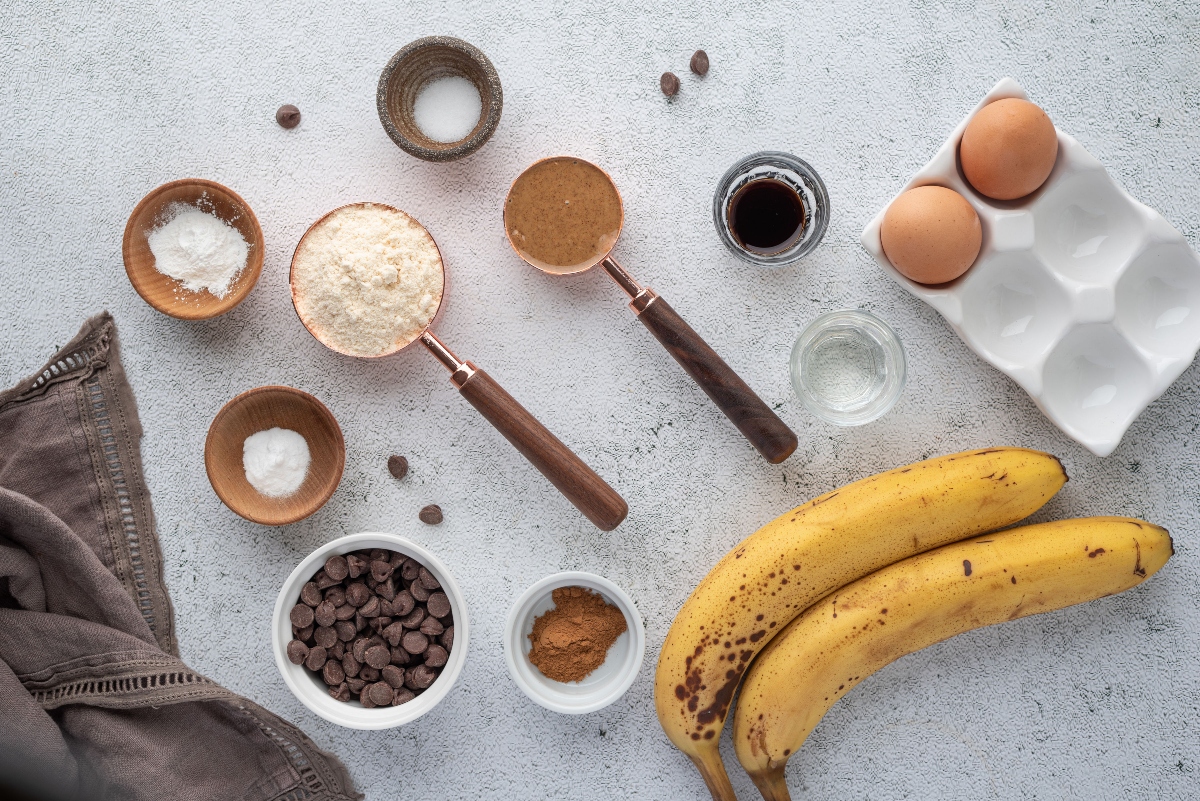 Ready to make low carb chocolate banana bread? Here's what you need:
Coconut flour:

I love coconut flour for so many reasons… Because it is a gluten free option, using coconut flour means any of our friends and family who are sensitive to gluten can enjoy this recipe without any worries! Coconut flour is also low on the glycemic index, meaning that it doesn't spike blood sugar as quickly as traditional flour. In addition, it is packed with fiber (12 grams per ¼ cup!), which helps with blood sugar balance and can keep you feeling fuller for longer. Anybody who is watching their blood sugar, on a low-carb diet, or has diabetes can enjoy baked goods with coconut flour.

Almond butter:

Opt for an almond butter that has no added sugars or partially hydrogenated oils. Adding in this nut butter to your banana bread adds to both texture and flavor. Almond butter is a good source of fiber, protein, vitamins, and minerals. It is also full of healthy fats that will balance out with the carbs in this recipe to make this a balanced treat for people with diabetes.

Well ripened bananas:

Ripe bananas are the key to making a moist keto banana bread. Let's be honest… No one likes dry banana bread! Since there isn't any added sugar (like granulated sugar or maple syrup) in this recipe, bananas are also the ingredient that brings in the sweetness! Ripened bananas may be higher in sugar, but they also are higher in antioxidants and contain some fiber to help slow down the absorption of the sugars. If you don't have ripe bananas handy and can't wait to make this recipe, you can speed up the ripening process. Simply place them in the oven at 300 degrees F until the peels turn brown (about 10-15 minutes) and you've got ripe bananas!

Sugar free dark chocolate chips:

Using sugar free chocolate chips keeps this recipe low carb and keto friendly. Sugar free dark chocolate chips can be found at most grocery stores but if you're having trouble finding them, just do a quick search for 'sugar free chocolate chips' and you will find a bunch.
Also, be sure to have these standard baking ingredients handy in order to make this nutritious keto chocolate chip banana bread recipe:
How to make keto chocolate banana bread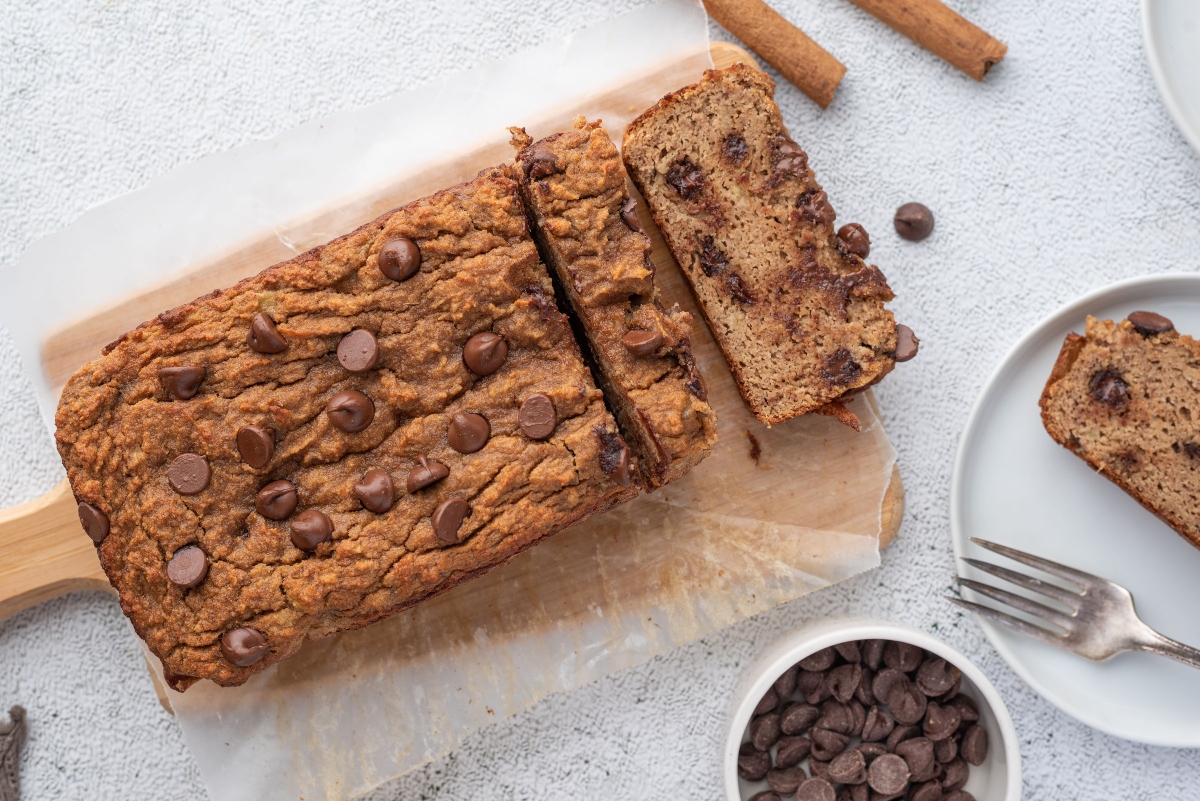 Once you have all of the ingredients listed above, you are prepared to make my keto chocolate banana bread! You will also need a couple mixing bowls, a 9×5 loaf pan, some parchment paper, and an oven preheated to 350 degrees F. Now you're ready to get started!
Grease a 9×5 loaf pan and line with parchment paper.

Combine all dry ingredients (except the chocolate chips) in a mixing bowl.

Combine wet ingredients (except the bananas) in a separate mixing bowl.

Mash the bananas, then add them to the bowl with the wet ingredients, mixing well.

Combine the dry and wet ingredients, mixing until well combined.

Fold the chocolate chips into the banana bread batter.

Spread the batter into the prepared loaf pan.

Bake for 35-40 minutes, until an inserted toothpick comes out clean.
Recipe
FAQs
Can I use a different type of flour than coconut flour?
I don't recommend using a different type of flour for this banana bread recipe. The reason for that is because I cannot guarantee the results will be successful, and you may end up with an undesirable texture. 

Coconut flour does not have a 1-to-1 substitution ratio with other flours. If you decide to experiment with another type of flour (like almond flour, oat flour, or whole wheat flour) I would recommend researching for the proper substitution ratio in advance. 
Can I use a different type of nut butter if I don't have almond butter?
Sure! Peanut butter is also a great choice for this recipe. Peanut butter is also a good source of vitamins, minerals, protein, and healthy fats. I recommend double checking the ingredients to ensure your peanut butter is made from peanuts and salt only, that way you don't accidentally sneak in any added sugars or oils without realizing it. 

If you have a different nut or seed butter, like cashew or sunflower seed butter, feel free to give it a try and let me know how it works out!
What if I don't have sugar free dark chocolate chips?
No worries – this recipe can be made without the sugar free chocolate chips. If you omit the chocolate chips, then this recipe will simply be a classic banana bread rather than a chocolate banana bread! You could also choose to substitute in your favorite nuts (walnuts would be delicious in this recipe). 

Another option is to use regular dark chocolate chips instead of sugar-free. If you're watching your blood sugar or staying low sugar, I wouldn't recommend milk chocolate chips because they contain more sugar than dark chocolate. In general, I suggest using sugar free chocolate chips because that keeps this recipe low carb keto.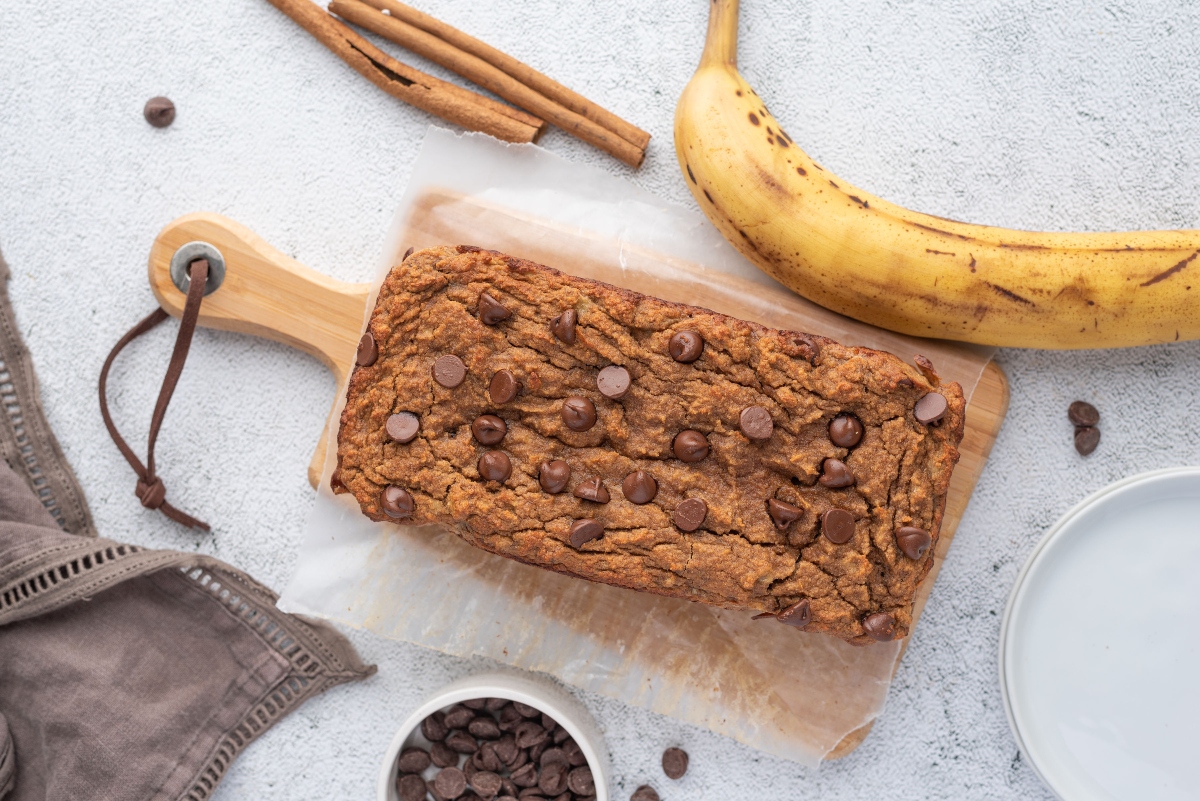 Most people should be able to find sugar free dark chocolate chips at their local grocery store. However, if you can't seem to find any sugar free chocolate chips when you go shopping, there are many online stores that sell them! These are an awesome ingredient to have on hand for making sugar-free sweet treats.
Related Recipes
Do you love this recipe? Please leave a 5-star 🌟rating in the recipe card below and/or a review in the comments section further down the page. Also, follow me on Pinterest, Facebook, or Instagram today!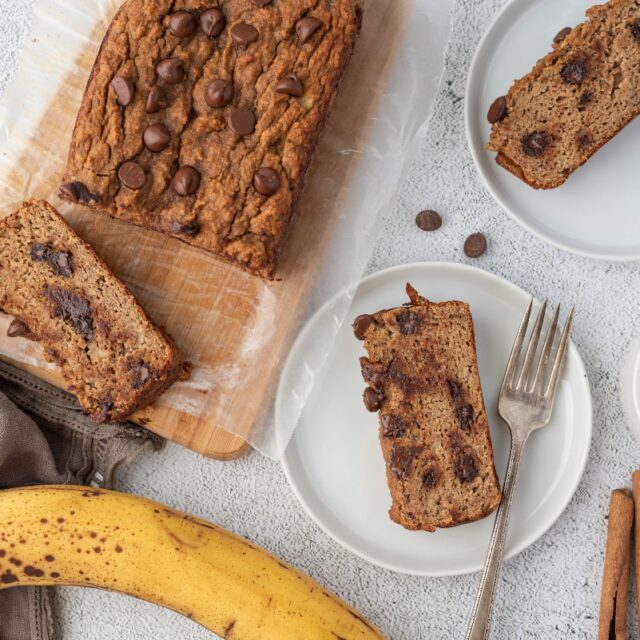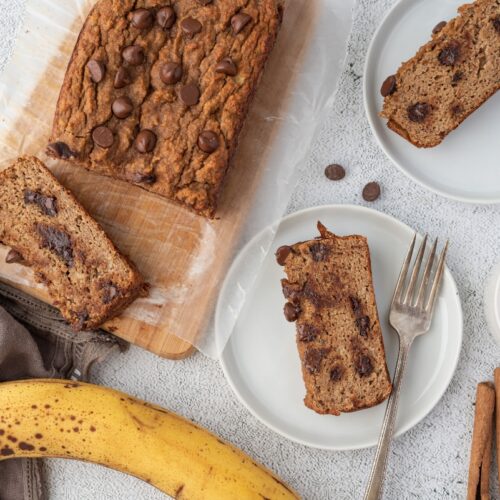 Equipment
A couple of mixing bowls

9×5 loaf pan

Parchment paper
Ingredients
½

cup

coconut flour

¾

tsp

baking powder

½

tsp

baking soda

¼

tsp

salt

1

tsp

ground cinnamon

2

eggs

¼

cup

almond butter

2

tbsp

coconut oil

1

tsp

vanilla extract

2

medium bananas, mashed (about 1 cup)

½

cup

dark chocolate chips (sugar free)
Instructions
Preheat the oven to 350 degrees F. Grease a 9X5 loaf pan and line with parchment paper; keep it aside.

In a mixing bowl combine the dry ingredients coconut flour, baking powder, baking soda, cinnamon and salt.

In another bowl beat eggs, almond butter, vanilla extract and oil. Add the mashed bananas.

Combine the dry and wet mixture until well combined. Fold in the chocolate chips into the batter.

Spread the batter into the prepared loaf pan and bake the bread for 35-40 minutes until the toothpick inserted comes out clean.

Allow the bread to cool down for 10 minutes and then invert the loaf pan on a wire rack. Once the bread has cooled completely slice the bread and serve.
Notes:
Well ripened bananas work best for the recipe.

Almond butter can be replaced by peanut butter.
Nutrition
Calories:
143
kcal
|
Carbohydrates:
13
g
|
Protein:
4
g
|
Fat:
9
g
|
Saturated Fat:
5
g
|
Trans Fat:
1
g
|
Cholesterol:
27
mg
|
Sodium:
150
mg
|
Potassium:
168
mg
|
Fiber:
3
g
|
Sugar:
6
g
|
Vitamin A:
53
IU
|
Vitamin C:
2
mg
|
Calcium:
62
mg
|
Iron:
1
mg
More ideas for delicious, healthy, low-carb dessert recipes:
Check out this article for more guidance on how to make your favorite dessert recipes diabetes friendly. Reducing added sugars in dessert recipes also doesn't have to be complicated. Almost any recipe can be made into a low sugar version!
If you liked this recipe, here's a list of some more healthy dessert recipes for you to enjoy! These are some of my favorite diabetes friendly low carb recipes, making them great options for the whole family: