Love a thick, creamy milkshake but afraid it will spike your blood sugar? Think again! This six ingredient, plant-based keto milkshake can be made in under 5 minutes and contains 90% fewer carbs than a traditional milkshake…while tasting just as good. Plus you most likely have everything in the house already to make it right now!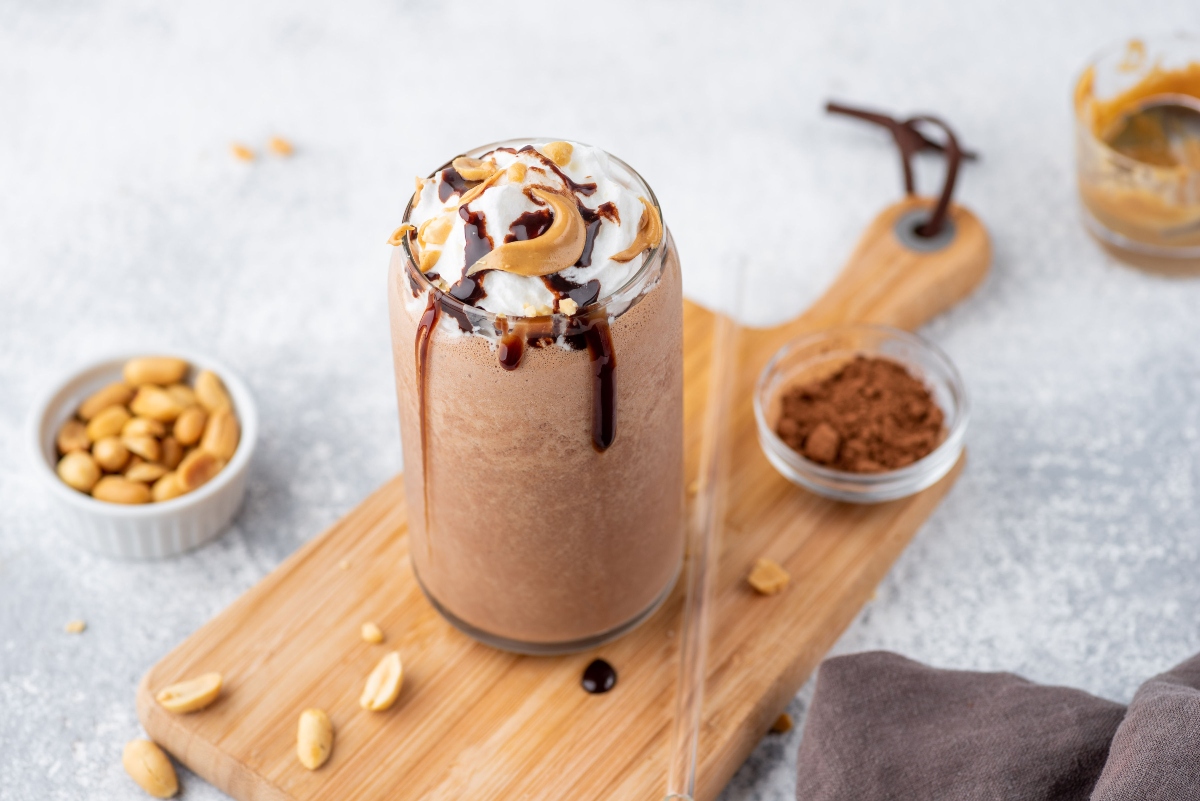 Why you'll love this recipe
Quick and easy recipe with only six ingredients!
Low carb keto and no added sugar
Packed with protein
Creamy and indulgent
Plant-based
The best way to satisfy your sweet tooth without spiking blood sugar
What you'll need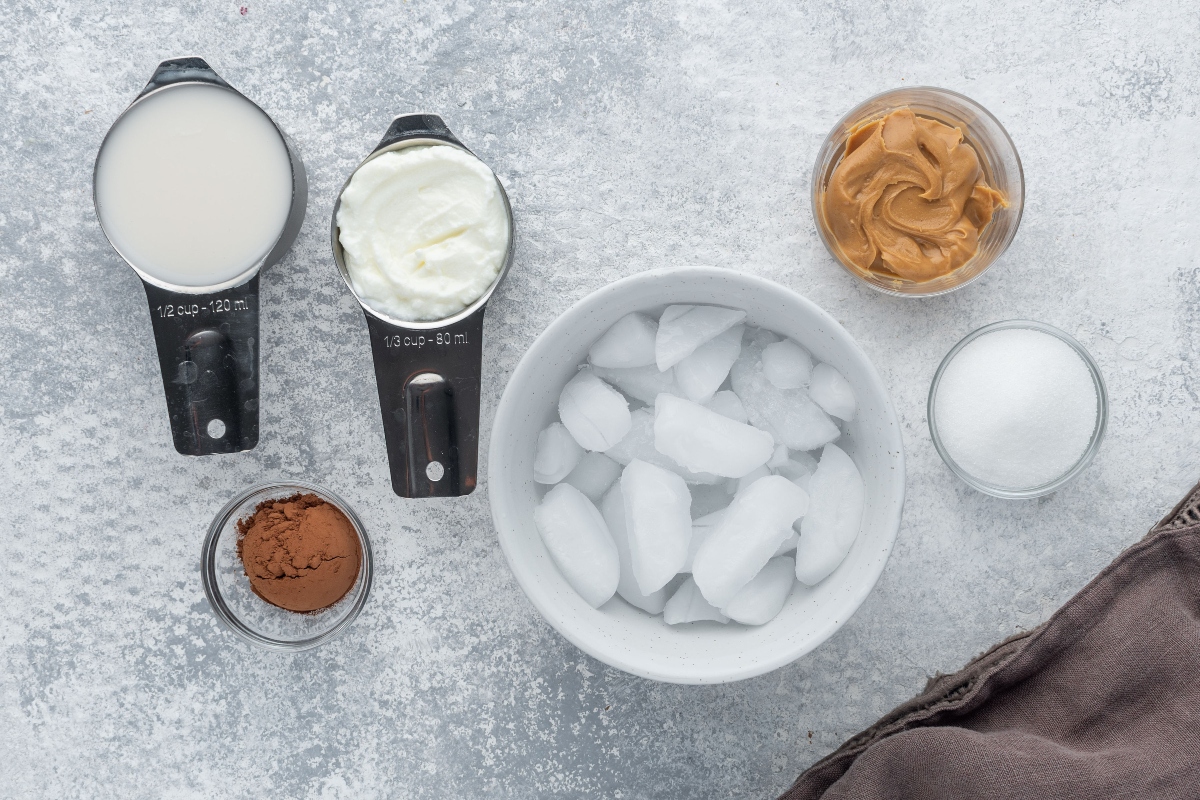 How to make this recipe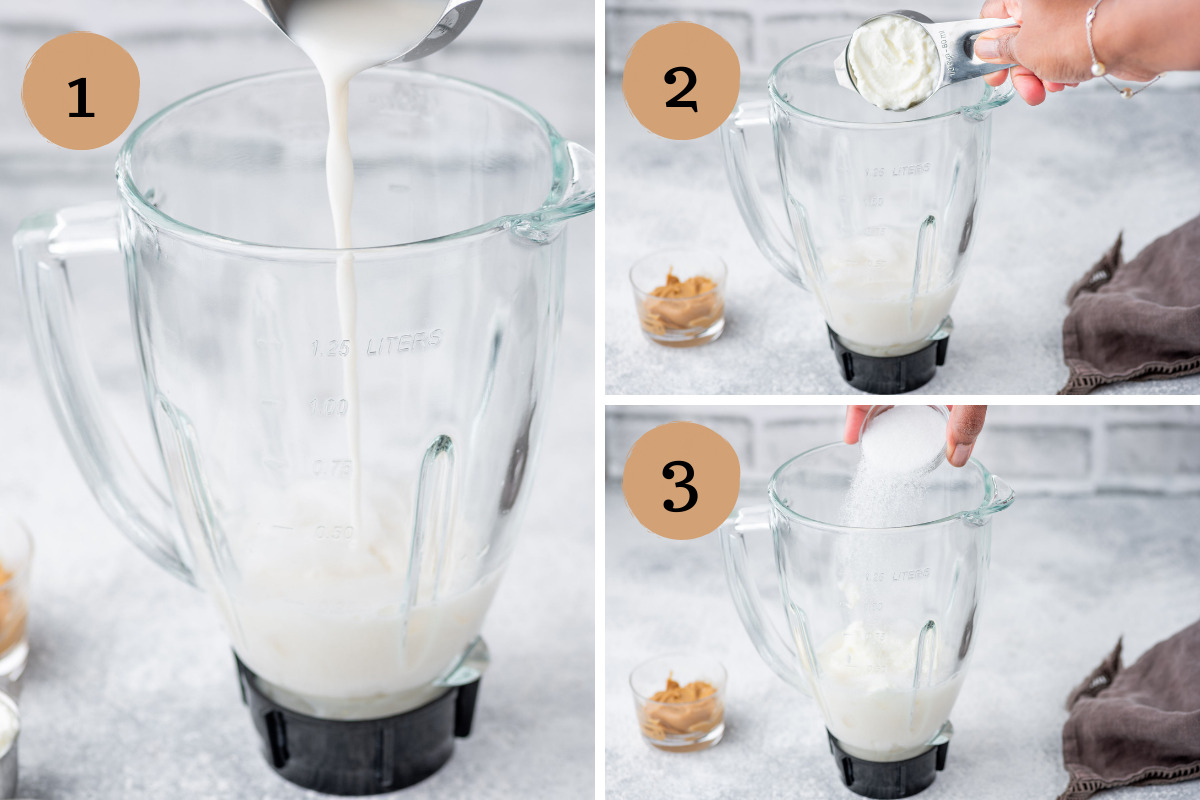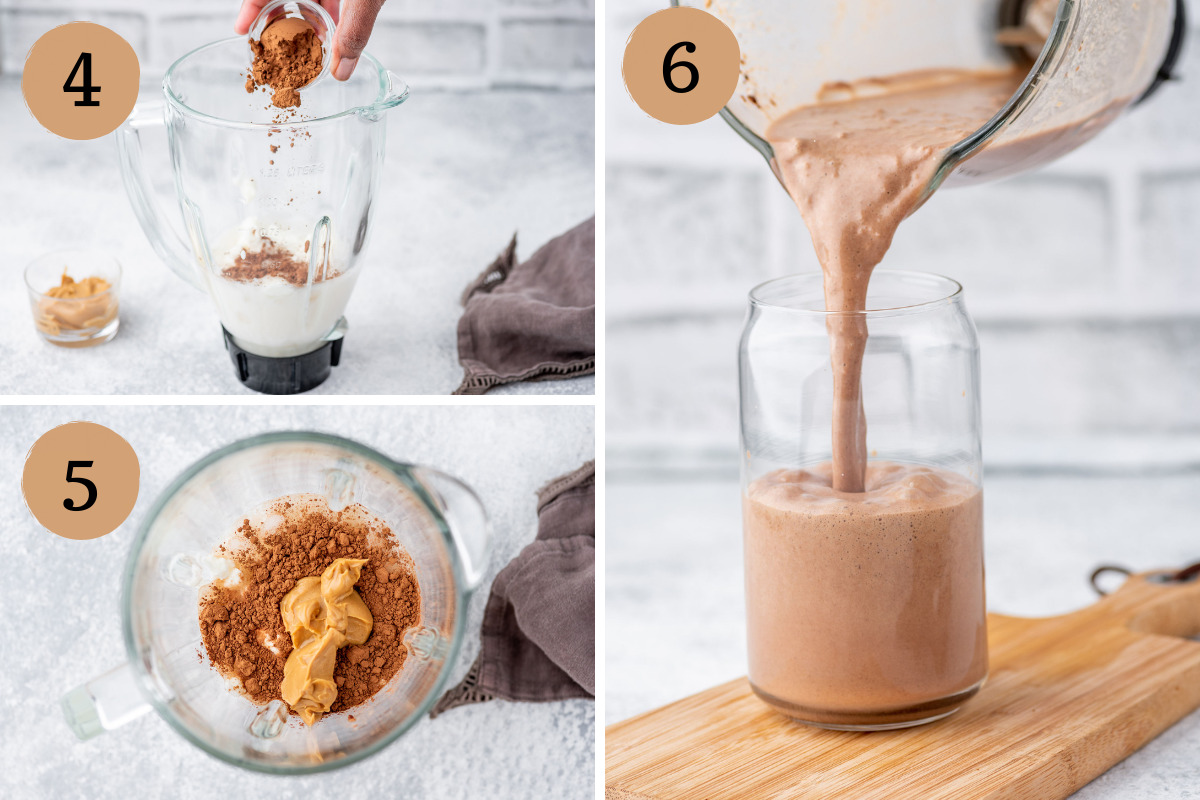 Set up your high speed blender and prepare your ingredients.
In a high speed blender, add the unsweetened almond milk.
Add Greek yogurt (or cottage cheese).
Add erythritol (or your favorite low-carb sweetener).
Add unsweetened cocoa powder (or chocolate protein powder).
Warm peanut butter briefly in a microwave, then add to the blender.
Add ice and blend, adding more ice until you reach your desired consistency.
Pour milkshake into a glass and serve immediately.
Enjoy!
FAQs
Are milkshakes keto?
Normally, milkshakes are made with ice cream and cow's milk. Both ice cream and milk tend to be high in sugar (cow's milk contains naturally occurring sugar from lactose) and are not considered to be keto or low carb. This keto recipe uses unsweetened almond milk, Greek yogurt, and erythritol to replace the creamy and sweet characteristics of ice cream in a classic chocolate milkshake.
How do you make a keto milkshake?
In order to make a no sugar added milkshake, you need to simply focus on using ingredients without added sugars. Using unsweetened almond milk, erythritol, and unsweetened cocoa powder allows you to cut back on added sugars in this recipe in order to make it low carb and keto friendly.
I don't like peanut butter… What is the best keto shake flavor?
If you're not a fan of peanut butter, feel free to omit it as an ingredient altogether, and you will have a chocolate milkshake! This recipe will also work well with many other flavors of protein powder, including vanilla, coffee, strawberry, and more! Feel free to use this recipe as a starting off point to bounce off from, and experiment a bit to find your favorite flavor!
Why this recipe works for people with diabetes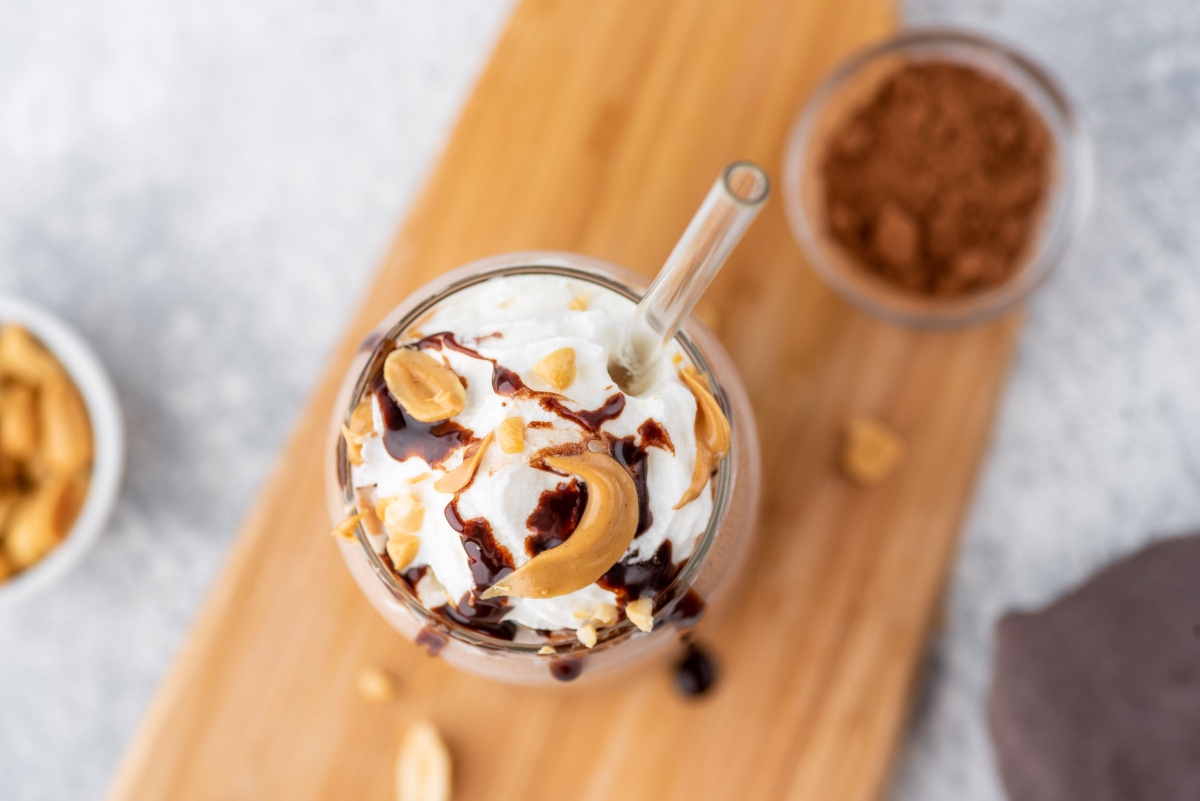 People with diabetes have to pay special attention to their diet, especially when it comes to carbohydrate and sugar intake. Since milkshakes are usually quite high in added sugar, this milkshake recipe is a much better choice for managing blood sugar levels.
In general, low carb keto recipes are great for diabetes due to the low sugar and carb content. In addition, this recipe is packed with protein and healthy fats to help you feel full for longer, and will satisfy your sweet tooth without any added sugars.
Not only is this milkshake recipe low in sugar, it is also packed with ingredients that help control your blood sugar:
Other recipes you may enjoy
Love this milkshake and want more diabetes-friendly dessert ideas? I've got you covered! Here's a list of a few other dessert recipes for the next time you are craving something sweet:
Ready to make your peanut butter & chocolate milkshake without worrying about your blood sugar? Go fire up your blender & get started. And after you try it (and hopefully love it like I do), remember to give it a 5-star rating & share it with me on Instagram by tagging me @ErinPalinskiWade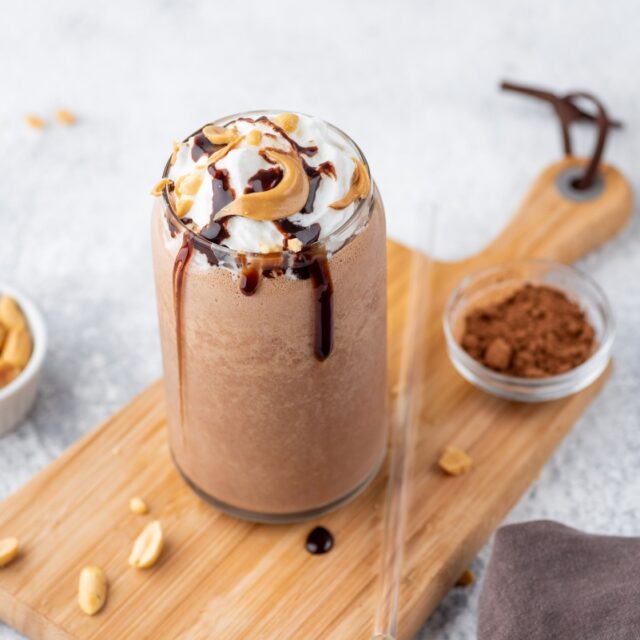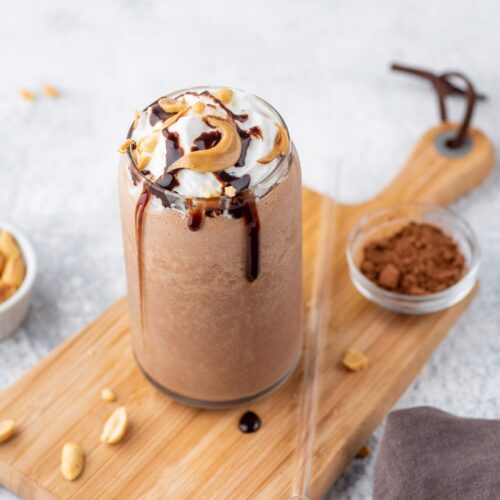 Keto milkshake
Nothing tastes better than a chocolate milkshake on a hot summer day… And it's even better when it's healthy and keto!
Print
Pin
Rate
Ingredients
½

cup

unsweetened almond milk

⅓

cup

plain Greek yogurt or cottage cheese

1

tbs

unsweetened cocoa powder or chocolate protein powder

1½

tbs

natural peanut butter

2

tbs

sweetener (erythritol)

ice as needed/preferred (3/4 cup-1 cup)
Instructions
Incorporate all ingredients into a high-speed blender and blend to desired consistency.
Notes
Recipe makes a single serving, but you can easily double (or more) the recipe if making for multiple people.
Warm PB before adding to help it blend more easily

As you blend, add ice a little bit at a time. You may need more or less ice depending on your preferred consistency. 

Substitutions

: 

You can substitute another unsweetened plant-based milk, like soy, in place of almond milk.

If you're not a fan of peanut butter, feel free to omit it altogether or substitute with another nut butter with little to no added sugar.

Another flavor of low-sugar protein powder would work well in place of cocoa powder or chocolate protein.

To make this recipe completely plant-based, opt for a vegan, unsweetened yogurt instead of Greek yogurt or cottage cheese.

Storage:

 

If you have any leftovers, try freezing them in a popsicle mold to save for later! 

Leftovers can also be stored in the refrigerator, blending with ice again when ready to consume.
Nutrition
Calories:
209
kcal
|
Carbohydrates:
12
g
|
Protein:
14
g
|
Fat:
15
g
|
Saturated Fat:
3
g
|
Polyunsaturated Fat:
4
g
|
Monounsaturated Fat:
7
g
|
Cholesterol:
3
mg
|
Sodium:
298
mg
|
Potassium:
326
mg
|
Fiber:
3
g
|
Sugar:
5
g
|
Vitamin A:
3
IU
|
Calcium:
240
mg
|
Iron:
1
mg