Inside: Looking for the best holiday champagne cocktail for your next party? This easy, low calorie cocktail recipe can be made in minutes & provides the perfect festive drink for all your adult guests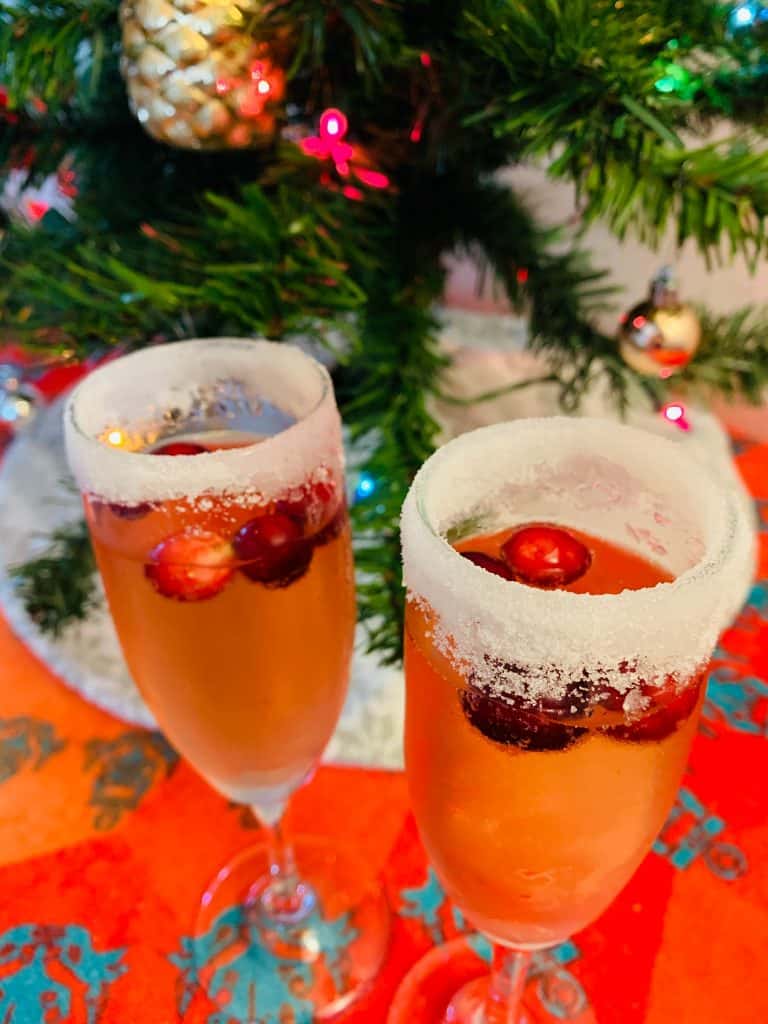 Planning a party isn't easy… It usually ends up being a great time, but there's so much involved, so many decisions to make. You've got to figure out food, décor, activities, and of course, refreshments!
Well, I'm here to help you with at least one of those challenges with a cocktail recipe that's delicious, refreshing, and super easy to make. Even better, this holiday cocktail is also low in calories!
This holiday champagne cocktail will be a hit at any party, but is especially appropriate for Christmas and New Year celebrations. It is champagne, after all…
I discovered this easy champagne cocktail through exploring holiday inspired colors and flavors, and once I tried it myself, I knew it would be a go-to recommendation for all of you – and a staple at my own holiday get-togethers! You can call it a spritzer, a cocktail, or whatever you like (for me I've pretty much names it my perfect holiday champagne cocktail recipe). It's tasty, easy, and compared to all of the other things you could be imbibing over the holidays, it's pretty "low impact" on your health!
Let's dig into the ingredients…
Champagne
Like I covered a bit in another post, champagne is the common term for sparkling wine of all varieties, but the elitists will be quick to remind you that "real" champagne must come from the Champagne region of France…
But you don't need to worry about all of that. For our purposes, champagne is the sparkling wine we're all familiar with, and you can choose from a vast quantity of brands. For these kinds of champagne spritzers, dry champagne is best, so look for "brut" on the label.
The brand isn't a huge deal, so if you have a favorite, go with that! Otherwise, let your budget guide you. You can get decent bottles for $10, or spend hundreds. I pretty much always aim for the lowest costing champagne and I am rarely too disappointed.
Cranberries
Considered a superfood by most, cranberries are rich in nutrition. They're packed with vitamins and minerals, including thiamin, riboflavin, niacin, vitamin C, vitamin E, vitamin k1, manganese, and copper. And cranberries are also a good source of antioxidants like polyphenols and flavanol.
Some of the other health benefits of cranberries are in the skin, which means cranberry juice (which is usually sweetened and blended with other juices) doesn't have them… But that's part of why this recipe calls for a few cranberries to be added to the glass.
One antioxidant in cranberries has also been shown to help defend against certain bacteria in both the urinary tract and on teeth, promoting both dental health and fighting against urinary tract infections (UTIs).
Cranberries by themselves are tart, even sour, but they are absolutely brimming with nutrients. Including a few in this cocktail is a way to help get some health benefits with your champagne – and help combine the flavor with others.
Let's get to the recipe!
The Perfect Holiday Champagne Cocktail That's Under 100 Calories Per Serving
With just five ingredients and two simple steps, this holiday champagne cocktail couldn't be easier to make. Just gather your ingredients, mix together, and serve chilled. Although you can enjoy this cocktail in any glass, I prefer to up my game a bit by using a champagne flute and garnishing it with a sugar coated rim. If you think that sounds complicated to do, think again!
Garnishing a cocktail glass is actually quick and easy once you know how to do it. Just place a small amount of lime juice into a bowl (just use enough so you can submerge the very top of the champagne glass). Next, dip the glass into the lime juice. Once moistened, dip the rim of the glass into cocktail sugar or you can just use granulated sugar that you have on hand as well. To do this, I place a coating of sugar on a flat place, dip the top of my glass, and rotate it slightly. You can also use a bowl instead if you prefer.
For this recipe, I used regular granulated sugar since the contrast of the white sugar with the red cranberries felt very 'holiday season' to me. But if you are making this cocktail at a different time of year, you can get really creative. Try dying the sugar blue for a red, white, and blue champagne cocktail to serve on 4th of July (you can buy cocktail sugar in a variety of colors to make it easy on yourself and save time). Or use a sugar that's been dyed green for an extra festive cocktail.
There's really no wrong or right way to make this low calorie champagne cocktail. Get creative and share your creations with me by tagging me over on Instagram at @ErinPalinskiWade
Disclosure: This post contains affiliate links. If you click on one of these links and decide to make a purchase, I may earn a small commission at no cost to you.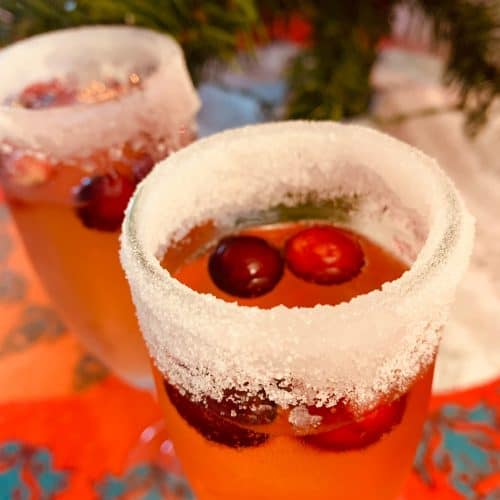 Frosted Cranberry Spritzer
Ingredients
5

oz

champagne (dry)

1

oz

cranberry juice

1

oz

sparkling water (flavored will give it a nice zing: try lemon/lime or berry!)

fresh cranberries, for garnish

granulated sugar, for garnish
Instructions
With a champagne flute, create a sugar rim by dipping rim in lime juice and into sugar.

Pour champagne into glass. Add sparkling water and cranberry juice. Drop in a few cranberries and enjoy!
Recipe Notes
per serving: 93 calories, 15 g carbs, 3 g sugar