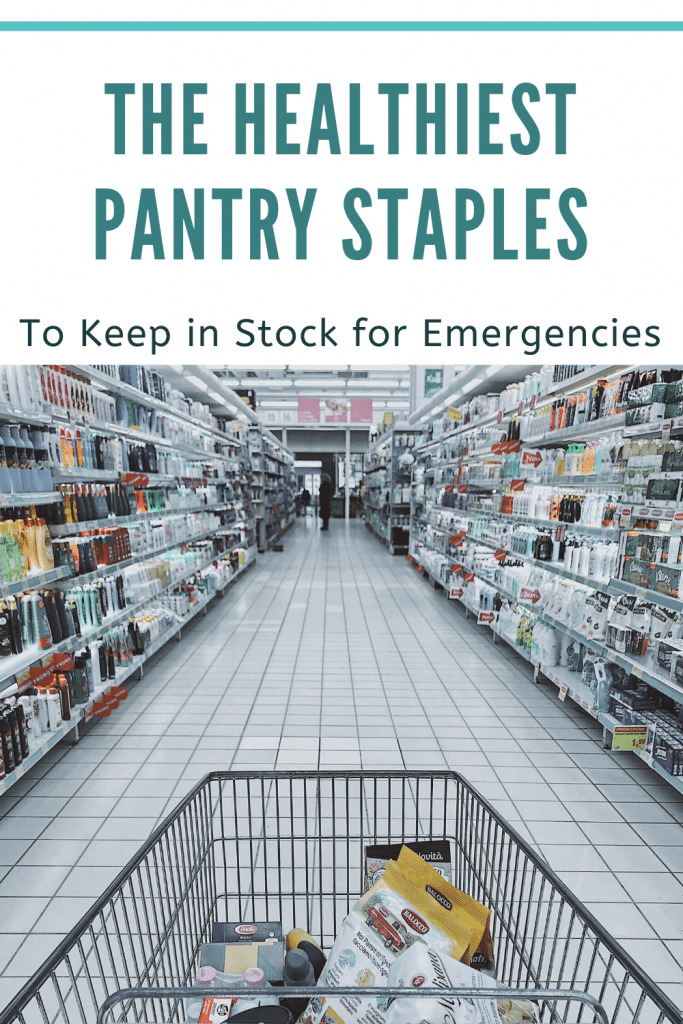 Does anyone have a recipe for turning cauliflower into toilet paper?
Did that get you to laugh? I hope so, because we can all use a good laugh right now … and laughter boosts the immune system too.
If you are in lockdown mode during Coronavirus preparation, you may be feeling a little nervous and unsure of what to buy. The hoarding of toilet paper seems a little crazy right now, but what isn't crazy is to stock up on the essentials you and your family need to eat over the next two weeks. With social distancing the new norm, being prepared for the potential of not leaving the house for 14 days of longer seems like the smart thing to do.
So, what should you have on hand? I have been spending the past two weeks making a list and stocking up for my own family, so I decided to share what I feel are the necessities with you. This is  list of the top food items we are stocking up on (but I did leave off the month supply of Oreos my husband felt were a necessity to buy LOL)
The Top Healthy Shelf-Stable Foods to Stock in Your Pantry
Beans: all types are a great source of plant protein and fiber and can be used to make soup, chili, hummus.
Boxed low sodium broth: available in vegetable, chicken and beef can be used as a base for soups, stews, and to add flavor zip to grains.
Nuts, seeds, nut butters: heart healthy, nutrient dense and provide plant based protein.
Grains: quinoa, brown rice, barley, pastas (try some different varieties like chick pea pasta) great side dish for any meal, easily added to soups.
Canned fish: tuna, salmon, sardines – versatile and provide protein and omega 3 fatty acids.
Canned tomatoes and jarred sauces: great to use in soups, chili and to serve with your grains.
Dried fruit: use as a topper for yogurt, cereal, mix with nuts for your own trail mix. Look at label to make sure no added sugars.
Unsweetened applesauce and canned fruits: choose the ones in water without the added sugar from syrups)
Canned vegetables: Everything from green beans, to canned corn, and even broccoli can be found in a can. Choose low sodium or no added sodium whenever possible.
Canned soups: look for broth based, low sodium options when possible)
Shelf-stable milk: These can include powdered milk or ultra-pasteurized milk which lasts on the shelf for up to one year
Whole grain cereals and oatmeal: Not only can these make a snack or meal themselves, but you can add cereal into numerous recipes such as using ground cereal in muffins or pancakes
Whole grain baking mixes: If you're going to be stuck inside, take the time to try out some new recipes. These mixes can let you make everything from pancakes and waffles to pizza dough
Powered eggs: I was stocking up on eggs, but came to the realization that at some point I may run out
(and there is only so much room in my refrigerator at the moment). And that's where powdered eggs can come in. You can use them to make egg dishes, but also incorporate them into recipes that call for eggs, such as in muffin mixes or desserts.
And don't forget items that can help you to make your own food. Stocking up on yeast, baking powder, baking soda, flour, seasonings, spices, sauces, and even sugar and salt can allow you to prepare and bake many items from loafs of bread to snack foods if you run out of the pre-made options you stocked up on.
In addition to stocking your pantry, fill your refrigerator and freezer with long lasting options such as frozen vegetables and fruit, frozen chicken and fish, eggs, tofu, cheese, yogurt, and milk to add as much variety to your diet as you can.
This is a crazy time in our lives and nutrition won't always be top priority, but try to fuel your body as much as you can with wholesome food when you can to keep your immune system at its peak.
And let us know how I can help you. There is so much misinformation and fear being spread online. If you have questions about foods that support immune health, balancing blood sugar during stress, how to cook meals from scratch, etc, just reach out and ask me. If you have the question, other people do too, and I would love to share as much helpful information with you all as I can.