I can't believe in less than 48 hours it will be 2016! Where did the year go?! The holidays seemed to fly by. My poor little guy came down with a bad bug and was sick all through Christmas and his birthday, but seems to be slowly recovering. Hopefully 2016 will start us off on the right food for a happy & healthy New Year!
One of my favorite things to do on New Year's Eve is to get together with friends and family to talk, play games, and of course- eat! What's a New Year's Eve without those amazing tiny hot dogs wrapped in pastry puffs, right?! Since most of the New Year's foods aren't the healthiest, I wanted to put together a few options I know my friends and family would love that are at least better for us than those deliciously tempting fatty little hot dogs.
I guess I have a bit of a sugar tooth lately because the appetizer/snack options I created are more sweet than savory. But if you are looking for savory, I recommend giving my Parmesan Tomato Bites and Breadless Quiche a try.
My first New Year's Eve must have this year is my Guiltless Dark Chocolate Raspberry Bark. This dessert is so easy to make – it's simply just two ingredients! You can't mess it up. And it tastes so good you won't even realize it's packed full of antioxidants.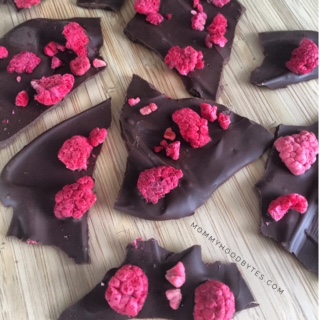 Guiltless Dark Chocolate Raspberry Bark
Ingredients:
1 cup dark chocolate chips (70% cacao or higher)
½ cup Brothers All Natural Raspberry Fruit Crisps
Directions:
Melt dark chocolate and spread evenly onto a cookie tray lined with parchment paper. **My easy tip for melting chocolate: Add the chocolate into a plastic zip-lock bag and heat for 30 seconds in the microwave. Rotate and heat for another 30 seconds. Repeat until all of the chocolate is melted. Then, cut a small hole in the bottom of the bag and squeeze the chocolate out onto the parchment paper.
Next, sprinkle the freeze dried raspberries evenly over top. Allow tray to sit at room temperature for 1-2 hours until dark hardens. Break into pieces and serve. This treat is best enjoyed within 1-2 days as humidity can cause the freeze dried fruit to soften over time (it still tastes great, but the texture will be less crispy)
Makes 16 servings
Nutrition Facts (per serving)
52 Calories, 7 grams Carbs, 0 grams Protein, 3 grams Fat
My next must have for tomorrow evening is my sweet take on nachos with my Nutty Chocolate Apple Nachos! This dessert nacho makes the perfect appetizer or sweet treat for your New Year's party. And the best part, it's only 91 calories per serving!
Nutty Chocolate Apple Nachos
Ingredients:
2 cups Brothers All Natural Fuji Apple Fruit Crisps
2 Tbs natural nut butter
1/8 cup dark chocolate chips
2 Tbs chopped walnuts
Directions:
Arrange Brothers All Natural Fuji Apple Fruit Crisps on a large platter. Heat nut butter and chocolate in the microwave (or on the stove) until the consistency thins enough to drizzle over the apples. Drizzle the nut butter and chocolate evenly over the apples and top with chopped walnuts. Let stand at room temperature for 5-10 minutes to allow the chocolate and nut butter to harden slightly, then serve. This dish is best served within 10-20 minutes of assembly as freeze dried fruit becomes less crisp the longer it is exposed to air. (If the fruit is left out longer, it still tastes great, it just becomes less crisp)
Makes 6 servings
Nutrition Facts (per serving):
91 Calories, 9 grams Carbs, 2 gm Fiber, 1 gram Protein, 5 grams Fat
What will you be eating this New Year's Eve?
Disclosure: I do have a working relationship with Brothers All Natural Fruit Crisps