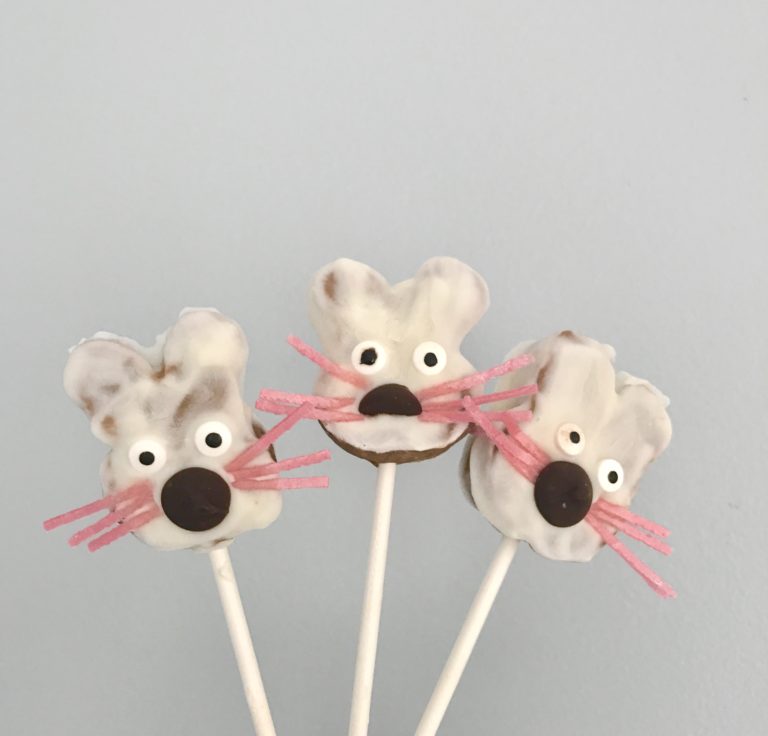 Here comes Peter CottonTail lalala …. That song has been stuck in my head all week. Easter is just around the corner and I have been wracking my brain trying to come up with a few fun Easter activities to do with Joey. Both boys have been sick all week and it's been raining non-stop, so getting outside hasn't really been an option. As much as I want to dye Easter eggs with the boys (or with Joey while we let the baby watch), the idea of letting a 4 year old dip eggs into colored dye inside the house we are trying to sell gives me anxiety. I would see it going very well or very, very badly 😉 When the weather clears up, I am all about doing this- but outside where messes don't matter as much.
I was looking online for fun Easter-themed snacks and desserts to make and came across some really adorable ideas. However almost all of them were cake pops. Now don't get me wrong, I am all about enjoying cake. But, if we are going to make an entire batch of cake pops, we are going to end up eating the whole batch ourselves. And I just don't think any of us need that much extra sugar right now. So instead, I decided to come up with a cake pop alternative that tastes just as good, is just as fun to make, but is packed full of nutritious ingredients so it can actually be a legit snack and not just an occasional dessert. Enter my High Protein Easter Bunny Cake Pops.
I think I am a little too excited about how these cake pops came out. They taste even better than I expected, but they also look like real little Easter bunnies. If you follow me on Instagram, you will understand why I am so excited that these guys really look like a bunny after my epic Pinterest Fail attempt at making chocolate-covered strawberry bunnies. Just check out the picture and you will see what I mean. I don't think I need to tell you what they actually resemble (hint: it's a certain smiley face brown emoji haha).
The best part about these cake pops is that they are rich in protein and healthy fat with very little added sugar. So the dietitian in me is beyond excited that the new 'dessert' in the house is more nutritionally equivalent to a well-rounded breakfast smoothie. If you make them yourself, tag me and share your pictures. I would love to see how they turn out!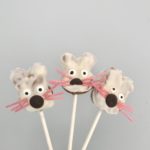 High Protein Easter Bunny Cake Pops
You will love this guilt-free no-bake cake pop recipe for Easter! Easy to make with the kids with the winning combination of chocolate and peanut butter.
Keyword:
cake pop, chocolate, diabetes dessert recipe
Ingredients
1/2

cup

natural peanut butter

1/3

cup

chocolate protein powder

1/4

cup

rolled oats

1/

cup

Greek yogurt

1

tsp

mini dark chocolate chips

8

pairs

candy eye-balls

2

straws

edible grass
Instructions
In a small bowl, heat peanut butter in the microwave until it thins out and can be easily mixed (about 30-45 seconds).

Stir oats and protein powder into the peanut butter to create a dough.

Place dough in refrigerator for about 5 minutes to allow the batter to firm and become moldable.

Press dough into silicon bunny shaped baking sheet (or mold dough into bunny shapes)

Place molded dough into the freezer and allow to harden for 20 minutes

Remove from freezer and place lollipop sticks into each "bunny"

Dip the bunnies into the Greek yogurt until completely covered and place on a wax paper.

Decorate the bunnies by adding candy eyes, edible-grass for whiskers, and chocolate chips for the nose.

Place back in the freezer for 1 hour until the yogurt has hardened completely. Serve chilled and enjoy!
Nutrition Facts
High Protein Easter Bunny Cake Pops
Amount Per Serving (1 cake pop)
Calories 107
Calories from Fat 63
% Daily Value*
Fat 7g11%
Sodium 62mg3%
Carbohydrates 5g2%
Protein 7g14%
* Percent Daily Values are based on a 2000 calorie diet.