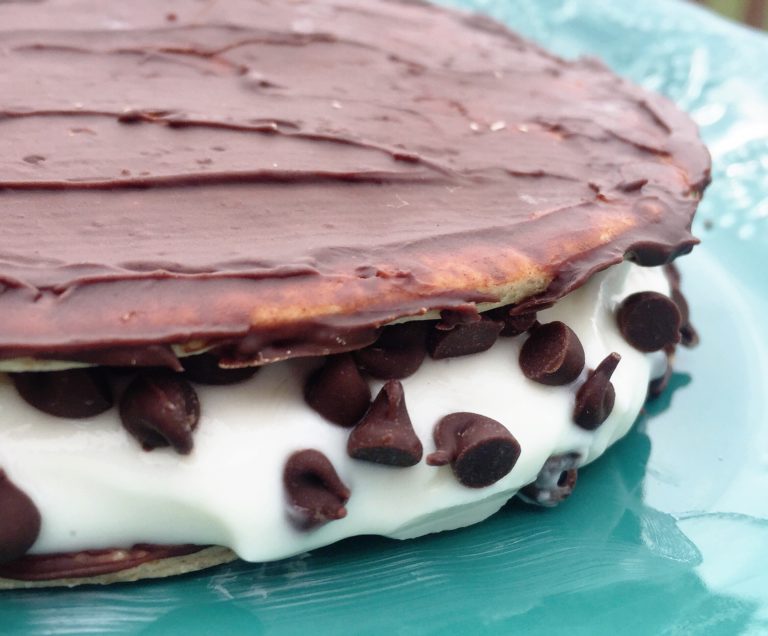 I don't know about you, but after a long, hot summer day I could really go for a big bowl of ice cream. The chilled, sweet refreshing taste cools me down instantly while satisfying my sweet tooth. But all of that added sugar tends to kick-start my sugar cravings. On top of that, having a pint (or gallon if I'm being honest) of ice cream on hand leads to my 3 year old constantly begging for it every time I open the freezer. I have nothing against ice cream on occasion, but if it's going to be a summer staple, I want it to provide a bit more nutrition. That's why I decided to create this delicious and satisfying High Fiber Greek Yogurt Ice Cream Sandwich recipe.
A healthy alternative without sacrificing the taste!
This healthy Greek yogurt ice cream sandwich recipe is incredibly fun and simple to make. Not only are these ice cream sandwiches higher in fiber and protein with less added sugar than standard ones, but they also are less expensive than buying them premade. As a bonus, the fiber and protein in the sandwich may help to stabilize blood sugar levels, which means you will stay satisfied for a longer period of time and won't experience those strong cravings, energy dips, or mood swings excessive sugary desserts can often trigger.
 Looking for more sweet treat options that are actually good for you? Check out a few of my favorite recipes:
Chocolate Raspberry Yogurt Cookies
Disclosure: This recipe has been sponsored by Flatout Flatbread.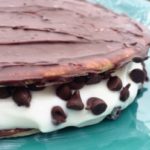 High Fiber Greek Yogurt Ice Cream Sandwich
Ingredients
1

Flatout 5 Grain Flax Foldit

2

tbsp

mini dark chocolate chips

1

tsp

mini dark chocolate chips

1/2

cup

low fat vanilla Greek yogurt
Instructions
Cut the Flatout Foldit as it's most narrow part to make two even pieces and place onto a sheet of wax paper.

Place two tablespoons of the mini dark chocolate chips in a small bowl and microwave at 30 second intervals until melted.

Spread the melted chocolate evenly over each Flatout Foldit piece until the surface has been covered. Place the pieces in the refrigerator and allow chocolate to harden. Once the chocolate has hardened, remove from the refrigerator.

Spread ½ cup of vanilla Greek yogurt evenly over the top of one chocolate covered piece

Sprinkle the remaining one teaspoon of mini chocolate chips on top of the yogurt.

Place the remaining chocolate covered Flatout Foldit on top of the yogurt, with the chocolate side facing up. Place sandwich into freezer and allow yogurt to harden.

Once yogurt has frozen, slice the sandwich in half and serve
Recipe Notes
Nutrition Facts (per serving): Calories: 159 Carbohydrates: 22gm Fiber: 3.5gm Sugar: 12gm Protein: 9gm Fat: 6 gm Saturated Fat: 2.5gm  Trans Fat: 0gm Cholesterol: 0mg Sodium: 197mg