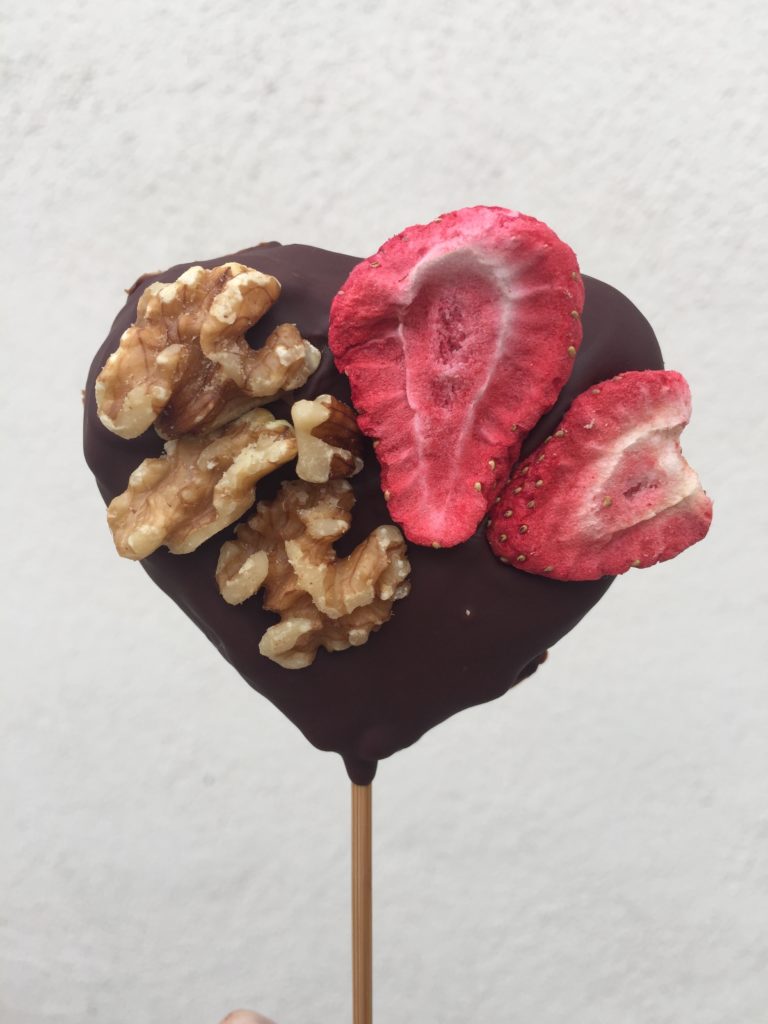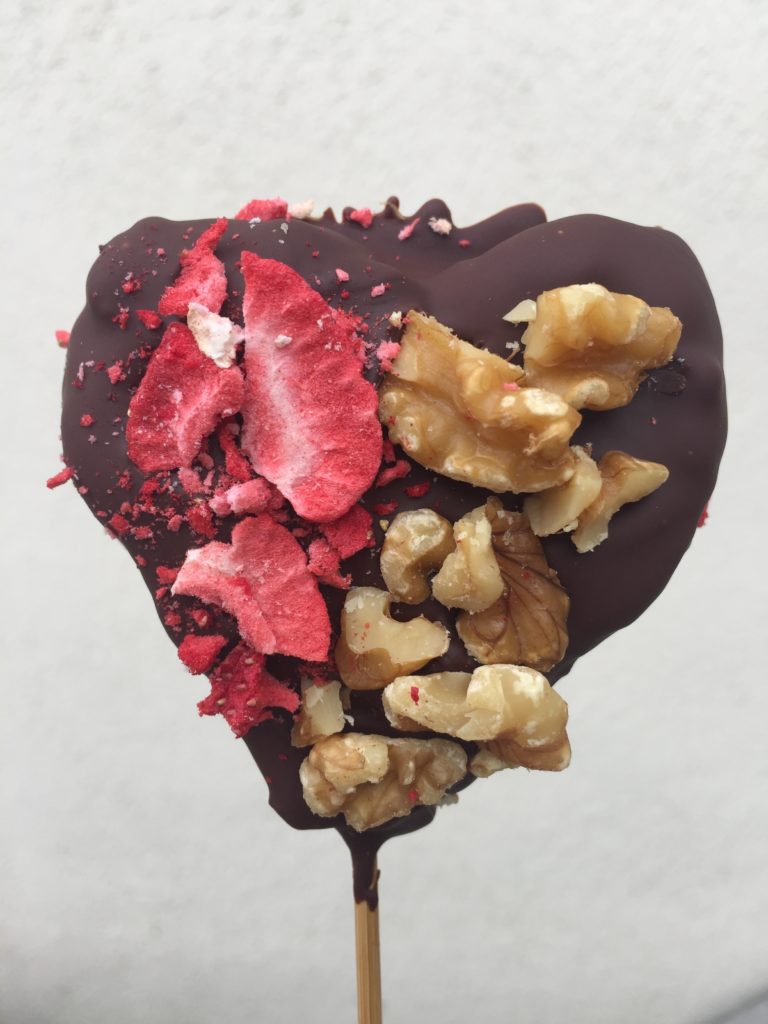 Happy Valentine's Day! OK it's a day early, but I wanted to share this recipe with you today so you can have plenty of time to make it for your sweetheart tomorrow (or for yourself- I think Valentine's Day is a great day to treat yourself as well).
If you have been wanting to make (or buy) some kind of treat or dessert for Valentine's Day, your options are pretty much limited to chocolate hearts, conversation hearts, and a variety of other sugar-laden choices. Sure they look pretty (and taste pretty good too), but all of that added sugar could have a negative impact on health. Now, don't get me wrong. I'm not saying that if you have a few conversation hearts tomorrow you are going to keel over, but if you can find a sweet treat you love that is actually good for you, why not choose that instead? If you are like me, I don't want to only have a dessert on a holiday- I would rather have dessert everyday. So finding a dessert that is actually healthy enough to eat every day is definitely a win in my book. And that's why I created this recipe.
I love cookie dough! In fact, I'd rather eat the dough than the baked cookie any day. And I know that isn't a good idea since eating raw egg is a no-no (although most eggs are pasteurized the risk of food borne illness is reduced, but it's still not a good idea to risk it). But it's not just the raw egg in the cookie dough that you want to avoid. All of that added sugar and butter isn't doing our health any favors either. So the solution I came up with is dough that removes the less healthy ingredients and replaces them with nutritious alternatives.
I know what you are thinking- a cookie dough without butter and granulated sugar is not cookie dough! I originally thought the same thing until I worked on this recipe and tasted the result. The addition of the almond flour along with the vanilla extract, stevia, and small amount of maple syrup give you the taste of regular cookie dough, just in a way that is a whole lot healthier! What you are left with is a filling, antioxidant rich cookie dough that you can eat as often as you want.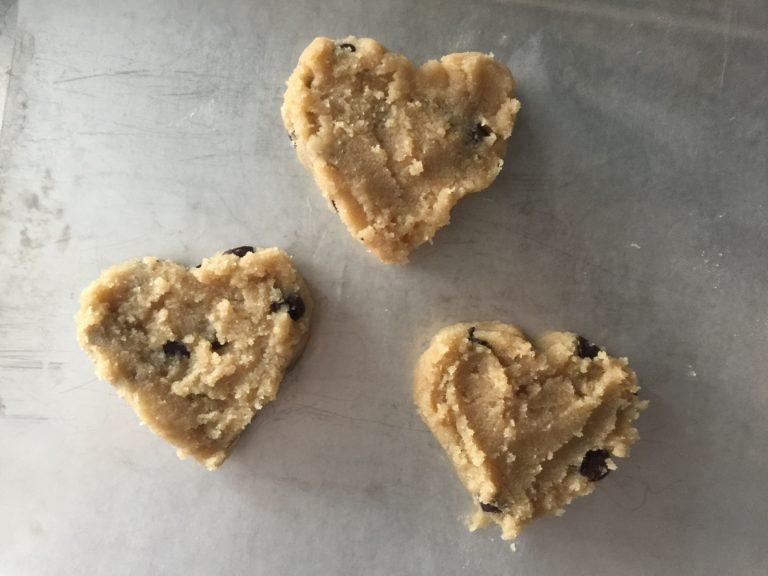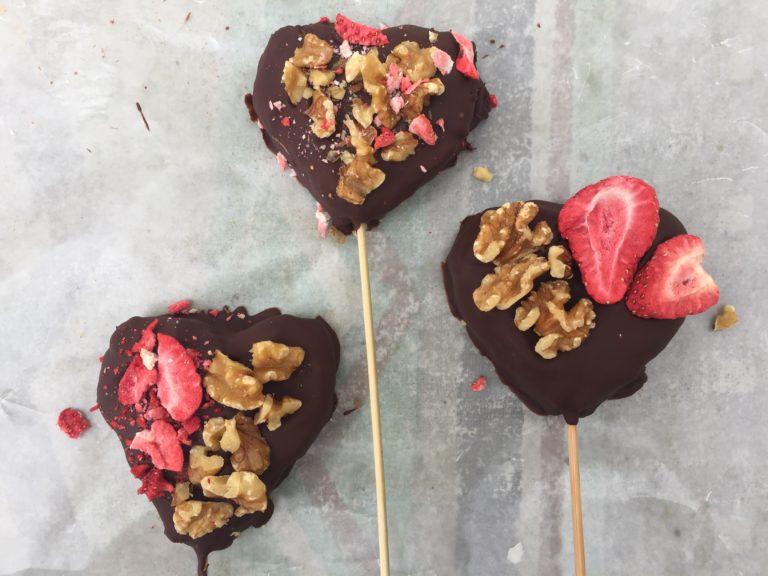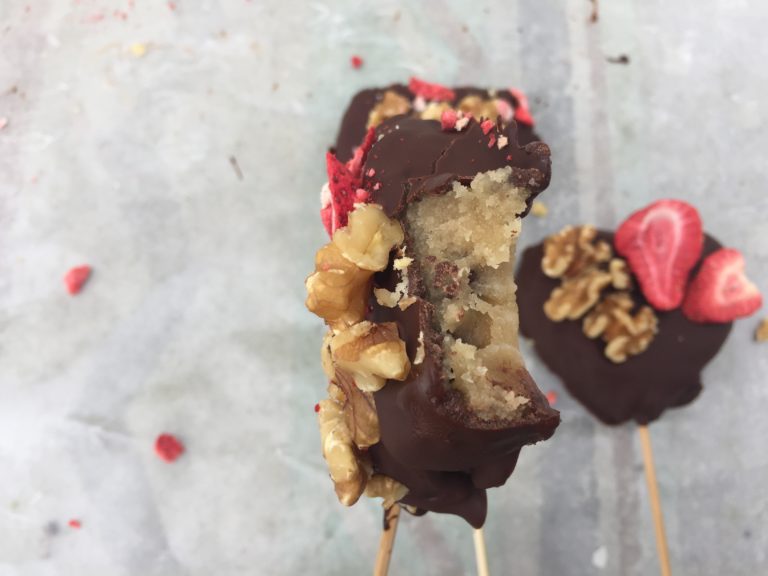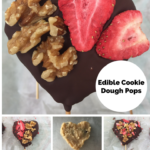 Heart Shaped Edible Cookie Dough Pops
Ingredients
For Edible Cookie Dough:
1

cup

almond flour

1

tsp

vanilla extract

2

tbsp

maple syrup

1

tbsp

stevia

1/4

tsp

salt

3

tbsp

low-fat milk

3

tbsp

dark chocolate chips

heart shape cookie cutters

popsicle sticks
For Toppings:
1/2

cup

dark chocolate chips

melted

1

tbsp

coconut oil

melted

1

ounce

walnuts

chopped

1/4

cup

freeze dried strawberries

crushed
Instructions
In a bowl or food processor, mix together the flour, vanilla, maple syrup, stevia and salt. Add in the milk as needed to moisten the mixture until you get the perfect cookie dough texture. Finally, mix in the chocolate chips.

On parchment paper, form heart shaped dough. With heart shaped cookie cutter, place on top of parchment paper then spoon about 2-3 tablespoons of dough into heart (filling about ½ up the cutter) firmly pressing down on dough to fill in heart.

Lightly lift heart cookie cutter up while evenly pushing dough down on to parchment paper. Repeat until all dough is used. Place Popsicle sticks at the bottom point of each heart. Freeze for 20-25 minutes, or until hearts are firm.

While hearts are chilling, melt dark chocolate coating. In a microwave safe bowl, combine dark chocolate chips and coconut oil. Microwave for 1 minute, stirring every 20 seconds, microwave for longer if needed, to completely melt chocolate.

Take cookie dough heart pops out of freezer and carefully dip in (or pour) melted chocolate, covering heart completely. Use spoon to cover all edges, if needed. Place chocolate dipped heart onto a clean parchment paper.

Top with chopped walnuts and freeze dried strawberries. Repeat for all hearts and freeze for 15-20 minutes, or until chocolate has hardened. Take out and enjoy with a loved one!!
Recipe Notes
Nutrition Facts (per pop): 382 calories, 32 g CHO, 29 g Fat, 7 g PRO, 5 g Fiber, 20 g sugar