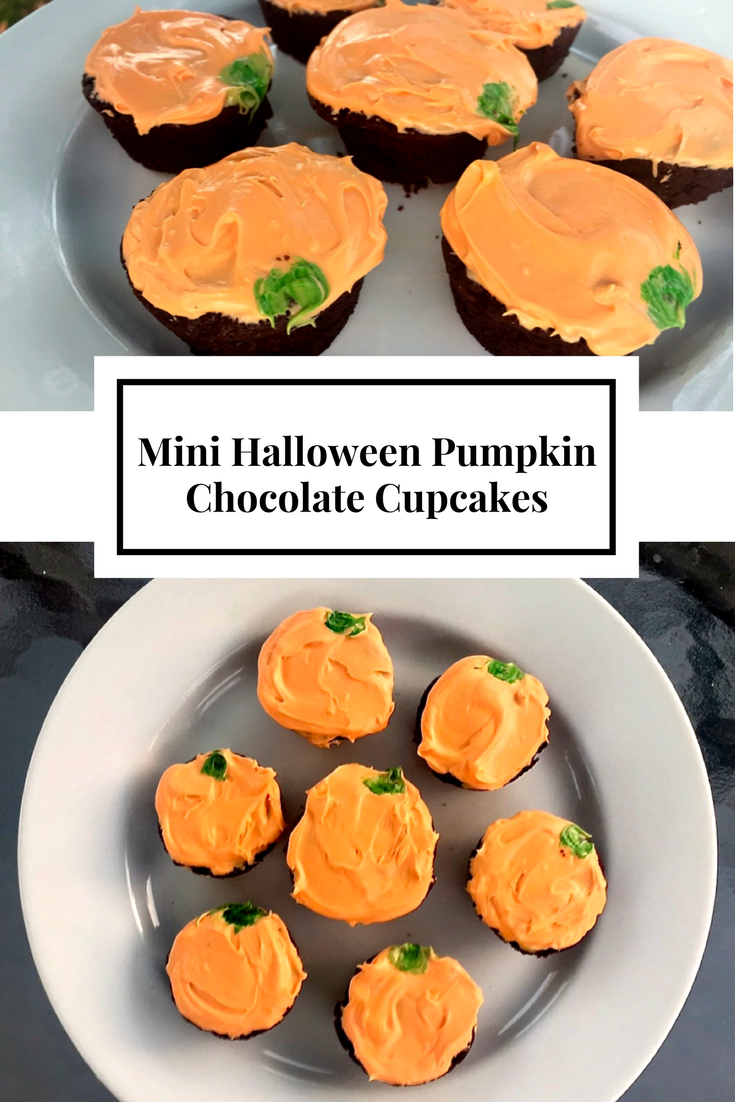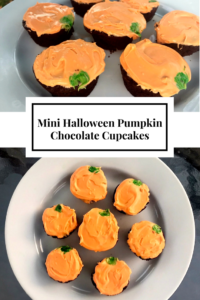 Did you know there was actually a National Chocolate Cupcake Day? You bet I wasn't going to let this holiday pass me by. Why wouldn't I want to celebrate two of my favorite things- chocolate and cake? Oh heck ya! Here's the thing though, I love cupcakes as much as the next person, but you just can't have cupcakes every day without some negative health implications (sorry!)… UNLESS you make a few tweaks to that cupcake recipe. That's right. Today's recipe will highlight how you really can have your cake and eat it too (I know, I know, but I couldn't help myself).
Halloween is right around the corner and candy is EVERYWHERE! I mean seriously everywhere, except at my office because thankfully people don't tend to bring candy to a dietitian's office for some reason. But a day doesn't go by where I haven't felt like I was on complete sugar overload. I have no problem with a little candy in moderation (trust me, I enjoy my candy!), but I don't want to eat it just because it's there. I want to actually enjoy it. So in order to get the candy hoarders to stop replenishing their stash in our house (I think we all know what candy hoarder I am referring too since the other two people in the house are under 3 feet tall and can't go to the store alone yet) I decided to make a sweet treat we all can enjoy that is slightly lower in sugar as well. And as a bonus, it just so happens to be adorable, Halloween-themed, and the perfect dessert to celebrate the amazing holiday of National Chocolate Cupcake Day! These mini pumpkin chocolate cupcakes are naturally portion controlled (perfect for the kids), take only minutes to make, and are extremely decadent. Enjoy!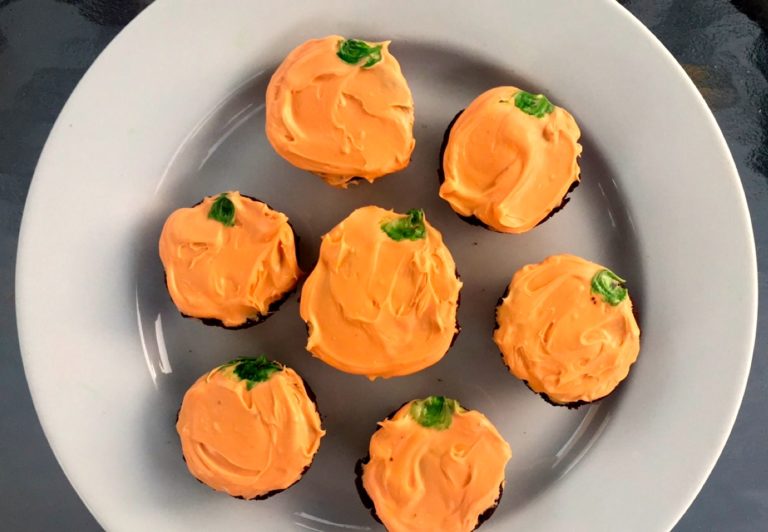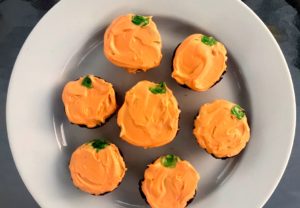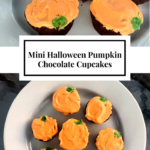 Mini Halloween Pumpkin Chocolate Cupcakes
Ingredients
1/2

cup

all-purpose flour

4

tbsp.

stevia

2

tbsp.

dark cocoa powder

1/2

tsp.

baking soda

pinch of salt

4

tbsp.

low-fat chocolate milk

or water

4

tbsp.

coconut oil

melted

1/2

tsp.

vanilla extract

3

tbsp.

dark chocolate chips

melted
For Frosting:
1/2

cup

store bought frosting

3 tbsp. set aside

food coloring: red, blue, green, yellow
Instructions
In a small bowl, whisk together flour, sugar, cocoa powder, baking soda and salt.

Add in milk, oil and vanilla and mix well. Stir in melted chocolate chips.

Spoon mixture into a prepared mini cupcake pan and bake for 15-18 minutes, or until firm.

Cool completely before frosting.

For frosting, add yellow and red food coloring to frosting, make desired orange color. Set aside. With 3 tablespoons of plain frosting, add green food coloring to make green color. Frost cupcakes with orange frosting. With green frosting stroke a green stem on the top of the mini cupcake (at 12 o'clock) to make a pumpkin.
Recipe Notes
NOTE: You can also use Greek yogurt with a hint of food dye as a low-sugar frosting substitute if you prefer.
Nutrition Facts per cupcake: 170 calories, 19 g CHO, 10 g Fat, 1 g PRO, 49 g sodium, 12 g sugar