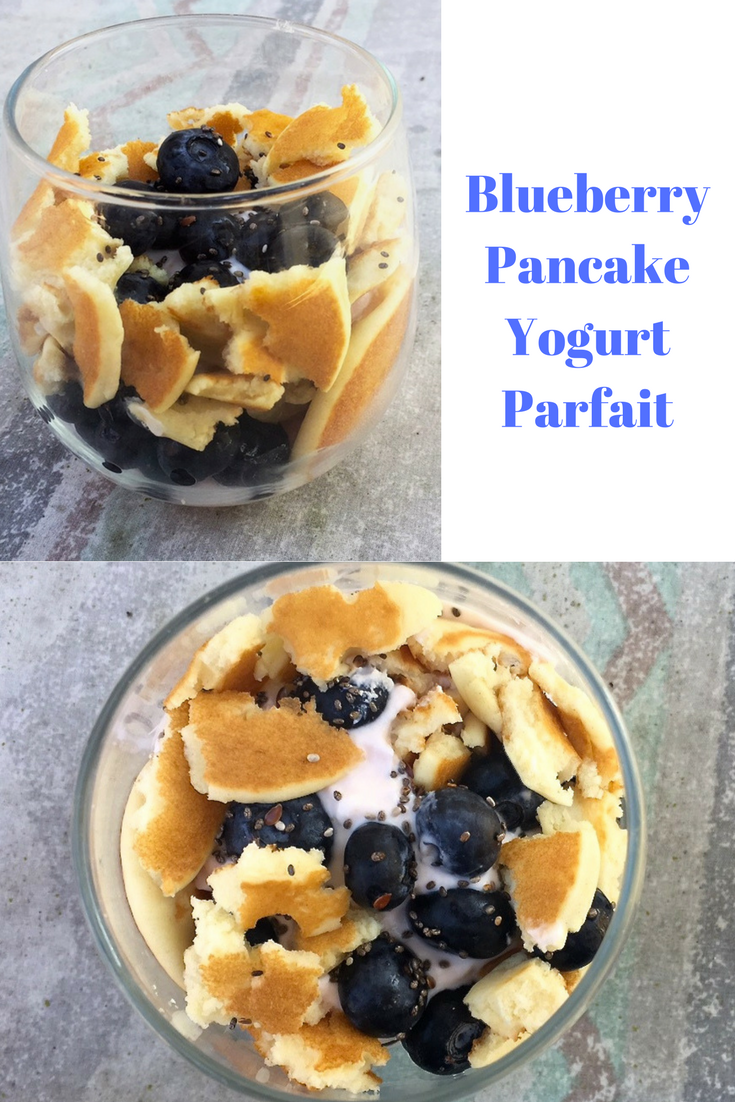 Today is National Blueberry Pancake Day. Yup, it's a thing! As you probably already know, breakfast really is the most important meal of the day. If you skip it, your more likely to have an increased appetite and an increase in cravings the rest of the day. Not to mention, skipping breakfast can drain your energy levels and even make it harder to think straight or be productive. Since I am already in a constant state of sleep deprivation thanks to my newborn, I don't need anything to add to my lack of energy or forgetfulness.  So yes, breakfast needs to be a priority, but it doesn't need to be boring. I find myself making the same typical breakfasts day after day, so I decided to step up the creativity a bit.
In honor of National Blueberry Pancake Day, I thought I'd mix together two of my favorite breakfast options, yogurt and pancakes, to create a Blueberry Pancake Yogurt Parfait.  I love a good yogurt parfait, but everything is better with pancakes, right? Since today is specifically about blueberry pancakes, I whipped up this creation with those little antioxidant packed blue powerhouses. What I love about this recipe though is that the varieties of fruit combinations you can use is endless! 
Note: You can also make your own mini pancakes for this recipe, but when you are short on time (or sleep!) heating up frozen mini pancakes can be a lifesaver. I recommend whipping up a bunch of mini pancakes once, freezing them, and then having them on hand anytime you want to make this parfait!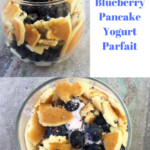 Blueberry Pancake Yogurt Parfait
Ingredients
10

each

mini pancakes

cooked and torn into pieces

2

(5.3-ounce) container

low fat yogurt (your favorite flavor)

1

cup

blueberries

fresh or frozen

2

tbsp

chia seeds
Instructions
Add ½ of yogurt container to a bowl or cup. Then add some blueberries on top. Add some pancake pieces over the blueberries.

Add other ½ of yogurt container (1 full container per parfait) and top with more blueberries, more pancake pieces and sprinkle some chia seeds on top. Enjoy!
Recipe Notes
Tip: Add some nuts or more fruit to this breakfast and enjoy a scrumptious and filling meal.
Nutrition Facts (per serving):
324 calories, 61 g CHO, 6 g FAT, 8 g PRO, 365 mg sodium, 37 g sugar