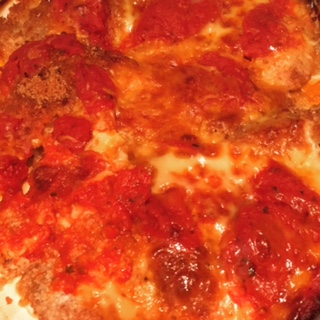 Who doesn't love chicken parm? The problem is, it's typically loaded with added fat and calories. However, if you bake it, you can slash calories and fat and make it a dish you can enjoy on a regular basis without worry of an expanding waistline. Here's my favorite way to make a baked chicken parm fast and easy (5 minutes of prep time- I swear!)
Ingredients:
1 lbs chicken breast, thin sliced
1 cup 100% whole grain bread crumbs
1 egg
4 ounces part-skim mozzarella cheese, shredded
1 cup tomato sauce (homemade or your favorite store brand)
Directions:
Preheat oven to 400 F. Place egg in a small bowl and whisk. In another bowl, add in bread crumbs. One by one, dip each chicken breast in the egg, then dip into the bread crumb bowl to coat evenly. Place chicken into a lightly greased casserole dish. Once all chicken has been coated and placed in the pan, sprinkle the mozzarella cheese evenly over chicken. Top with tomato sauce and cover the dish with a glass top (or foil). Bake for 35 minutes or until chicken reaches an internal temperature of 165 F. Enjoy!
Like this post? Make sure to subscribe to my FREE newsletter for monthly tips, recipes, giveaways, and more! Click here to subscribe!