Did you enjoy your Halloween weekend? We had so much fun seeing Joey Trick-or-Treat for the first time. He really got into it! He went as Cookie Monster this year, but I have to say, I think by the end of the night I felt much more like a Cookie Monster than he did! I have such a major sweet tooth that I always struggle with overdoing candy when it's around. At least now we don't have a giant bowl of sweets sitting out all night so I can control myself a bit more (although there's still plenty left over in the pantry!)
How did you do with your meal plan and nutrition goals this Halloween weekend? If you got a little off track, don't worry. I am here to help! The holiday season can be one of the most difficult times of year to eat healthy and avoid the dreaded holiday weight gain. I can't tell you how many clients I have worked with who do wonderful all year long only to get derailed over the holidays and spend the first few months of the New Year undoing the damage that they have done.
But you know what? There are plenty of people who are not impacted at all by the holidays. They can go through the entire season without gaining an ounce (and some even lose weight during this time!) What's their secret? Well after working one on one with clients for more than a decade, I discovered the specific traits that these seemingly lucky people all have. But it isn't just luck- these individuals all follow a common path throughout the holiday season (and the whole year) that allows them to successfully lose weight and keep it off no matter what life throws at them.
And guess what? I'm about to share all of these secrets with you! I am going to be hosting a FREE LIVE ONLINE TRAINING: My PAINLESS 5-STEP PLAN TO PREVENTING HOLIDAY WEIGHT GAIN WHILE EATING THE FOODS YOU LOVE.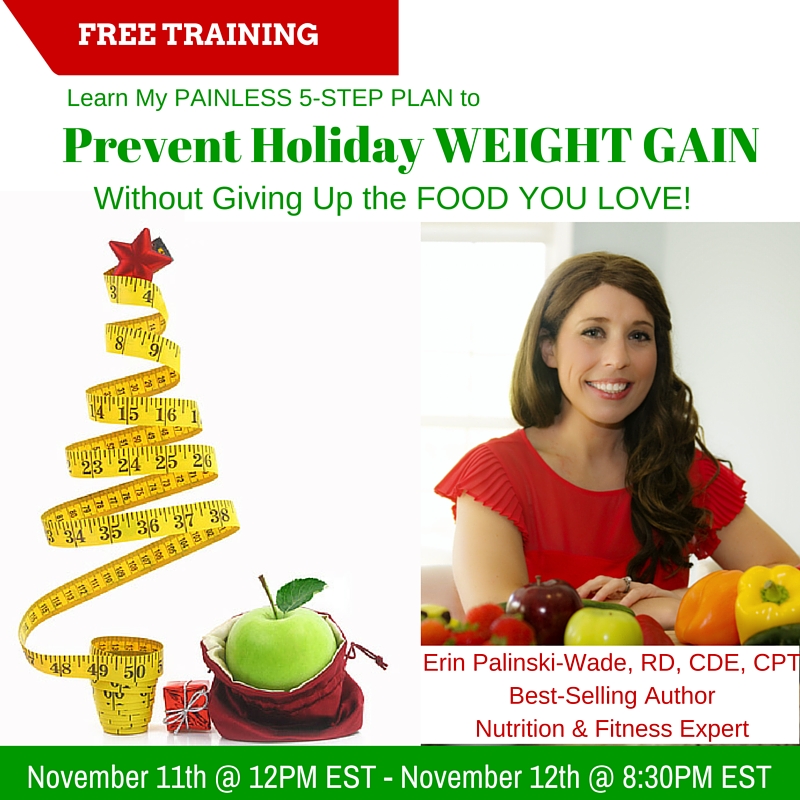 In this one-hour live webinar, I will show you #1 reason most people gain weight during the holidays, and why it has nothing to do with food or exercise. I will also lay out my simple five-step formula for avoiding holiday weight gain without deprivation to allow you to start 2016 healthier and happier than ever. You'll learn exactly how to avoid becoming a holiday weight gain statistic, while making sure you still get to enjoy all of your favorite holiday foods. I'll even be including a live Q&A session at the end of the event so you can ask all of your holiday health related questions!
Even if you have been struggling with yo-yo dieting or gained weight during the holidays last year and have been unable to lose it, guess what? I'm going to show you some incredibly easy yet effective strategies to overcome these challenges so you can start the New Year off healthier and happier than ever.
 
I am so excited about this FREE training that I will be offering it twice, but space is very limited, so make sure to sign up today! I am offering both a daytime and an evening training so everyone can make it!
 
CLICK HERE to register for either live event on:
Wednesday November 11th at 12pm EST
OR
Thursday November 12th at 8:30pm EST
 
If you want to finally enjoy the holidays guilt-free and not feel like you have to waste the first half of 2016 undoing the damage from 2015, then make sure to join me! And don't forget to share this invite with your friends and family who may benefit as well!
I also want to send out a special invitation to all of the Costco Diabetes Club Members (@CDiabetesInfo). Living with diabetes can be challenging, especially during the holiday season. But I want you to know that it is possible to enjoy your holidays, without guilt, while still keeping your health in check. Deprivation isn't the answer. You can eat what you love and still keep blood sugar levels and weight in a healthy range. Make sure to join me LIVE on 11/11 or 11/12 and find out how!
And to hold you over while you wait for the training to start, check out some of my tips for achieving and maintaining a healthy body weight while preventing or managing diabetes that I have shared with C Diabetes Magazine:
Eating Mindfully for Successful Weight Loss
Surprising Foods that Can Improve Blood Glucose
I can't wait to see you LIVE at my event!
 
I am a member of the Diabetes Influencers Network. I have not been compensated for this post. All opinions are my own.