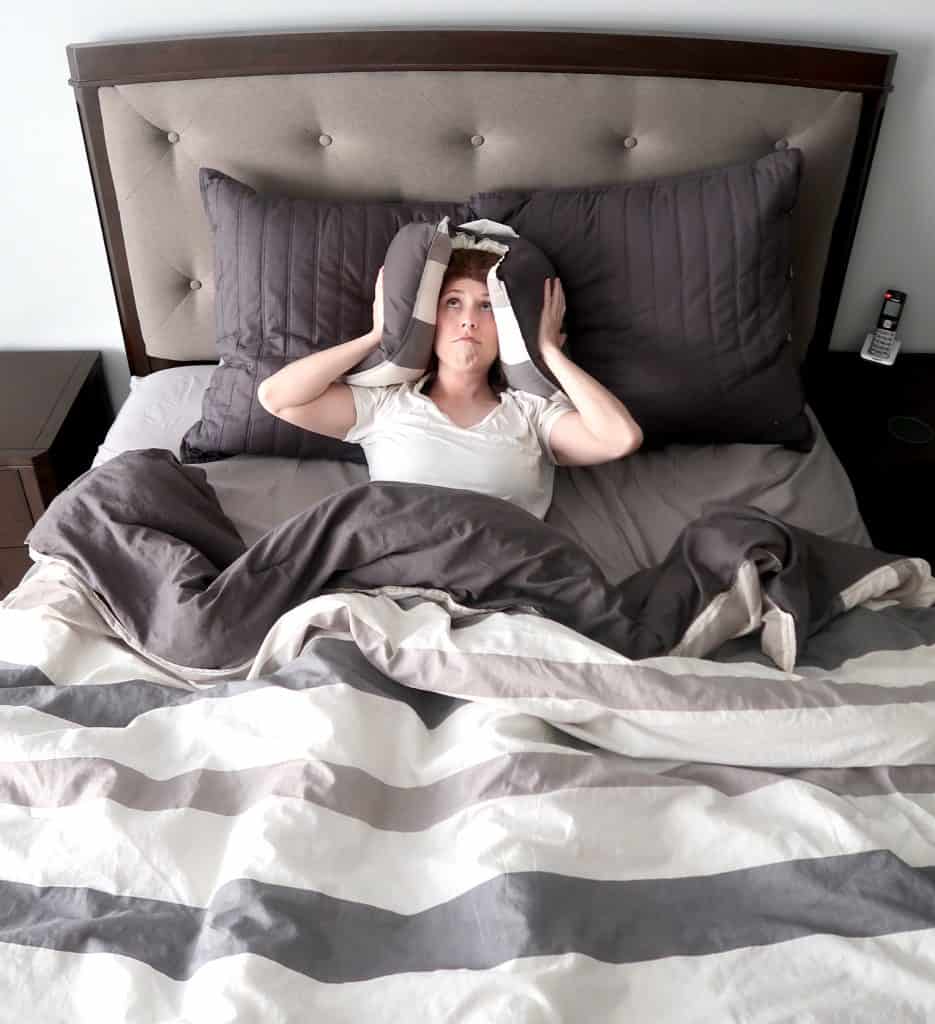 I have always considered myself a good sleeper. I never had a problem falling asleep and once I was asleep, I would usually stay that way. But all of that changed a few months ago.
This post has been created in partnership with Swisse Wellness. All opinions are my own.
To say the last few months have been stressful would be a bit of an understatement. My stress levels have never been higher. And with stress rising, I found I couldn't fall asleep some nights. Or I would wake up in the middle of the night and find it impossible to fall back asleep. And this lack of sleep was taking a toll on me. It was impacting my mood, my energy, my food choices, and my entire family. I knew I had to do something or this lack of sleep would only continue to increase my stress levels and damage my health.
Stress can have a direct impact on sleep. When stress levels are high, the risk of insomnia increases. And the less you sleep, the higher stress levels rise. It's a vicious cycle that I knew I had to break. So, I decided to do some research. And I discovered a few very simple solutions for better sleep, even with high stress levels.
Since I know I am not alone with this problem, I wanted to make sure I shared everything I learned with you as well. So, keep reading for my top tips to sleep better when stressed.
5 Tips to Sleep Better When Stressed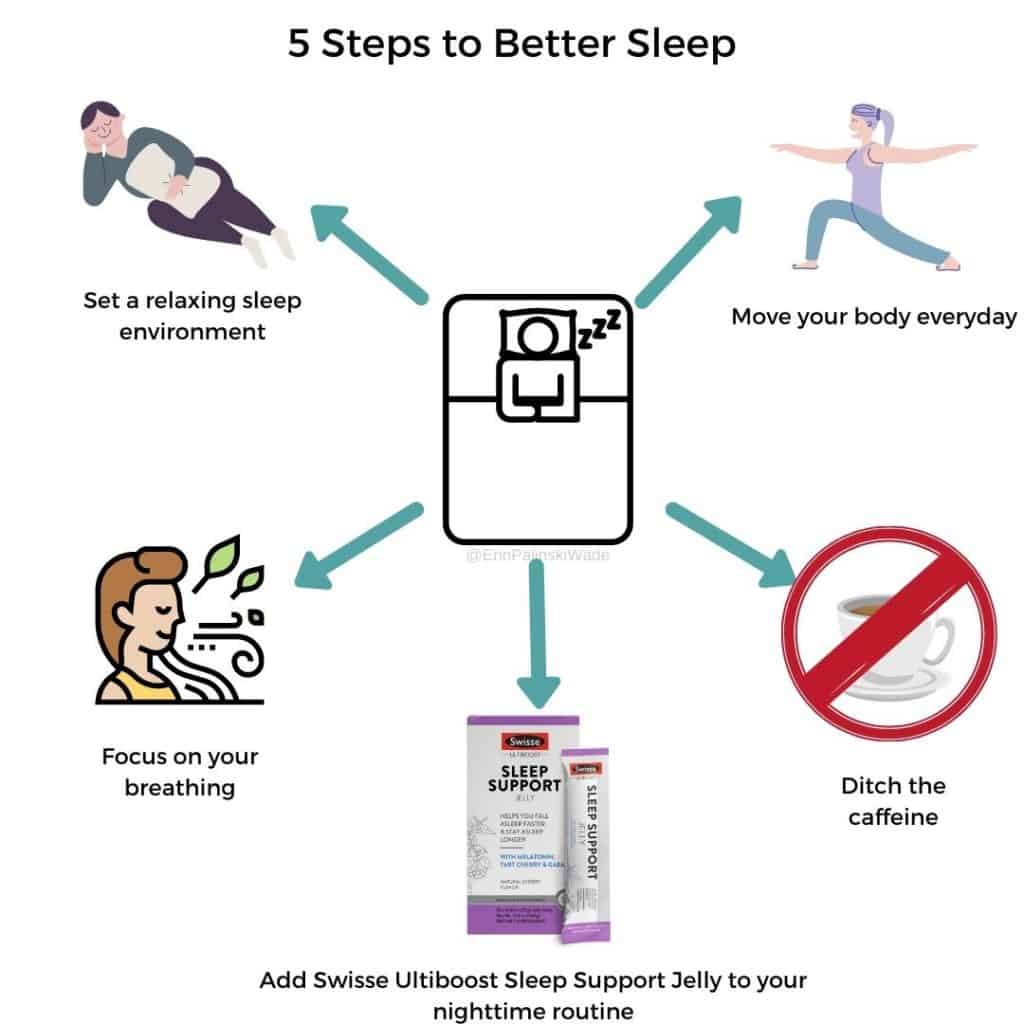 #1 Set a relaxing sleep routine
Have you ever run around your house late in the evening trying to finish all of your last-minute tasks before bed? Then when you realize how late it is, you quickly lay down and wonder why you can't fall asleep? The idea that we can just turn our body and mind off like a switch to instantly fall asleep is the equivalent of trying to put a baby to bed in the middle of a party. It doesn't work. Your body and mind are stimulated and wide awake. You need time to relax, unwind, and let your body and mind both register that it is time to go to sleep. And in order for that to happen, you need to set yourself up with a relaxing sleep routine – and stick with it.
So what sleep routine works to help you sleep better when stressed? You will want to plan for at least 30 minutes of calming activities leading up to bedtime. This is where you darken the lights, soften the noise (or listen to calming music), and remove all stimulation such as electronic screens. Focus on peaceful thoughts, be still, and allow your body to relax so you can drift off into a deep sleep.
#2 Add Swisse Ultiboost Sleep Support Jelly to your nighttime routine
One of my favorite new discoveries as I have been looking for ways to sleep better when stressed are the Swisse Ultiboost Sleep Support Jellies. These great tasting, plant-based jellies are so fun to eat and contain a premium formula of 5mg of Melatonin and Tart Cherry Extract to assist with occasional sleeplessness and GABA to promote relaxation*. What I love most is that these jellies are drug-free, so they support a restful night sleep letting you wake up feeling refreshed- not groggy! And what could be easier? They come in individual servings, so I leave them right in my bathroom and just tear it open, eat, and enjoy one as my 'nighttime treat' before brushing my teeth. Taking one jelly 30 minutes before bed may assist with a more restful night.*Ϯ And it curbs my nighttime sweet cravings too. You can buy them here.
#3 Kick your caffeine habit
This is a tough one, but it is so important. If you aren't sleeping well, chances are you are reaching for some caffeine as a pick-me-up each morning. And there's nothing wrong with that. But do you keep reaching for the caffeine all day long? Be cautious, because too much caffeine can do more harm than good. Having more than 300-400 mg of caffeine per day (the equivalent of 16-24 ounces of coffee) can make falling asleep more difficult, especially if you have it within 8 hours of bedtime. On top of that, excess caffeine can suppress the production of the feel-good chemical serotonin. And when serotonin is reduced, not only can that impact mood, but it increases the risk of insomnia.
When it comes to caffeine, follow these guidelines for better sleep. Limit caffeine to no more than 300mg per day and avoid caffeine within eight hours of bedtime.
#4 Focus on your breathing
Yes, I know you are already breathing everyday (thank goodness!), but focusing on how you are breathing can have a large impact on stress. And remember, if we reduce stress it can help you have a better night's sleep. One of the easiest ways to reduce stress and calm yourself in under a minute is with belly breathing. This is where you focus on breathing deep into your belly, holding the breath, and then exhaling fully. It's a slow, controlled form of breathing that can help you to relax both physically and mentally. And it can be done anywhere at any time. Check out my video where I show you the exact steps for effective belly breathing.
#5 Move your body everyday
Did you know one of the best ways to reduce stress is by exercising? Now I know that can be a challenge when you are exhausted after a night of no sleep. But even if you start by simply taking a 10-minute walk or tracking your steps during the day, it all helps. Exercise can reduce the production of stress hormones in the body as well as trigger the release of endorphins like serotonin. These feel-good chemicals lift mood and help you better respond to stress, which in turn can lead to a more restful night.
If you really want to see exercise have an impact on sleep, try to take it outside. Especially in the morning, Research has found exposure to sunlight, especially earlier in the day, can help your regulate body's circadian rhythms – a key to better sleep.
If you start to incorporate these five tips for better sleep when you are stressed daily, I know you will start to see results. And be sure to let me know the difference you feel!
* These statements have not been evaluated by the Food and Drug Administration. This product is not intended to diagnose, treat, cure or prevent any disease
Ϯ Please consult your healthcare professional before use if you are experiencing long-term sleep difficulties, pregnant, nursing, giving to children, taking any medication or have a medical condition. Keep out of reach of children. Do not drive or operate machinery when taking melatonin. Not suitable for infants.