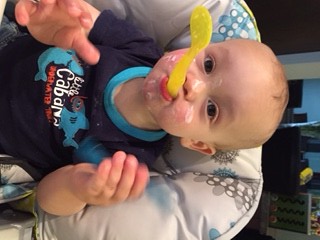 I'm sure you have heard the expression "sleep like a baby." Well, if I was sleeping like Joey does, I would never sleep (oh wait, I don't ever sleep since my child doesn't sleep), but anyway- back to the point of this blog J When it comes to developing a healthy relationship with food and achieving an optimal body weight, aiming to eat like a baby can show you just how we were really meant to eat.
When feeding a baby, the parent or caretaker's role is to provide nutritious options. It's the child's responsibility to determine how much he will eat. This allows your baby to understand his own internal hunger and satiety cues. Now, think about how we as adults eat. If I walk past a bowl of candy, I'm not hungry, but that certainly doesn't stop me from grabbing a handful and chowing down. Or at dinner, if there's a few bites left on my plate, I may just gobble them up without thinking instead of asking myself if I am still truly hunger. These are the almost unconscious behaviors that lead to us as adults consuming far more calories than we actually need.
Look at how a baby eats on the other hand. He uses all his senses to really focus on the food he is eating. He eats slowly and pushes the food away as soon as he is no longer hungry for it. As a baby eats, his only focus is the food offered to him. He's not eating with distractions such as a TV, computer, or phone pulling his focus away from the food experience. This is what we call "mindful" eating- the practice of involving all of your senses in the eating experience with minimal distractions to allow yourself to get back in touch with your hunger and satiety cues while feeling truly satisfied from the food you are eating.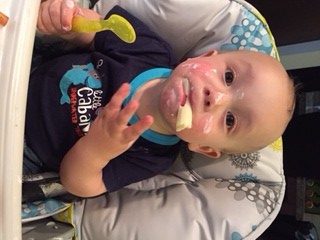 The next time you sit down to eat, try to think about eating a bit more like a baby. Now, there's no need to eat exactly like a baby- for instance, I don't plan to smash sweet potatoes in my hair or throw eggs across the room like Joey enjoys doing, but the goal is to just try to really focus on the food in front of you. What does it taste like, smell like, what's the texture? The more you can slow down, involve all of your senses, and take your time with your meal, the less likely you are to overindulge.