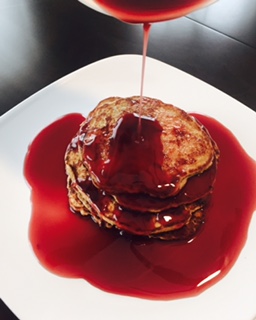 My Recipe for the Welch's Recipe Contest
I was thrilled to be asked to participate in Welch's Recipe Contest looking for family-friendly recipes by RDs. I love Welch's 100% Grape Juice and was brainstorming ways to incorporate it into recipes other than the typical smoothie or popsicle. And then it hit me- PB&J in a new way! Well to be honest, my first idea was a banana grape muffin. I loved how they came out, but my family wasn't as thrilled. So, I scratched that idea. Then my husband actually came up with the PB&J idea and it hit me- Peanut Butter and Jelly Pancakes with Grape Syrup! How could you not love that? And, thankfully, this time the recipe was a hit!
Not only are these pancakes simple to make with ingredients you probably already have in your kitchen, but they are also packed full of protein (thanks to the extra boost from the egg and Greek yogurt) and are even gluten free!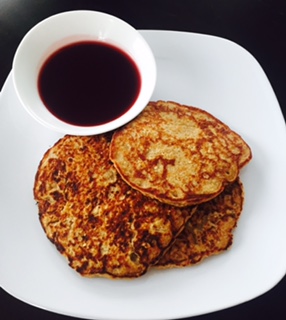 Pancake Ingredients:
1/3 cup 100% Welch's Grape Juice
1 ¼ cup rolled oats
¾ cup plain Greek yogurt
1 egg
1/3 cup peanut butter, melted
1 tsp baking powder
¼ tsp salt
¼ tsp vanilla extract
Syrup Ingredients:
1 cup 100% Welch's Grape Juice
1 Tbs plus 1 tsp cornstarch
Directions:
In a food processor or blender, quickly grind rolled oats for 30 seconds. In a large bowl whisk egg and add in yogurt. Stir together and add in melted peanut butter, juice, and vanilla. Mix wet ingredients until smooth. Add dry ingredients into liquid, stirring consistently, to create pancake batter. Heat a large skillet coated with cooking spray over medium heat. Pour ¼ cupfuls of batter onto skillet and cook until bubbles form on the surface. Flip with a spatula and cook until browned on the other side.
While batter is cooking, pour 1 cup grape cup into a small pot over medium heat. Add in cornstarch and stir frequently for 5 minutes. Remove from heat and allow mixture to cool, stir every 30 seconds until mixture thickens into a syrup consistency.
Pour the grape juice syrup on top of the pancakes and serve warm. Enjoy!
Disclosure: I received coupons from Welch's for a complimentary purchase of their 100% grape juice products for this contest.