Kitchen Mania Monday: Chicken Meatloaf
Meatloaf is just an easy meal and almost everyone loves it. But instead of using higher fat ground beef, substituting with ground chicken breast can be a great way to make a similar tasting meal with about half the fat and calories.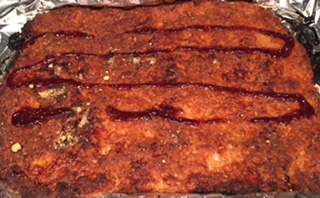 Ingredients:
1 lbs ground chicken breast
½ cup whole grain bread crumbs
1 large egg
1 large sweet onion, chopped
1 Tbs minced garlic
¾ cup ketchup
In a large bowl, whisk egg. Add in ketchup, breadcrumbs, onion, and garlic. Next, add in ground chicken breast. Mix all ingredients together evenly. Once mixed, place ground chicken on a lightly greased pan. Using your hands, spread chicken evenly out over pan. Depending on how you like your meatloaf, you can spread it thinly over a large, swallow pan or make it more "loaf-like" in a deep, thin pan. I personally like it in the swallow pan. This especially makes it easy to cut into thin, bite sized pieces for our little guy.
Place meatloaf in the oven at 400 F for 40-50 minutes (depending on thickness) or until internal temperature reaches 165 F.
Note: you can get creative with your meatloaf too. Try adding additional chopped vegetables into the mix. You can top your meatloaf with various seasonings as well. We like a splash of parmesan cheese or a little drizzle of barbeque sauce for some extra flavor.