March is here! The weather is slowly warming up (it's actually going to be hot today!) and that means that spring is almost here. But that's not all I am excited about- March is also National Nutrition Month! This year's theme is all about savoring the flavor of healthy eating. That's why I teamed up with my buddies over at Flatout Flatbread (the most amazing tasting, lower carbohydrate flatbread ever in my opinion!) to host a fun and informative Facebook chat today.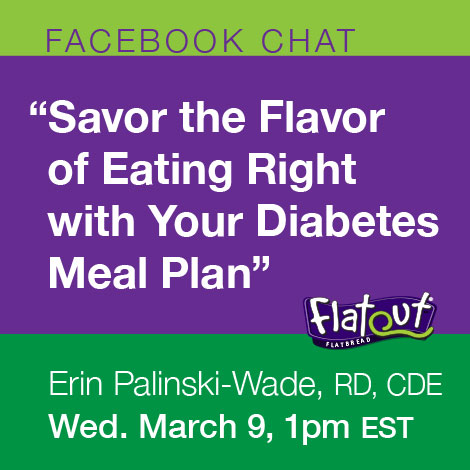 Join me LIVE today at 1pm EST over at Flatout's Facebook page to discuss all things nutrition and diabetes. Today's chat theme will be 'Savor the Flavor of Eating Right With Your Diabetes Meal Plan." So come join me to learn that you can eat what you love while managing diabetes! I can't wait to share with you all of my favorite ways to reduce blood sugar levels while exciting your taste buds. I hope to see you there!
Disclosure: I am a paid brand ambassador for Flatout Flatbread. All opinions are my own.