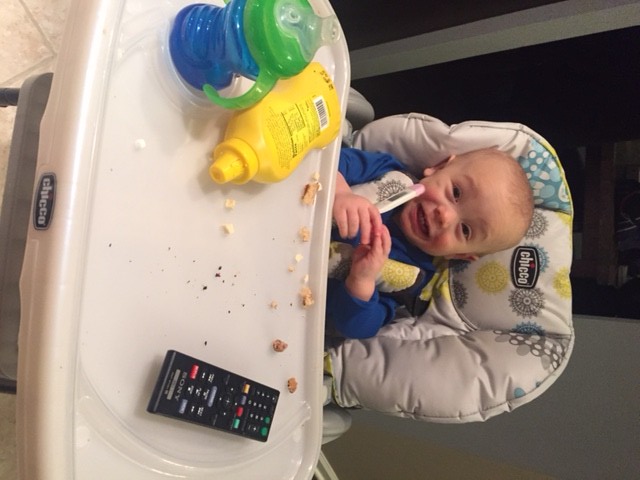 I can't tell you how many times I've had a client tell me if they were single, they would be skinny. Or how often someone tells me they never gained weight until they were married with children. What is it about having a spouse and a child that makes us pack on the pounds? Is it inevitable that we must gain when we our life changes and it's not just about us anymore?
You don't have to pack on the pounds once you become a parent (or a spouse). But it sure is easy to if you aren't careful. When your world becomes focused on those around you versus just yourself, it's easy to put your needs last and focus on everyone else. This is even true for when it comes to planning and preparing meals. You may love to eat green vegetables or broiled fish, but you hesitate to make it for dinner worried that your spouse or children will reject it. Perhaps you have a child who will only eat chicken nuggets or a spouse who wants to live on pizza. It can be very hard to eat healthy yourself when you are surrounded by less healthy food options or are unmotivated to buy and make healthy options when you figure those around you won't want them.
But there is a solution. You can get your family members on board with healthy eating. Sure it takes time, but it doesn't have to be a huge struggle either. Using these four simple strategies, you can get almost anyone to come around to eating a little healthier, making it easier for you to achieve your weight and health goals as well:
Keep making your family's favorite foods- just give them a healthy makeover! If your family loves fried chicken- bread it and bake it instead. If they can't get enough pizza, make your own using whole grain dough and load up on the veggie toppings. It tastes just as good (or better!) than the original, with many more health benefits.
Get everyone involved. Research has shown that when you are involved in the creation of a meal, you are more likely to eat it. Take your children to the store and let them pick out a new healthy food to try. Let them help with the prep work in the kitchen. Have your spouse find a new recipe he wants to try out and prepare it together. Making meals a family effort doesn't just make cooking more fun, but it makes everyone more likely to enjoy the meal as well.
Think outside the box. Sure, you want your family to eat avocados, but the sight of anything green makes them run away. If that's the case, don't try to force guacamole down their throats- it's not gonna happen. Instead, add mashed avocado into a favorite recipe. For instance, you can swap butter with mashed avocado (using a 1:1) ratio in baked goods. The food tastes just as great as before, has a familiar appearance (so it's more likely to get eaten), but now contains a much higher content of nutrients and healthy fats. This can work for so many foods- add chopped spinach into a meatloaf, chopped carrots into muffins, and the list goes on.
Make food fun- if a meal looks appetizing; it's more likely to be eaten. This is especially true for kids! So, make some meal art. Shape vegetables and fruits into animals, cars, and even silly faces. They will look so good little hands wont be able to resist them.
Like this post? Make sure to subscribe to my FREE newsletter for monthly tips, recipes, giveaways, and more! Click here to subscribe!