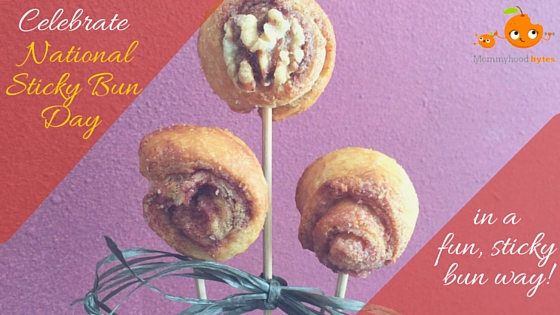 Cake pops are a popular trend in the foodie world today, but what about sticky bun pops?! In celebration of National Sticky Bun Day, this mini sticky bun recipe will satisfy your sweet tooth and incorporate the importance of portion control. Everyone should be able to enjoy his or her favorite foods as long as everything is in moderation! These mini sticky bun pops are fun, creative and delicious! They are great party favors and fabulous décor. Enjoy these little desserts and celebrate National Sticky Bun Day in a fun, sticky bun way!
Mini Sticky Bun Pops
Yield: 16 servings
Ingredients:
• 1 (12-ounce) Original Pillsbury Crescent Roll can
• ½ cup granulated sugar
• 4 tablespoons ground cinnamon
• ¼ cup walnuts, finely chopped
For icing:

• ½ cup powdered sugar
• 1 teaspoon orange juice
Directions:
1. Preheat oven to 350 degrees F.
2. In a small bowl, combine sugar and cinnamon.
3. On a flat surface, separate and lay out crescent rolls. Sprinkle with sugar/cinnamon mixture and finely chopped walnuts.
4. Roll crescent rolls from small end in. Cut in half.
5. In a greased mini muffin pan, place halves face up (with swirl side up). Bake for 12-15 minutes or until brown.
6. While sticky buns are baking, prepare icing. In a small bowl combine powdered sugar and orange juice. Mix well.
7. Remove sticky buns from oven, let cool for 5-10 minutes. Top with icing. Refrigerate for 10 minutes. Stick with a bamboo stick and enjoy your mini sticky bun pop.
Per Mini Sticky Bun: 104 calories, 18 g carbohydrates, 4 g fat, 1 g protein, 106 mg sodium, 11 g sugar