Happy National Chocolate Cake Day! Today's food holiday makes me happy because who doesn't love a delicious, moist chocolate cake? I'll tell you who- anyone trying to lose weight or manage her blood sugar levels. Sure, a chocolate cake tastes great, but it's the weight gain and blood sugar spikes after eating it that make you curse every bite that you took. So how can you celebrate this food holiday? Should you just find your head in the sand and pretend it doesn't exist? Absolutely not! I say "let them eat cake!" – just in a slimmed down way.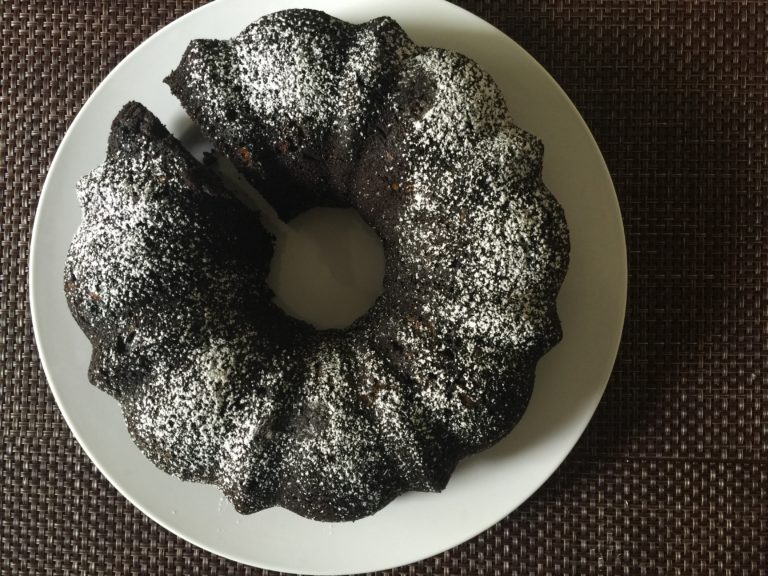 Photo credit: Kelly Sloan
With a few simple alterations you can transform a chocolate cake into a slimmed down, healthier version that still satisfies your sweet craving. There are many ways you can whip up lower calorie version. For instance, you can swap butter for applesauce or oil for yogurt. You can even replace added sugars with mashed banana. Whichever way you do it, these simple swaps can significantly reduce the overall calorie and carbohydrate content of your recipe. One of my favorite secret swaps is to add vegetables into the batter. This not only reduces calories, but adds a good source of vitamins and minerals to the final product. The way I see it, if you're going to eat cake, you should enjoy it AND feel good about it after. No more chocolate cake guilt- that's how I'm celebrating today!
My intern Kelly came up with a delicious Slimmed Down Dark Chocolate Zucchini Cake recipe to help you celebrate today. Happy cake eating!
Slimmed Down Dark Chocolate Zucchini Cake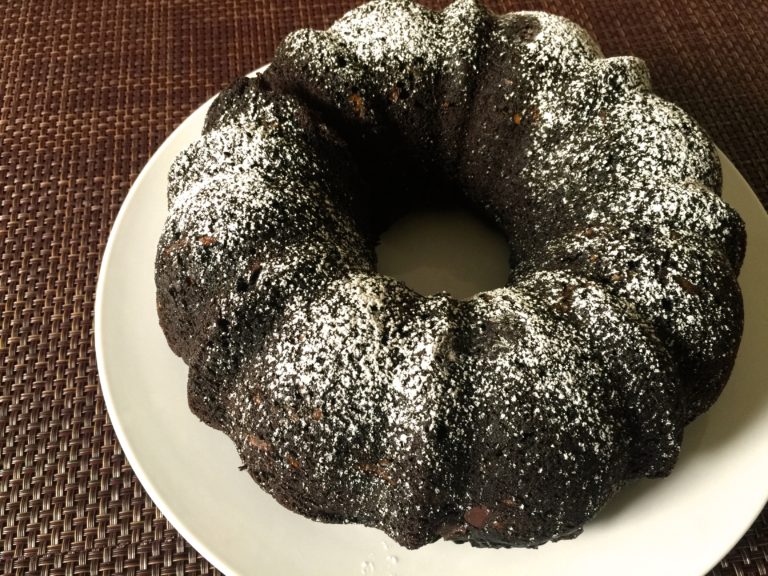 Photo credit: Kelly Sloan
Serves 24
Ingredients:
1/2 cup coconut oil
3/4 cup brown sugar
1/4 cup sugar
2 teaspoons vanilla extract
½ cup non-fat plain Greek yogurt
¼ cup buttermilk
1 1/2 cups all purpose flour
½ cup whole wheat flour
1/2 cup dark cocoa powder
1/2 teaspoon salt
1 teaspoon baking soda
2 cups shredded zucchini
¼ cup dark chocolate chips
Topping:
Directions:
Preheat oven to 350 degrees F.
Cream the coconut oil, sugars, and vanilla. Add the butter milk and Greek yogurt. Mix well.
Add the flours, cocoa powder, salt, and baking soda and mix again. Stir in zucchini and chocolate chips, until batter is well combined.
Spread the batter in a greased bundt cake pan. Bake for 20-25 minutes, or until a toothpick inserted comes out clean. Remove from oven and let cool.
Top with powdered sugar and serve.
Tip: You can also add walnuts or coconut to this recipe to change it up!
Nutrition Facts Per serving (with powdered sugar on top)
112 calories, 13 g CHO, 6 g FAT, 3 g PRO, 137 mg sodium, 5 g sugar